Bathroom Expansion Of New Action! Oppein, Solux, Runner… Investment Is Expected To Exceed 3 Billion
Bathroom Expansion Of New Action! Oppein, Solux, Runner… Investment Is Expected To Exceed 3 Billion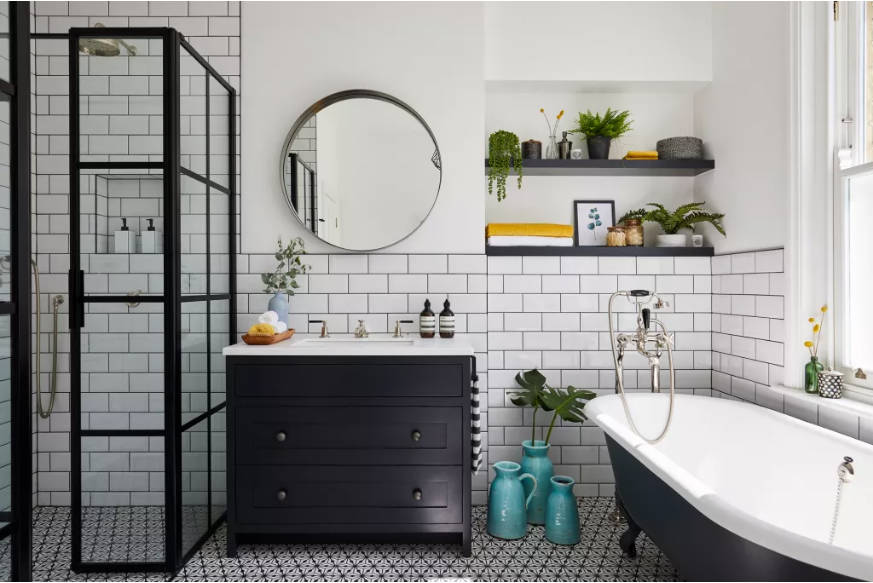 On August 8, Oppein Home released an announcement of the online winning rate and priority placement results of the public offering of convertible bonds. This time, Oppein Home publicly issued 2 billion yuan convertible corporate bonds. The proceeds will be used to build Oppein's intelligent manufacturing (Wuhan) project. Upon completion, it is expected to have an annual production capacity of 270,000 sets of cabinets, 970,000 sets of closets, 330,000 sets of sanitary ware, 1.46 million sets of wooden doors and 580,000 square meters of quartz stone standard. In addition, Solux Technology, Runner Home and Bunker Kitchen & Bath have also recently made new moves to expand production, and their total investment amount is expected to exceed 1.05 billion yuan.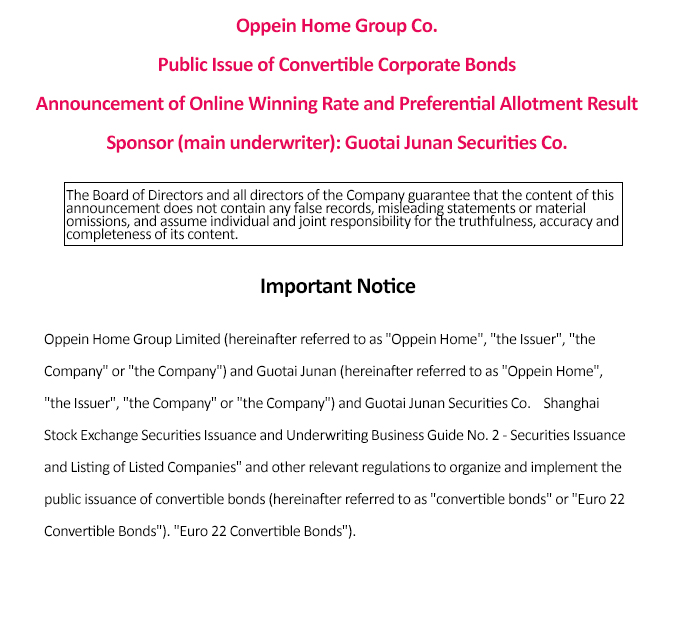 Oppein raised 2 billion for the construction of Wuhan base
After completion, the annual output of sanitary ware will be 330,000 sets, etc.
On August 8, Oppein Home released the online winning rate of the public issue of convertible bonds and the priority placement results. It is reported that Oppein Home issued 2 billion yuan (2 million lots) convertible bonds in this public offering. The issue price is 100 yuan per sheet (1000 yuan per lot).
Ultimately, the priority placement to the original shareholders of the issuer of O22 convertible bonds is 1,787,113,000 yuan (1,787,113 lots), accounting for about 89.36% of the total issue. The Euro 22 convertible bonds issued to public investors amounted to RMB 212,887,000 (212,887 lots), accounting for 10.64% of the total number of bonds issued. The online winning rate is 0.00185123%.
Oppein Home in this public issue of convertible bonds to raise funds for the construction of Oppein intelligent manufacturing (Wuhan) project. The total investment amount of the project is 2.5 billion yuan, of which 2 billion yuan is the total amount of funds raised from this public issue of convertible bonds. It is understood that the project is located in Caidian District, Wuhan City, Hubei Province, with a total area of 242,972 square meters. They mainly build production workshops, warehouses, and supporting roads, green belts, water supply and drainage, fire protection, environmental protection and other facilities. After completion, the annual production capacity of cabinets is 270,000 sets, closets is 970,000 sets, sanitary ware is 330,000 sets, wooden doors is 1.46 million sets, and quartz stone standard version is 580,000 square meters.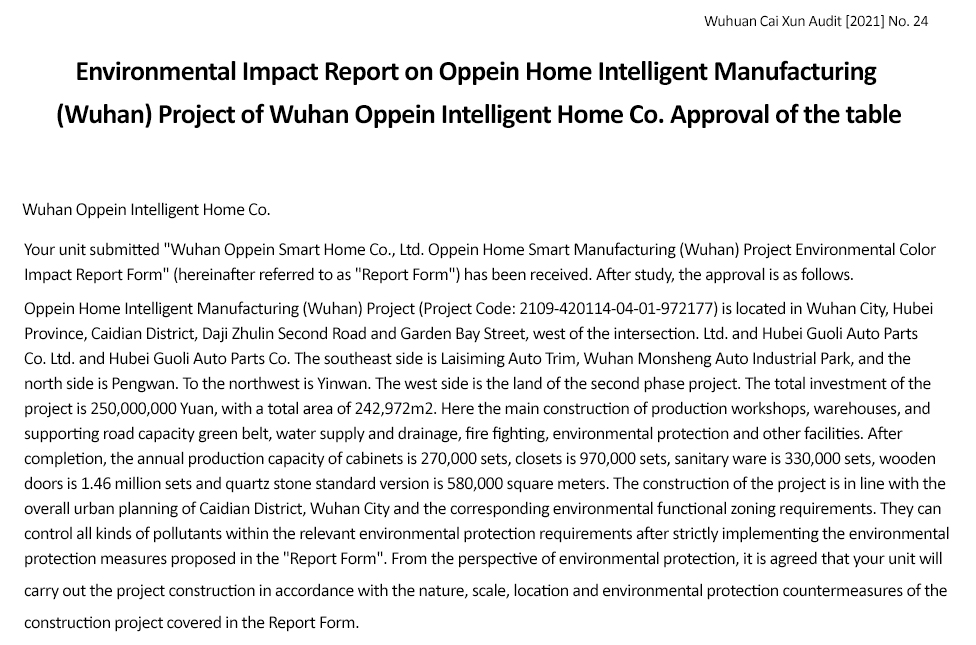 As early as July 8, 2021, Oppein Home Furnishings signed the Project Investment Agreement with the People's Government of Caidian District, Wuhan City to invest in the construction of Oppein Group Central China Smart Manufacturing Base, and it is reported that the total investment of the project is 5 billion yuan. As agreed in the Project Investment Agreement, Oppein Home has registered a wholly-owned legal person company as the project company in the territory of Caidian District People's Government of Wuhan City. The total registered capital of the project is RMB 500 million.
Oppein Home's financial report in 2021 shows that Oppein has a strong market demand in Central China. In 2021, it contributed operating revenue of RMB204,531.69 million, accounting for 10.15% of the main business revenue. Before the implementation of this project, the products demanded in Central China region mainly relied on the company's four existing production bases in Chengdu, Qingyuan, Wuxi and Tianjin for product supply and deployment.
The construction of Oppein Intelligent Manufacturing (Wuhan) Project. The new production capacity planning will meet the needs of the future growth of the company's order scale, and at the same time can more timely and effectively meet the future demand for orders from the main regional sales markets across the country. Moreover, this will reduce the long-distance logistics costs and reduce the occurrence of product shipping losses.
Solux, Runner, Bunker accelerate expansion in the context of the market downturn
In addition to Oppein home, recently a number of bathroom-related companies also came out of the expansion news. Under the general environment of increased downward pressure in the market and the continued high cost of raw materials, some companies choose to expand production against the trend to undertake the market increment and achieve rapid growth.
Solux Technology will add 8.65 million pieces of shower and 2.015 million pieces of beauty and health products
Recently, Xiamen Solux Technology Company Limited ("Solux Technology") also publicly issued convertible bonds issue results. Ultimately, the Solux convertible bonds to the issuer's original shareholders priority placement of Solux Technology for 566,127,000 yuan. The subscription by online public investors was 43,262,000 yuan and the abandoned subscription amount was 611,000 yuan. This will be underwritten by the sponsor (main underwriter).
It is understood that Solux Technology raised 610 million yuan for the construction of beauty and health and shower expansion and technical reform project. The total actual investment of the project is RMB 616 million. The implementation subject is Solux Technology and its subsidiary Zhangzhou Solux Smart Home Co. The construction area of the project is 68,250.40㎡ and the renovation and transformation area is 12,480.00㎡. After the construction and production, it will add 8.65 million pieces of shower class and 2.015 million pieces of beauty and health products every year.

Runner home technology reform, the construction of an additional annual output of 300,000 sets of shower room production line
Recently, Ningbo Xiangshan County publicized the environmental assessment report of the annual production capacity of 5.62 million sets of intelligent home products and accessories technical transformation project of Ningbo Weilin Residential Facilities Co. Ningbo Weilin's total investment is 52,650,500 yuan, using the existing plant to implement technical transformation. They added profile coating line, bathroom drainage hardware fittings production line, shower door production and glass processing line, storage cabinet production as well as punching machine, welding machine and other machine processing equipment. They have partially adjusted the built project and increased the corresponding production auxiliary engineering, public engineering, environmental protection engineering and other supporting facilities.
After the completion of the project, it can produce 3.76 million sets of bathroom drainage accessories, 450,000 sets of air grille products, 300,000 sets of shower doors, 200,000 sets of fresh air system and 100,000 sets of air purification products, 660,000 sets of hanging bracket products and 150,000 sets of storage cabinet products annually.
Table 4.1-1 List of product scheme after technical reform Unit: 10,000 sets/year
No.
Product name
Existing approved capacity
This technical reform
Total after technical reform
1
Bathroom drainage accessories
1250
376*
1596
2
Central air conditioning air closet
2234
45
2279
3
Hanging bracket products
3266
66
3332
4
Air;scrambling products
20
10
30
5
Care system products
20
6
Auto parts products
140
/
7
Fresh air system
24
20
44
8
Hardware
Die Casting Hardware
150
150
Stamping hardware
850
850
9
Bathroom components (shower doors)
590
30
620
10

Storage cabinets
15
15
Ningbo Zhonghuan Master State Technology Co.    75   Room 311, Block A, Ruishi Zhihui Bay, Yinzhou District, Ningbo
Bunker Kitchen and Bathroom won a village land and intended to invest 380 million to build a digital factory and corporate headquarters
On August 1, Guangdong Bunker Kitchen & Sanitary Co., Ltd. won a plot of land east of Dafu Road and south of Rongqi Avenue West in Ronggui Street, Shunde District, Foshan City. The site has an industrial land area of 46.4 mu, which is vacated by the village reform. This is the fifth industrial land sold this year, the transaction price of 41.76 million yuan (industrial land price of 900,000 yuan / mu).
Meanwhile, the site will be used to build a digital factory and corporate headquarters for the production of stainless steel whole house custom smart home, kitchen and bathroom intelligent functional hardware and other diversified products. Their total investment is expected to be 380 million yuan, with an annual output value of 600 million yuan at production and an annual tax payment of 32.2 million. Among them, no less than 20 million RMB will be invested to build a variety of intelligent manufacturing systems such as production information management system (MES), enterprise resource planning system (ERP), product life cycle management system (PLM), etc.