Nigeria, Which Relies Heavily On Imports For Sanitary Ware, Imported 3.8 Million Units To China In The First Eight Months
Kitchen And Bathroom Industry Mainstream Media     Kitchen And Bathroom News
Taowei News  As the largest country with the largest population in Africa and the largest economy in Africa, Nigeria attracts more and more foreigners to do business with its huge market potential and many market opportunities, despite the many problems it is facing. Among them, Agric Market, an important distribution center of bathroom building materials in the north of Lagos, Nigeria, gathers a large number of bathroom building materials, such as tiles, faucets, basins and toilets and other products.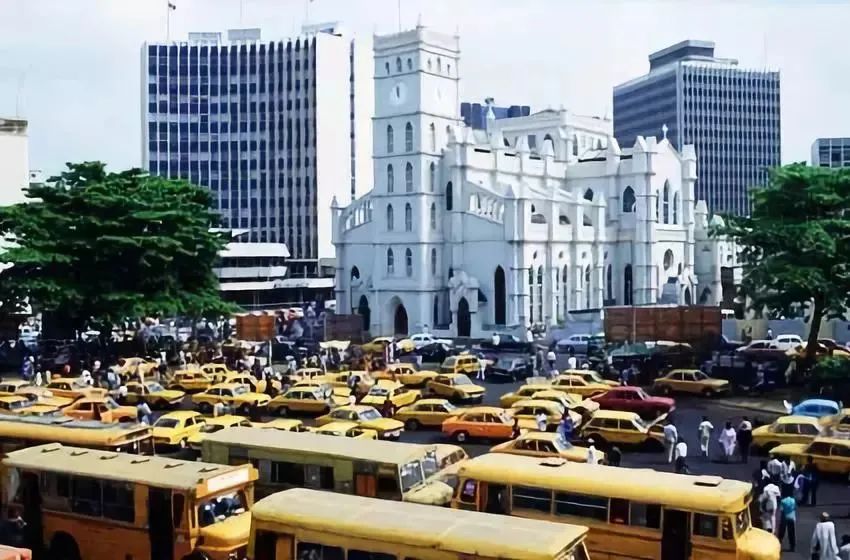 Source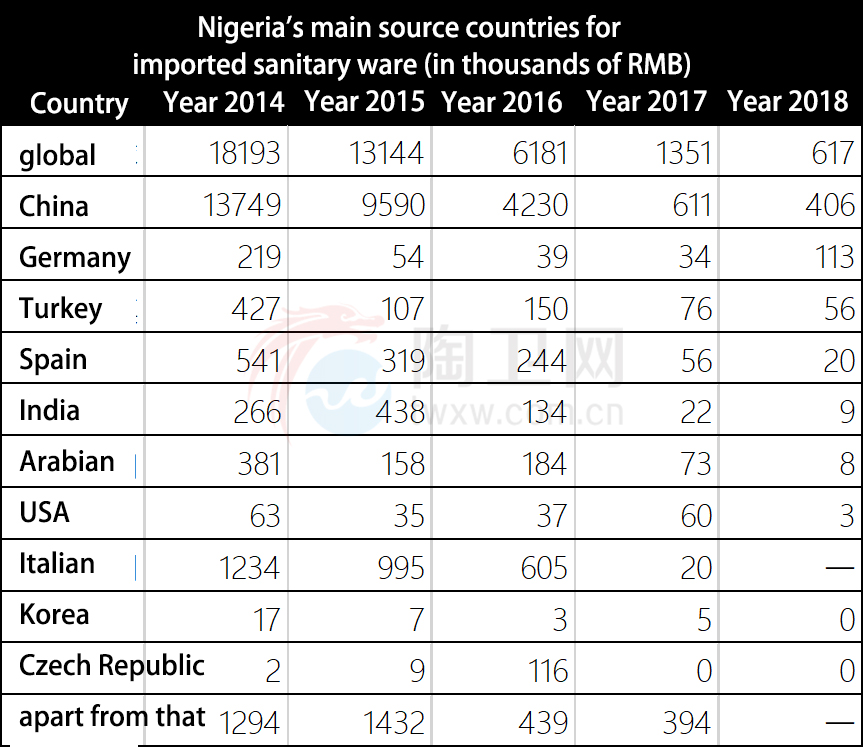 Over the past few years, new products such as smart toilets are gradually gaining a tendency to be in high demand among the elite population. The high disposable income of local consumers, growing demand for luxury and high quality home furnishings, and increasing popularity of smart home furnishings have given a positive impetus to the growth of the bathroom market.
Also, the bathroom market is expanding with the increasing demand for bathroom products in terms of design, color, brand, and size. Coupled with the increase in infrastructural facilities in Nigeria, growing awareness of health and hygiene and abundant availability of raw materials are driving the growth of the market for products such as toilets and bathtubs. In addition, factors such as rapid urbanization, branded products, and strong demand for substitution are also contributing to the growth of the sanitary ware market in Nigeria.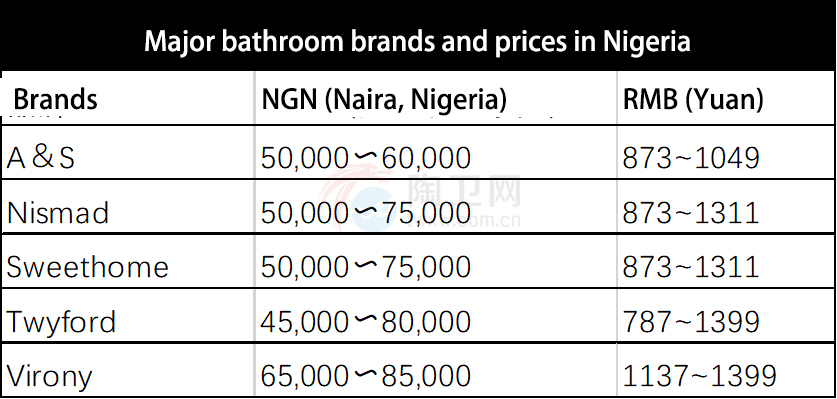 Note: Prices may vary depending on purchase location, duration, exchange rate and additional options.
CDK Integrated Industries Ltd, a local manufacturer of sanitary tiles in Nigeria, has significantly reduced its production capacity due to the lack of basic manufacturing facility infrastructure and production environment in the country. However, the lack of infrastructure has made it impossible to produce products at low cost. This has led to Nigeria's major reliance on imported products. Most of the ceramic products on the local online home website newcoolmex are CDK.
More popular kitchen and bathroom brands in Nigeria.
VitrA
Ariston
Creavit
Legrand
Kale
Some of the global brands represented by authorized distributors in Nigeria include Twyford, G-fairlyne, Imex, Vado, Geberit, Paris, Radof, Ideal Standard U.K, Imperial, among others. As it seems that the online home shopping mall known as Nigeria's No. 1 online home shopping mall, the wash basin is mainly dominated by round and other traditional styles, the basin faucet is mainly dominated by older faucets, but also Jacuzzi bathtubs, steam rooms, etc.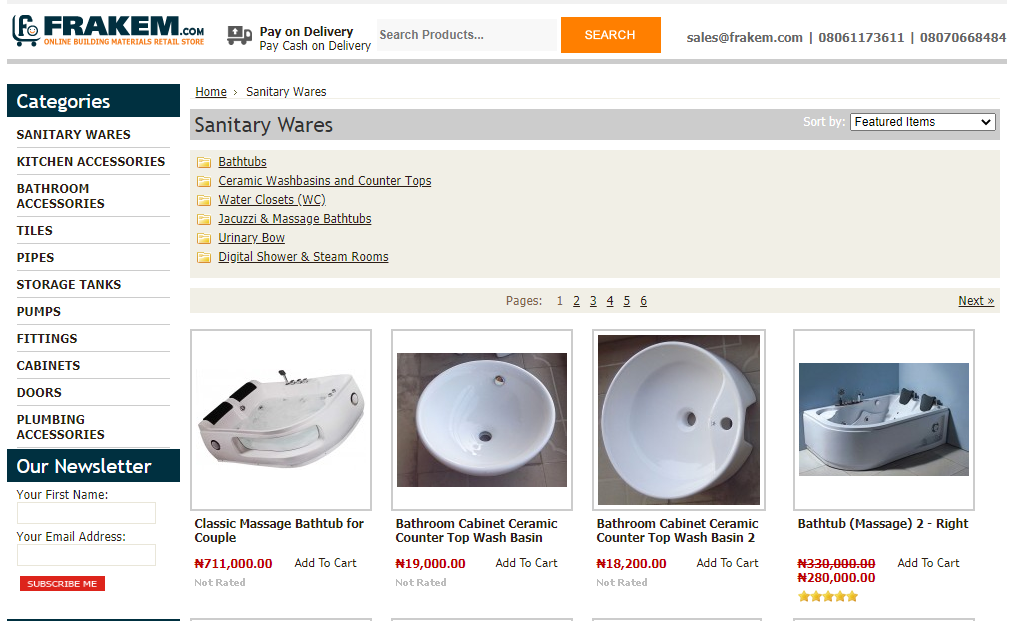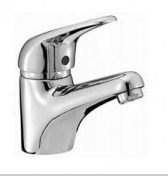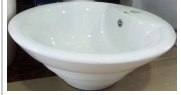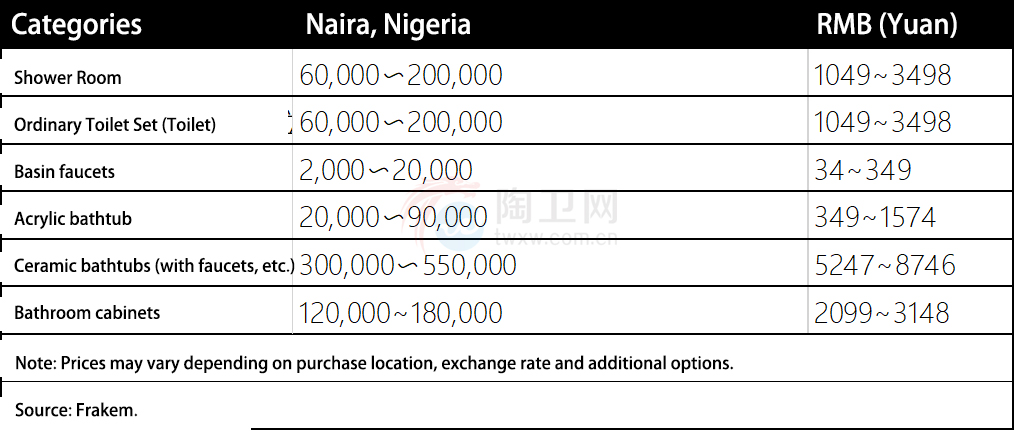 The types of toilets can be broadly divided into ordinary toilets and smart toilets. The ordinary toilet market share is 95.13%, but accounts for 48.08% of the total market revenue. According to customs data, China exported 0,764 pieces of sanitary ceramics to Nigeria in the first eight months of 2020, with total exports reaching $220 million.
Products exported to Nigeria must be certified by SONCAP, which requires a two-step, legally required certification process for product quality to ensure that the product meets the relevant specific standards. The first step is the certification of PC products. This applies only to the initial export of a specific category of controlled products to Nigeria. Submit the following documents to the NBS office in your country: E-mark certificate (DOT certificate) or a test report from a factory that has passed the ISO 16949 system certification / if not passed the system certification can be re-conformed, ISO 17025 laboratory testing in accordance with the European standard and submit the test report, brand registration certificate, product pictures, etc. The second step, SONCAP mandatory certification, applies to a certain batch of pre-shipment goods. Submit information to the Nigerian National Bureau of Standards office in your country: PC copy, a copy of the final commercial invoice, packing list.