International Giant Kitchen And Bathroom Brands Return Strongly To Shanghai Kitchen & Bath Show, Three Speakers Unveil The Mystery Together
Original Yu Yueming Kitchen And Bathroom Information
This article has everything you want to know about Moen's recent news, new products, strategic layout, and views on the macro situation. This interview with Moen will also bring reference value to the industry development.
"Xiaomo Xiaomo, open the seat cover; Xiaomo Xiaomo, flush." The Moen smart toilet in front of you follows a series of voice commands and operates precisely, without any delay or error. Although this voice control technology in the 26th China International Kitchen and Bathroom Exhibition is not difficult to see, it is difficult to imagine that this has a Chinese name, with Chinese voice system operation of the intelligent toilet is from the authentic imports of first-line kitchen brand MOEN. What's more surprising is that this is the first time we have seen Moen exhibiting at the China International Kitchen & Bath Show since Kitchen & Bath News has been following the show since 2009.
For so many years, Moen has rarely appeared in public, and its low-profile brand tone has made it full of mystery. This also makes the industry more curious, why did Moen return to China International Kitchen & Bath Show after many years? How has this American head bathroom brand developed in China over the years? What are the channels it operates in? In the face of two extreme trends, the rise of young Chinese consumers and the acceleration of the aging process, what kind of layout will Moen do? How is Moen China responding to the uncontrollable macro factors brought about by the recent epidemic?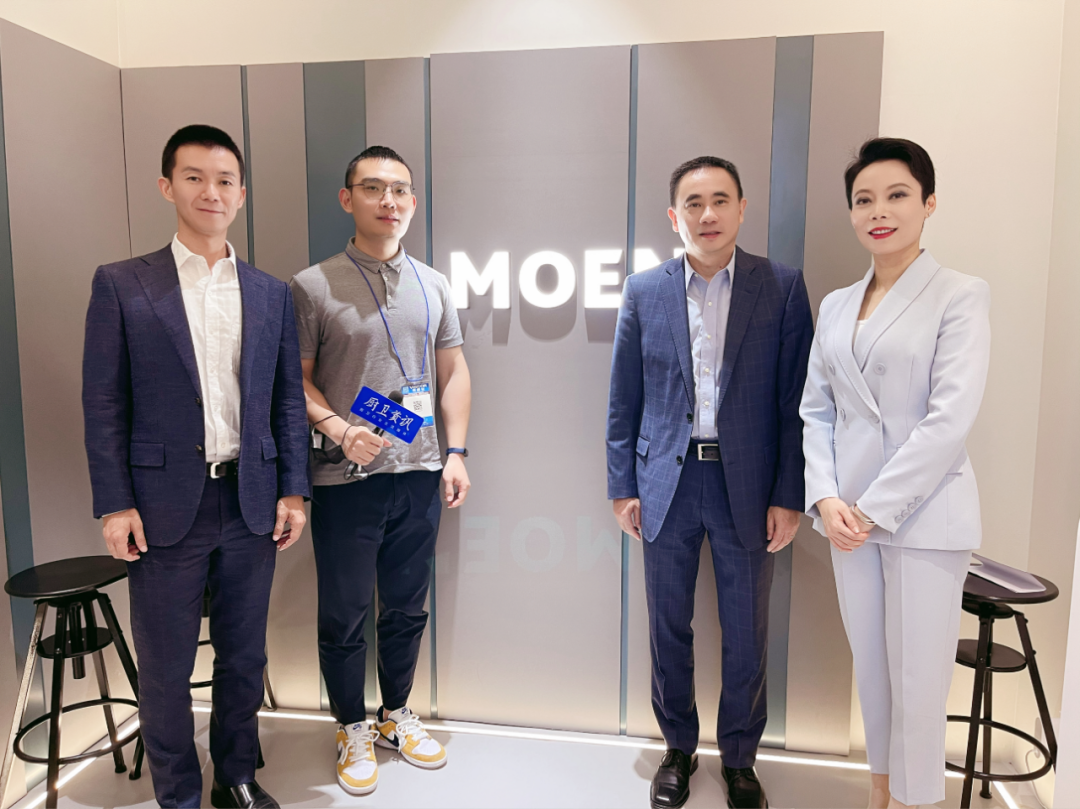 Fortune Global Plumbing Group Asia President, Jack Wu (2nd from right)
Hua Xu, Brand Director of Fortune Global Plumbing Group Asia (1st from right)
Gu Baohua, Senior Product and Channel Marketing Director, Asia, Fortune Global Plumbing Group (1st from left)
Yu Yueming, Kitchen & Bath Information (2nd from left)
With all kinds of questions, Yu Yueming of Kitchen & Bath interviewed Wu Yongjie, President of Fortune Global Plumbing Group Asia, Xu Hua, Brand Director of Fortune Global Plumbing Group Asia, and Gu Baohua, Senior Product and Channel Marketing Director of Fortune Global Plumbing Group Asia at the Moen Pavilion of the 26th Shanghai Kitchen & Bath Show to unveil the mystery of Moen for the industry.
Kitchen and bathroom information: in fact, for the media side and even for the sanitary industry, Moen is unusually mysterious because of its low-key style of action. We are now interested in understanding what kind of development stage Moen China has entered into?
Wu Yongjie: Moen has been in China for nearly twenty years. During these two decades, Moen has been growing rapidly with the momentum of China's rapid development, and has maintained a state of continuous high growth. To judge objectively, we are still in the stage of high quality and high growth at this stage.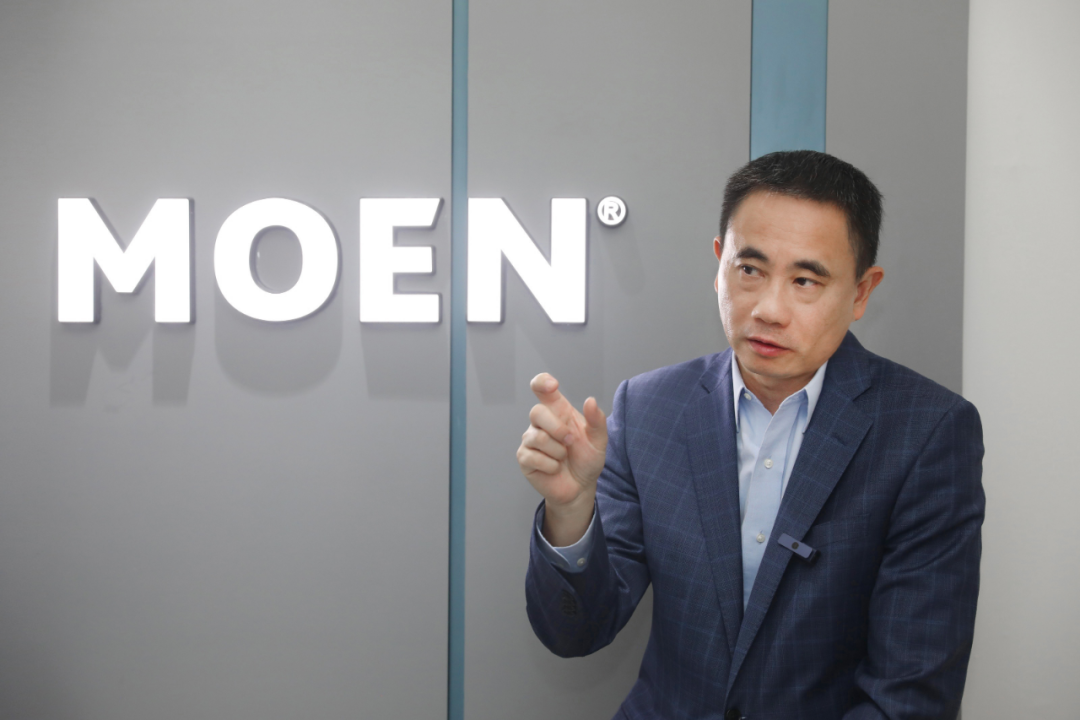 Fortune Global Plumbing Group Asia President, Mr. Wu Yongjie
Kitchen and bathroom information: How do you view the rise of the current domestic young consumer groups and their love of national trend products? In the face of changes in consumer groups, consumption patterns and habits, what changes and innovations will they make?
Wu Yongjie: In fact, young consumers have always been a group that Moen pays high attention to, especially when we are doing product development or innovation. The behavior and habits of young consumers are even the focus of our research. When we do product development, we mainly take the needs of young consumers as our guide.
In addition, the national trend is actually a consumption hotspot in China, which also reflects the overall development of China and the return of our cultural confidence. On the other hand, it also shows that our Chinese consumers are getting more and more mature. They no longer blindly worship brands, but rather value product quality, product design, and product innovation.
For an innovative brand that has long been committed to providing consumers with a great experience, this trend will also bring Moen better prospects for growth. That's why we will continue to work on the Chinese market. At the same time, we will take the concept of "in CHINA, for CHINA" as a strategic idea to bring more young Chinese consumers a truly beautiful experience.
Kitchen and bathroom information: Take other industries as an example, you mentioned: "in CHINA, for CHINA". Can I understand that like KFC and McDonald's, they develop special products according to Chinese market demand to meet Chinese tastes? Is it true that Moen will also design products to meet the local market in China with the Chinese trendy style according to the young Chinese market?
Wu Yongjie: Of course, the reason why Moen has been so successful today is that we have localized our product development in the Asian market almost 20 years ago, and Moen's product development in China is not led by the U.S. headquarters, but more by the local market. So the KFC and McDonald's case you mentioned earlier is actually something we have been doing. We will also be moving more in this direction in the future. In fact, we have quite a few product lines that have a strong Chinese style or that meet the needs of local consumers. You should be able to see this through our show floor.
Kitchen News: Besides the Tmall flagship store, what other online channels does Moen have? How are they operating? As a big international bathroom brand, what are the advantages and disadvantages of doing online business for Moen? With the expansion of online business, will after-sales and installation become a pain point?
Wu Yongjie: For the kitchen and bathroom industry, e-commerce is a booming channel, and Moen can be said to be one of the first brands in our industry to get involved in e-commerce. At the same time, we have already made a comprehensive layout in a series of mainstream e-commerce platforms such as Tmall and Jingdong.
In recent times, our growth has been very healthy, stable, and high speed. In order to provide consumers with better convenience, we have also launched a series of services in the e-commerce channel. For example, "buy as you go", home installation services, and so on. We also strengthen the cooperation with e-commerce logistics platform, we hope to continue to provide our consumers with a better online shopping experience.
In addition, e-commerce is not only a shopping platform and sales channel, but also a convenient contact point for consumers to contact brands and obtain information. With the change of consumer shopping habits, the boundary between online and offline has become increasingly blurred. Especially in our kitchen and bathroom category, consumers pay great attention to experience. This experience makes it difficult for offline channels to be replaced by online.
We are still vigorously expanding e-commerce channels. At the same time, we continue to cultivate offline channels. And we think these two channels will become better and better in the future, and form a complementary. We have now formed a closed loop of online and offline channels. This is also what we will focus on in the retail channel in the future.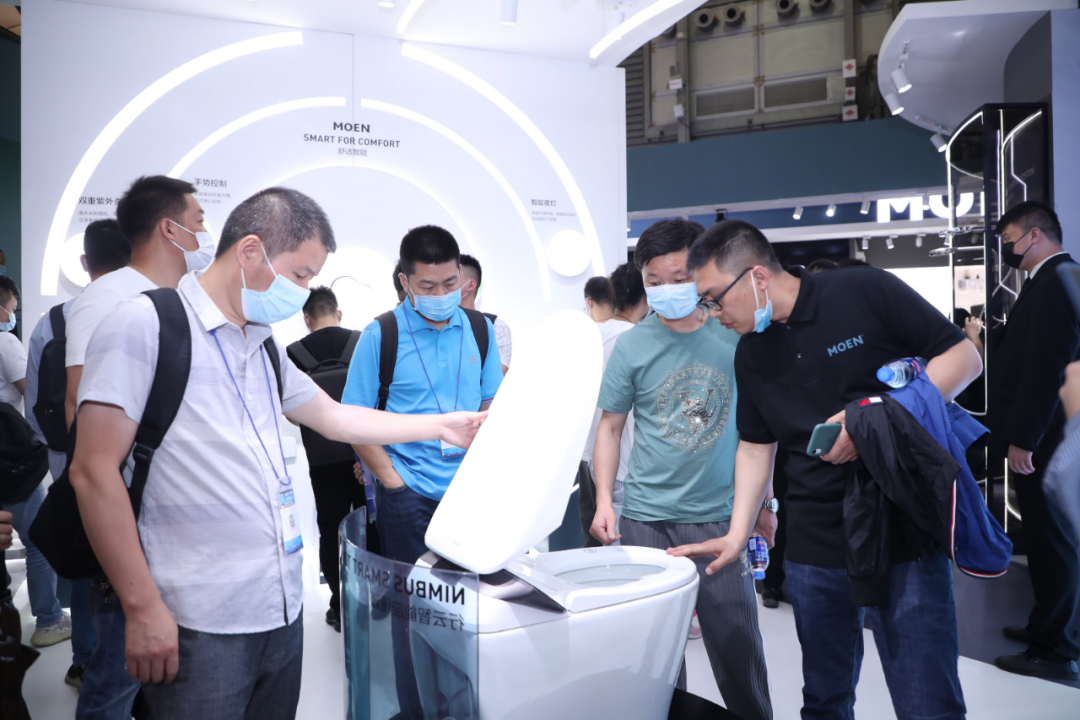 Kitchen News: How many Moen offline stores are there now?
Wu Yongjie: Our stores now cover more than 300 cities and nearly 1,000 retail outlets. Our recent offline expansion also focuses on larger stores. We are doing higher-end stores, which is a very strong complement to online. At the same time also has a great promotion for the brand.
Kitchen and bathroom information: Now we are talking about channel diversification, so what are our main channels now?
Wu Yongjie: Our main channels are still online and offline stores. In fact, the offline store is the best channel, our pursuit is to do a larger store in the best location. At the same time the industry there is a new industry that is emerging, is the home improvement channel. We have also started to layout in the home improvement channel. In the showroom of the home improvement company, we also do belong to the Moen store.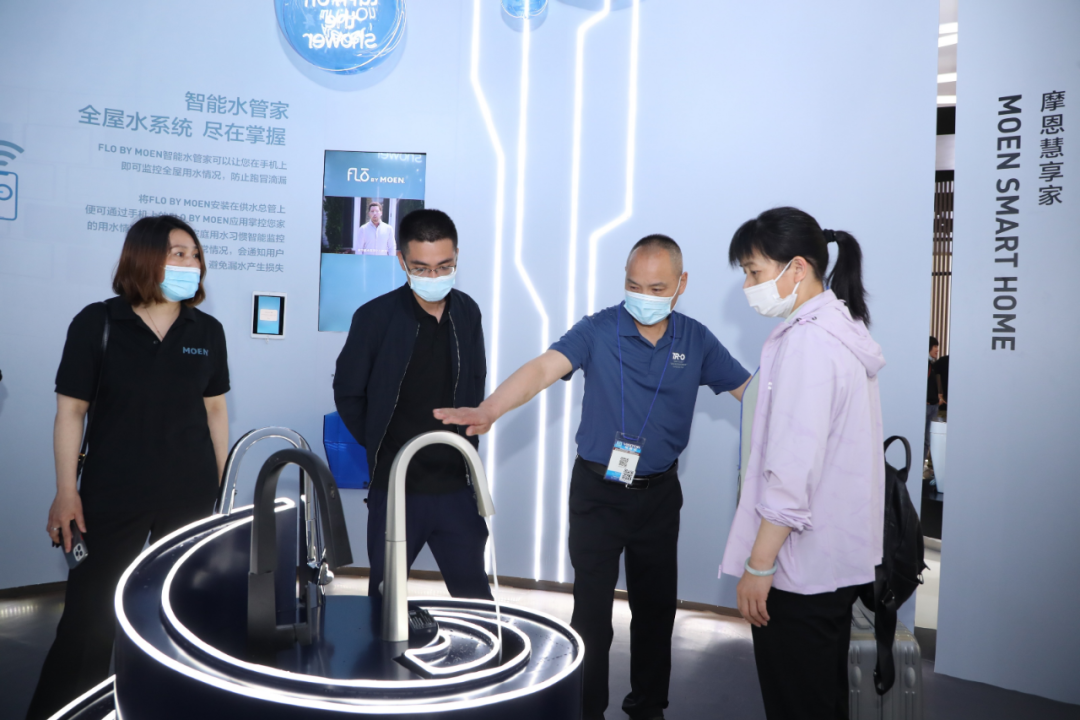 Kitchen and bathroom information: It is understood that you officially joined Moen in 1997, which was the third year that Moen entered the Chinese market, and you have participated in and witnessed almost the whole development of Moen China. How do you evaluate Moen's expansion into the Chinese market in these ten years? What are the specific stages and characteristics of each of them?
Y.J. Wu: Moen has been in China for almost 20 years, and I think we are very lucky. We have taken advantage of the country's reform and opening up, the take-off of the real estate industry, and consumers' constant pursuit of a better life, etc. to develop at a high speed. In fact, to some extent, we are sitting on the wind. Over the past two decades, our growth has been very rapid and sustainable.
Here's a figure to share: In the past 20 years, our compound annual growth rate reached 27%. This is unthinkable in any country, including here in the United States. So personally, I am grateful for the privilege of being a part of this. And I also feel proud and lucky. As for why Moen has had very high and steady growth during this period, I personally feel that there are several factors.
First, the U.S. headquarters has been optimistic about the Chinese market for a long time, and the investment in the Chinese market and the trust and support for the Chinese management team are very important. Secondly, we are grounded and able to be on the ground and close to the Chinese market. Third, our sales are stable. At the same time, we are constantly pursuing self-challenge and self-renewal. This, coupled with our deep channel cultivation, the pursuit of product quality, and focus on innovation and product development, have been key factors in our stable and rapid growth in China over the past two decades.
However, the market in China is changing rapidly and it is difficult to distinguish which stage we are in. If we look at the whole channel expansion or category expansion, Moen China is actually very lucky. All the factors that we mentioned before, we basically grasped the point of channel change and laid it out early. Each time we were able to stand in the wind first, such as when we first started the building materials supermarket. The opportunity to grasp that time is very good. There is also the expansion of our retail channel or store channel. The earliest was a shop-in-shop, and only later did a store appears. Each node of change we have grasped very accurately.
In addition, there is also the recent rapid growth of the engineering market brought about by the increase in the proportion of the electric business and refined housing, which we also laid out in advance. The past 20 years have also been 20 years of category expansion, and we have been developing categories according to the changing needs of consumers. So now it is hard to say what stages Moen China has gone through, but every time the market changes is a stage of Moen's development in China, or another step up, another milestone reached.
Kitchen News: Can you predict how Moen China will perform in 2021? Where does China stand today in Moen's Asia Pacific market?
Y.J. Wu: 2020 is a very special year with many twists and turns, so to speak. However, even under such difficult circumstances, Moen has continued to grow at a high rate. This year, based on the current business situation, we can still achieve a good growth rate by the end of the year.
I think the main reason is that the domestic epidemic was controlled in time and the market recovered relatively quickly. In addition, consumers spent more time at home during the epidemic, and their requirements for the home environment have increased. Consumers are now more willing to spend more money and time to make their home environment better, which is good for our industry.
So instead, in our industry, there has been some growth in demand over the past year. In addition, as far as the internal environment is concerned, we have a first-class team and a solid foundation. So in a particularly difficult time, we are taking the initiative to do something. The last point is strategic determination. In difficult times, we have never wavered in our strategy, but instead, we have continued to increase our investment in the brand. And as always, we insisted on the ability of product development. That's why after the epidemic, we recovered faster than others. And I think the foundation laid in the past years will be a pretty good pavement for our growth in the following years.
Kitchen News: What is Moen's revenue share in China in the Asia Pacific market today?
Wu Yongjie: Moen's market share in China is getting higher and higher. Not to mention the Asia Pacific, in terms of the global share, whether it's sales or profit contribution, the share is getting higher and higher. So the China market is crucial to the whole Asia Pacific region and even the global business.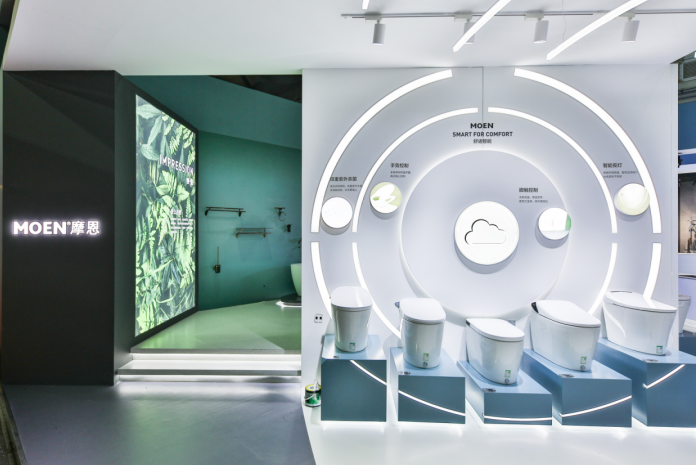 Kitchen News: You just mentioned in the process of sharing that Moen has maintained steady and high growth in the past development, which is also due to the right decisions we made in different market development stages. In the current market, what are the opportunities and challenges Moen encounters in your future strategic thinking?
Y.J. Wu: From the perspective of opportunities, China is a very big market. Its urbanized population ratio is still relatively low. In addition, with the improvement of living standards, there is still a lot of demand for upgrading and replacement. From this perspective alone, there is a lot of room for future growth, and this is the opportunity.
In addition, as consumers become more and more mature, but also more and more product-oriented, focus on innovation, focus on price, focus on brand. They are more interested in the actual thing, and new content. This will cause a further reshuffling of the industry. In this reshuffling process, as long as you can survive, or lay a good foundation, so that the company can adapt to the changes, the opportunity is also very huge.
From the perspective of challenges, the market in China is changing really fast. I think we are doing adjustments relatively fast now, but now the scale of the business has grown to a certain level. We always remind ourselves that it's not easy to turn around or change direction anymore.
Although we are a large enterprise and a scale enterprise, we should still hold the mentality and attitude of a small business to capture the market changes in time, especially the changes of consumers. We will always make decisions to respond. For us, the extreme changes in the Chinese market are both an opportunity and a challenge.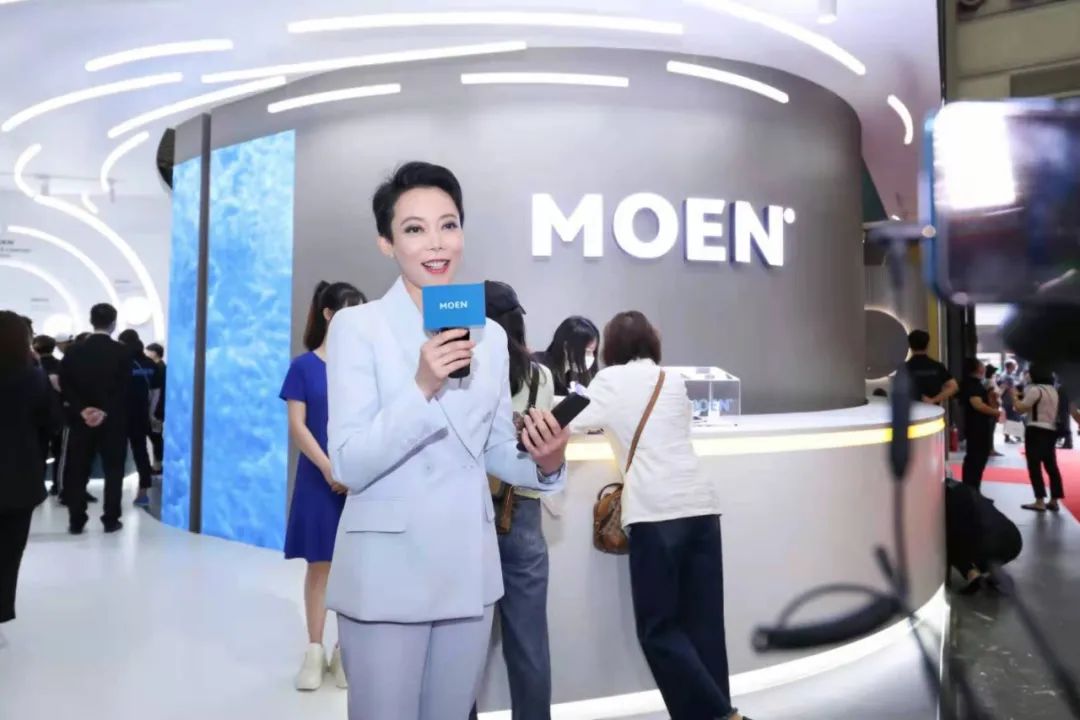 Hua Xu, Brand Director of Fortune Global Plumbing Group Asia
Kitchen & Bath: What are Moen's advantages over other brands in the same industry? How to meet the increasing demand of domestic consumer groups for sanitary products with higher value?
Hua Xu: In fact, we all know that the number of kitchen and bathroom brands in the Chinese market is very large. I think Moen is a very special brand. First of all, as an international brand with a history of more than 80 years, it started from making the first, and the first mixed cold and hot water faucet in human history in the 1930s. Then it slowly deepened into the field of hardware and plumbing, and then expanded to a business that can now cover the whole category of kitchen and bathroom. These are inseparable from all Moen's products and services that are related to the human water life experience. This also stems from Moen's very special brand philosophy. As a brand that has been dealing with water for so many years, Moen knows very well the importance of water, the value of water, and the significance of water.
Therefore, Moen, as a brand with more than 80 years of experience in the kitchen and bathroom industry, has always thought about the importance of water to human beings. We often think about how much value we can bring to water in the face of all the value it brings to mankind. So we are not limited to a certain category of product experts, technology experts, our concept is to become an expert in the achievement of the water experience. You will see in our exhibition hall "enjoy the beauty of water" these words, in fact, behind the short five words contains a very deep, rich and can convey the message of the brand mission.
Of course, we all know that the whole society is developing so fast now. In terms of communication methods, we will try to try different innovative ways to let more people know about the Moen brand and the Moen brand experience and mission.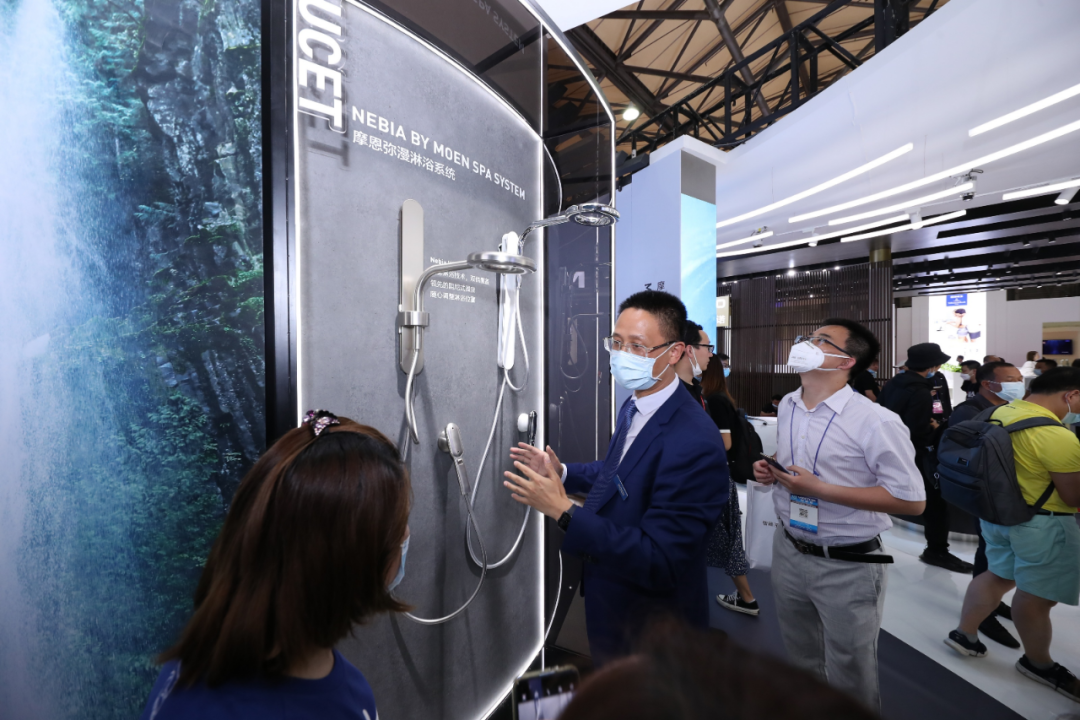 Kitchen & Bath Information: What is the future direction and layout strategy of the brand? What are your views on the Chinese market?
Hua Xu: In fact, Mr. Wu also mentioned earlier that in the past 20 years of cultivating the Chinese market, Moen has focused on developing high-quality products and building various channels, which has laid a solid foundation for the Moen market. From the perspective of development, Moen will be very determined and continue to do brand building and brand investment. Because we believe that this must not be a one-day effort, we will not pursue very short-term results, but hold a solid and sustainable benefit.
In addition, in response to the younger and more fashionable consumers in the Chinese market and the technological advances brought about by digitalization. We will continue to think about some circle-breaking practices and innovative marketing at the level of contact with the market and communication with consumers. This afternoon, we will have a completely different Moen water art space outside the showroom, a small theater immersion art show for all visitors, Moen also hopes to use this unique way to convey the brand's beliefs and mission in such a vivid way.
Moen Art Show
Of course, from the perspective of the whole Moen brand, because the Chinese market is developing so fast and is so dynamic, we will definitely follow the development trend of the whole market and pay close attention to the habits of consumers, so as to continuously provide consumers with better services and a better water experience.
Kitchen and bathroom information: just now you mentioned the development trend of the market, in your opinion, what is the development trend of the Chinese market at this stage?
Xu Hua: In fact, one trend is particularly obvious: the consumption power and consumption maturity of Chinese consumers are getting higher and higher. In addition, the demand for product value is getting stronger and stronger, and people are pursuing more and more black technology. These are all very significant market trends.
Moen is ready to deal with the market to exercise internal strength. We always emphasize that Moen is a brand with both value and core to achieving the perfect water experience. Because value must not be empty for the sake of looking good, and intelligence must not be a form of intelligence for the sake of intelligence. Whether it is value or intelligence, we hope to achieve a good balance and combination of Moen's product and service offerings. Ultimately, what we hope to see is not what kind of expressive power Moen has, but the perfect experience that consumers get with water.
Kitchen & Bath: What are the highlights of Moen's exhibits and design highlights at the show? What are the black technologies? What kind of different water experiences can these bring to consumers? Please introduce one or two products in detail.
Gu Baohua: Moen's exhibition integrates products and scenes together, Moen has been insisting on product development in two ways: STYLE, as the name implies, is value, and Moen is constantly pursuing products that suit the needs of young consumers in terms of value, while we are also working hard in SMART. For example, the smart toilet we exhibit today has many new technologies, such as double UV sterilization technology. Compared to the single sterilization function of ordinary smart toilets, Moen's dual sterilization will have a UV sterilization before using the nozzle live water. Double UV sterilization is more in line with the needs of consumers in the era of the epidemic.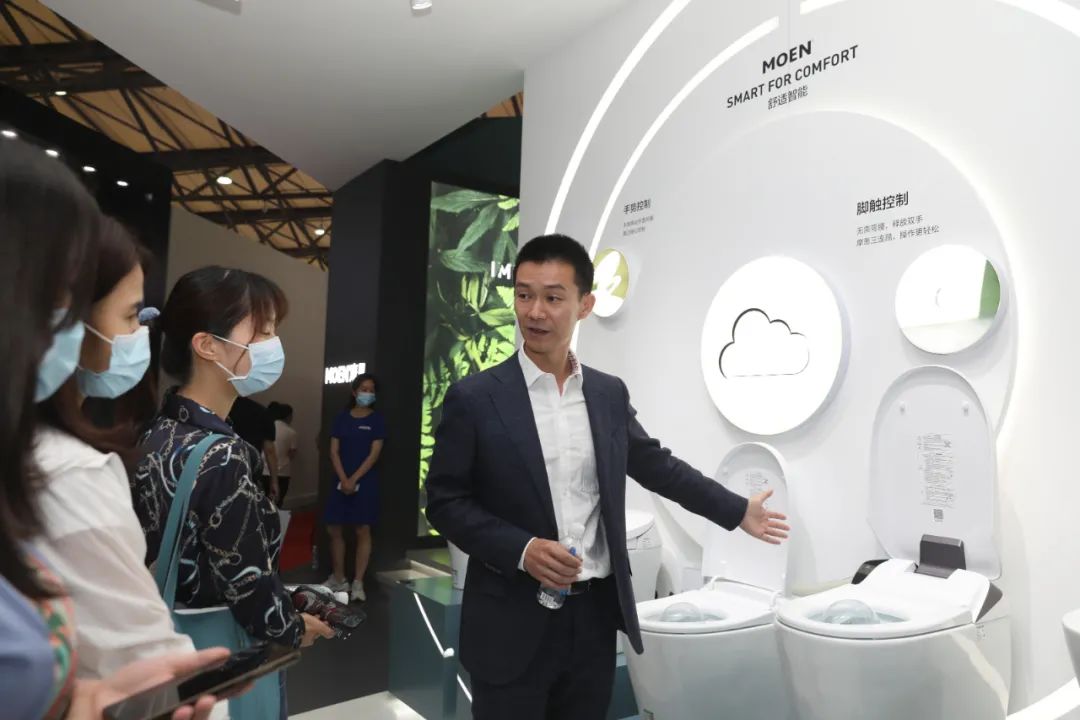 Fortune Global Plumbing Group Asia senior product and channel marketing director Gu Baohua
Moen's smart toilet is also equipped with a health test function, which can easily measure the user's blood pressure, heart rate, body fat, and so on, and can be directly synchronized in fitness software such as KEEP. For young people who love sports, health concerns are very attractive.
Many of our products this year also equipped with voice control functions. We can control our whole house bathroom space through the voice system. In addition, Moen has developed FLO anti-leakage as well as anti-leakage systems for bathrooms and kitchens and other scenarios. In the US, 30-40% of households are unaware that toilets are dripping and wasting water every day. Although this does not cause catastrophic results, the amount of water consumed over time is very large, and Moen has developed corresponding technologies that can intelligently check water conservation. In general, the products we exhibited at the show are both beautiful and connotative.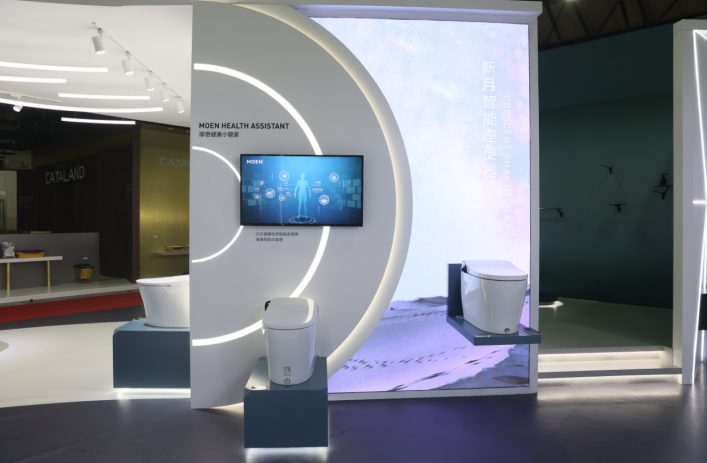 Kitchen Information: Just now you mentioned that Moen products are both value and substance, and Moen is also committed to developing products that are loved by young people. But some time ago, the census data came out, showing that the aging process of our country's population is accelerating, so what is Moen's planning or research and development in aging-friendly products?
Gu Baohua: This is a very good question, everyone is very concerned about the Chinese census data recently. In fact, Moen has been paying attention to the progress in this area, and has already developed relevant products for the elderly. For example, Moen's smart toilets are designed with the needs of the elderly or consumers with mobility problems in mind. We have designed a one-touch easy operation that is very easy to teach the elderly to use.
We have also developed handicapped grab bars, liftable grab bars, wheelchairs, and other products in the bathroom. We will also strengthen research and development in this area. Because judging from the current trend, aging is not only happening in China, but is a global problem. So we will also work with the U.S. headquarters to develop more, more suitable for this era of age-appropriate bathroom products.
Kitchen and bathroom information: In addition to the trend of young people and the trend of aging, now about the brand overall space solutions do you think it will be the direction of future development?
Gu Baohua: In fact, Moen has expanded from a separate hardware and plumbing brand in the past 20 years to a full range of products for the whole bathroom now. From kitchen faucets to kitchen sinks and then to kitchen appliances. There is a chain in which we have been expanding around the water space research and development. We are constantly creating comprehensive solutions.
From this perspective, Moen continues to help consumers to provide complete solutions, while especially involving products that require customization, such as kitchen cabinets, showers, etc., there is also an increasing demand for customization in China. Moen continues to strengthen in this area, and deepen the customization capabilities and custom product service. So in the future, we will also tighten our focus on some existing whole-house customization strategies for more comprehensive development.
Kitchen News: It's no longer just about innovating from technology to selling individual products, but more and more about selling demand, and Moen is doing the same.
Gu Baohua: I think it can be said that Moen is constantly adapting to the changes in products and new demands from consumers, and Moen will find ways to meet these demands. As Mr. Wu shared earlier, why Moen has gradually come to the situation today in the past 20 years.
Kitchen News: In fact, this interview today is very rewarding for me personally. I think the release of our interview report today will also bring a lot of inspiration to our industry. For example, I really did not expect an imported brand to pay attention to the national trend. The second important point is that I feel Moen's spirit of long-termism. Mr. Wu, you have been working at Moen since 1997 and suggested that no matter what difficulties Moen encounters, it will steadfastly move forward towards its strategic goals and even keep increasing its size. This is worth thinking about in the industry.
Nowadays, most people are still pursuing short-term benefits, such as frequent changes at the top of the company and changing to the next strategy when the strategy fails to yield short-term results. Like last year's epidemic, which no one expected, Moen is still increasing its size even after such an unforeseen situation. What will the business situation in China be like after the epidemic? For example, how is Moen affected by the situation of the global commodity price increase? And how is it solving these problems?
Wu Yongjie: In fact, the price increase of commodity raw materials will definitely have a huge impact on our industry. There is no doubt that the cost of all players in this industry will be raised in the short term. This is also the common pressure faced by our industry.
However, as far as we are concerned, the price increase of raw materials is an external factor that is difficult for us to control. From Moen's point of view, we can start from the inside and enhance our own internal strength. In addition, we should improve our efficiency in all aspects and strive to minimize the negative impact on the industry caused by the price increase of commodities or raw materials. And we are convinced that after this round of sudden crisis, our competitive advantage will be more obvious and our business will be more solid. And because of this, the industry may have a new round of reshuffles. So actually the opportunity has come out. The raw material price increase is actually essentially a crisis coexistence event, or in the test of the enterprise's own quality and resilience.
Kitchen Information: The last question, I know Moen China also has production in China, so the products produced in China have not been exported to other countries?
Wu Yongjie: Yes, and after the epidemic, both domestic demand and overseas demand for products made in China are rising, and the rate of increase is large. This is another challenge we face, which is how to bring up the production capacity when the demand is growing so fast. So far, we have responded well to the problem, and at least our service to customers is still in place.
Also, China is part of the global supply chain. Through this epidemic, the world realized that actually China's supply chain is the most important. Because many orders have had to return to China for manufacturing, we had some overseas demand. In this epidemic, also returned to China to manufacture and accelerate growth.