Super Five-Star, The Value Of These Net-Worthy Bathrooms In China Is So High!
Kitchen And Bath. Kitchen And Bath Headlines.
With the evolution of the city's commercial complexes, the associated restroom facilities and amenities are following suit, evolving at a rapid pace in terms of facility equipment, sanitary conditions, value, and functional zoning. In addition to their native functions, these net-red spaces have begun to take on derivative functions such as parent-child spaces, dressing rooms, and public spaces. Some are luxurious, some are minimalist, some are romantic and warm, some are unconventional, and you will find that there is still a piece of scenery hidden in a corner of the urban forest.
Taikoo Hui, Guangzhou
"City Oxygen Bar" Toilets
Nowadays, going to the bathroom is becoming an increasingly ritualistic thing. In Guangzhou Taikoo Hui "City Oxygen Bar" bathroom, you think you are into a public bathroom, but you are into a natural oxygen bar, which is also equipped with a fantastic white gallery, bright greenery, for urban beauty make-up, resting modern make-up room, LED make-up mirrors and beauty lights, here everything! It is as if they all exist for the sake of beauty.
In addition to beauty, in terms of energy saving and environmental protection, the "City Oxygen Bar" bathroom is also ingenious. The bathroom wall materials used in the special 100% recycled paper cylinder, recycled paper as the main material, with glutinous rice glue as an adhesive, not only to retain the natural nature of the wood, but also to ensure that the finished product is free of formaldehyde and other harmful substances. Assuming the restroom is to be renovated in 10 years, the walls can be broken down again to enter a new recycling cycle.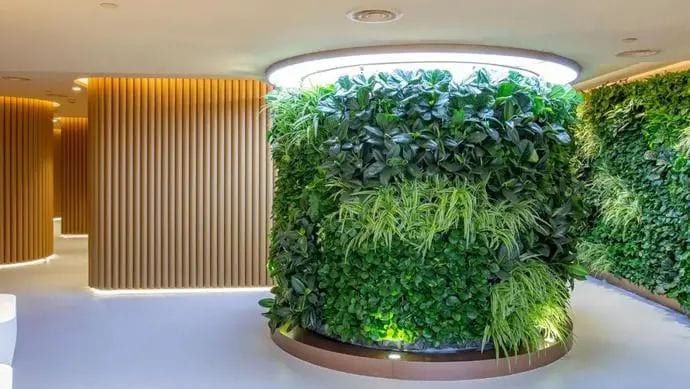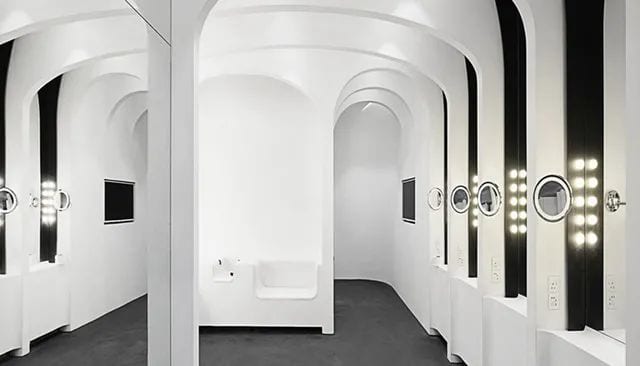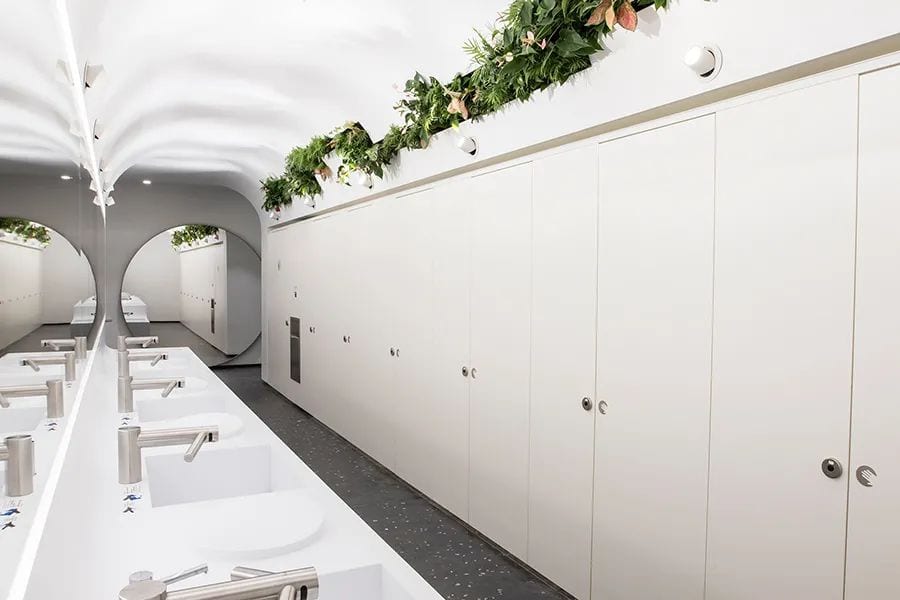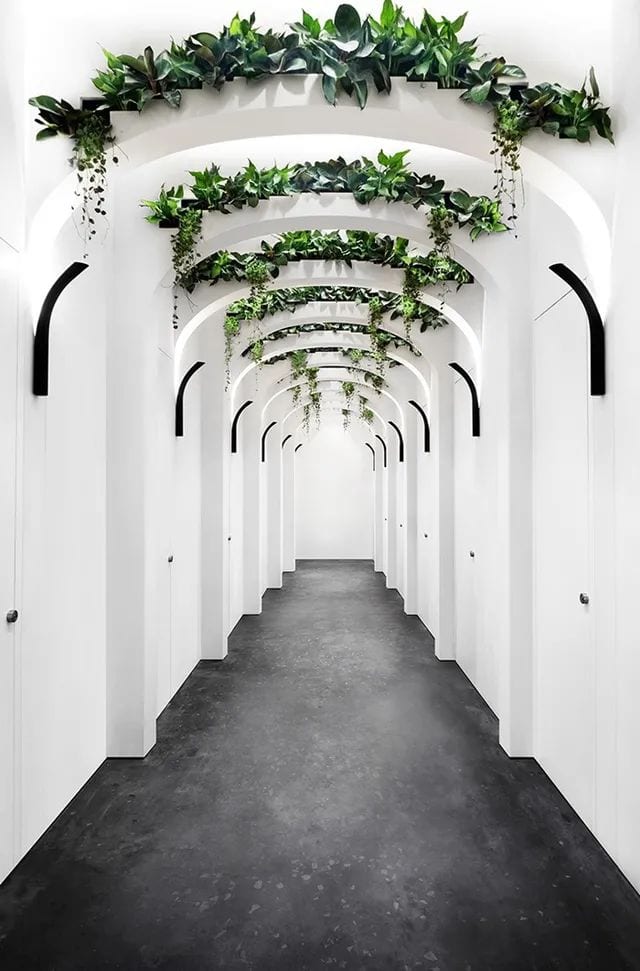 Hangzhou Xinlanli Building
Ultra-Modern Style Bathroom
As a bathroom, the ultra-modern style public space in the Hangzhou Binjiang Xinlanli complex is particularly striking. Netizens often come here to take pictures, and even stranger is that the staff of the Japanese shop next to the meeting. The space is full of punk atmosphere, with clear steel balls placed in the pool, green and pink-purple checkered tiles with dazzling mirrors and lighting effects, emphasizing the futuristic feel of the space.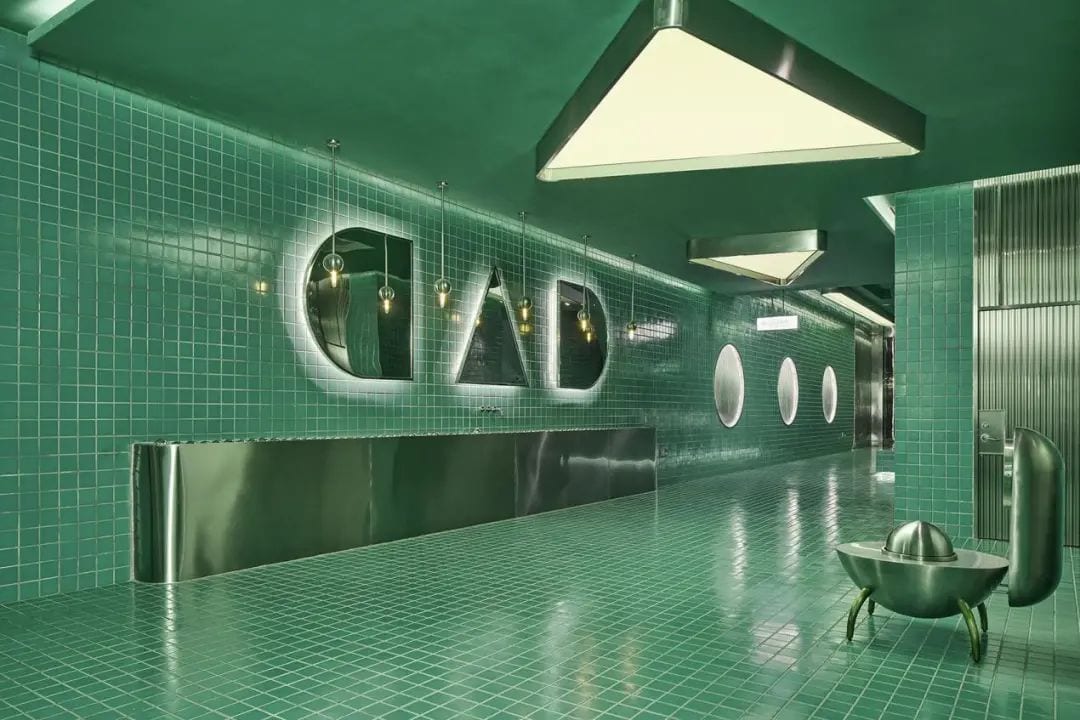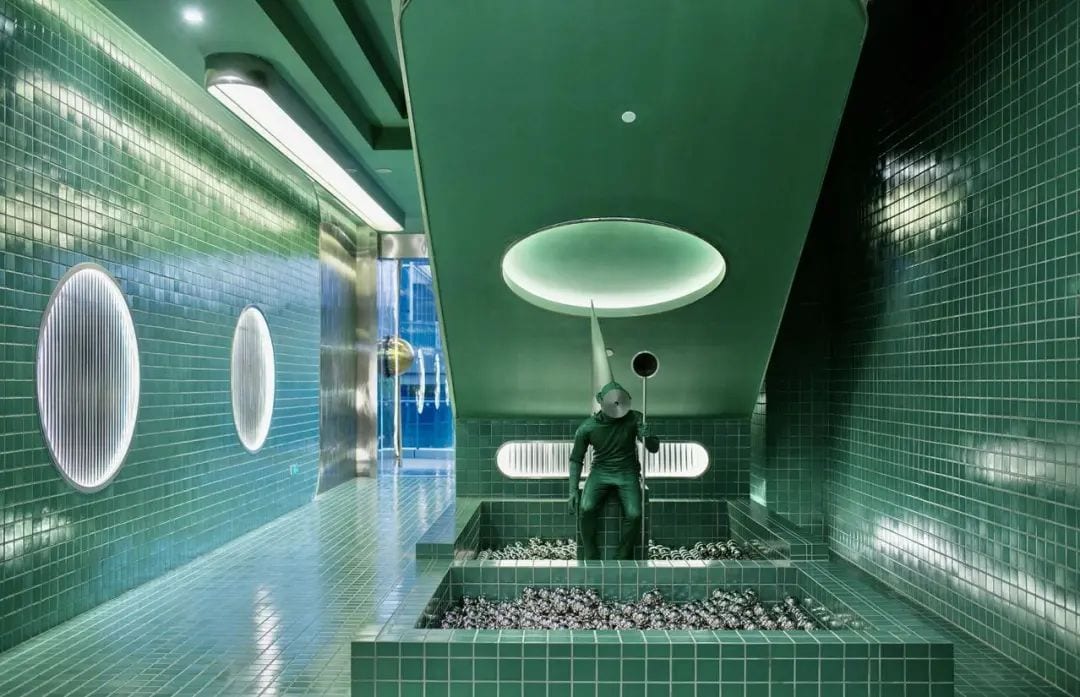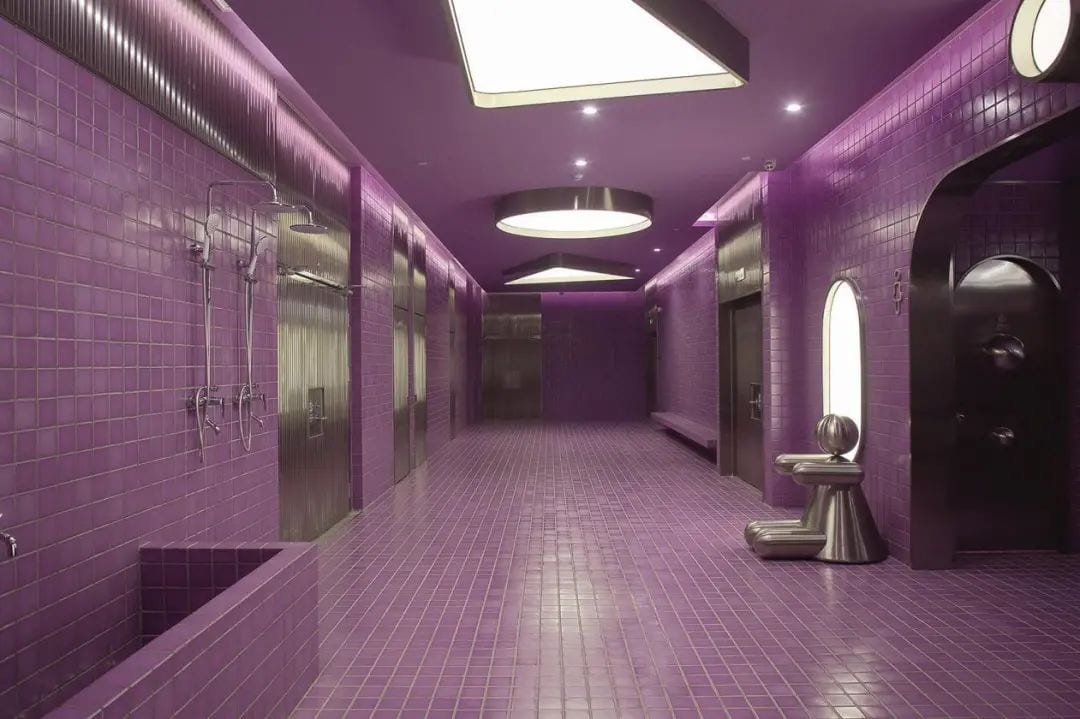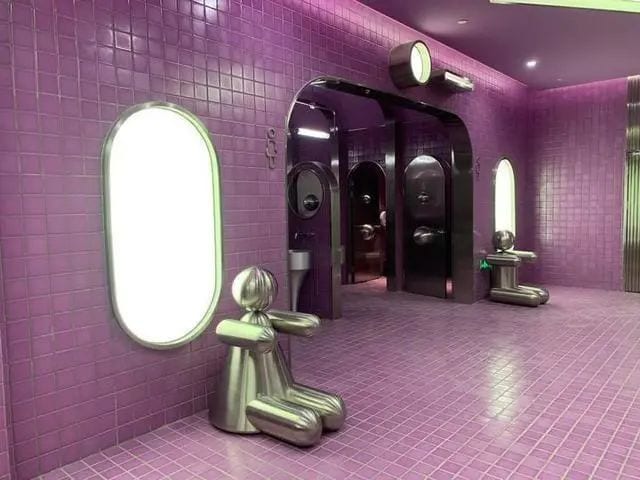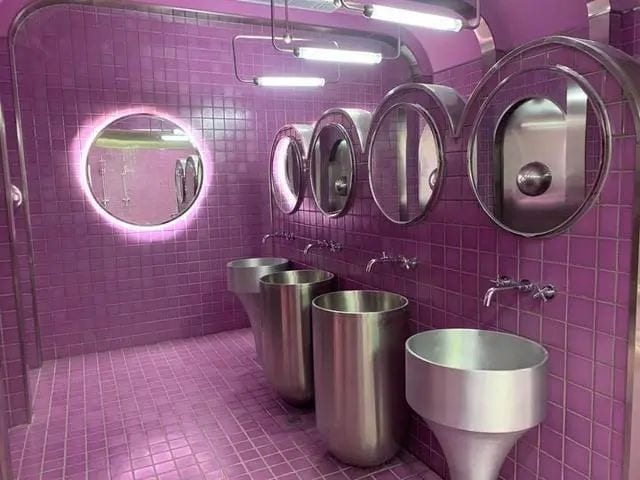 Chengdu Yintai Center In99
"Green" Themed Toilets
The most famous one is the one on the fifth floor of the mall, which has a "green" theme. The most iconic element of this net-red bathroom is the entrance to the bathroom, a corridor made up of many green pipes, and the overall streamlined design of the space makes the image feel very extended, like a time warp. Come here to clock in, whether it is half or full body in the camera, a casual shot is very large feel. In terms of practicality, the bathroom has also opened a special children's bathroom, mother and baby room and other facilities, fully taking into account the diversified needs of most groups.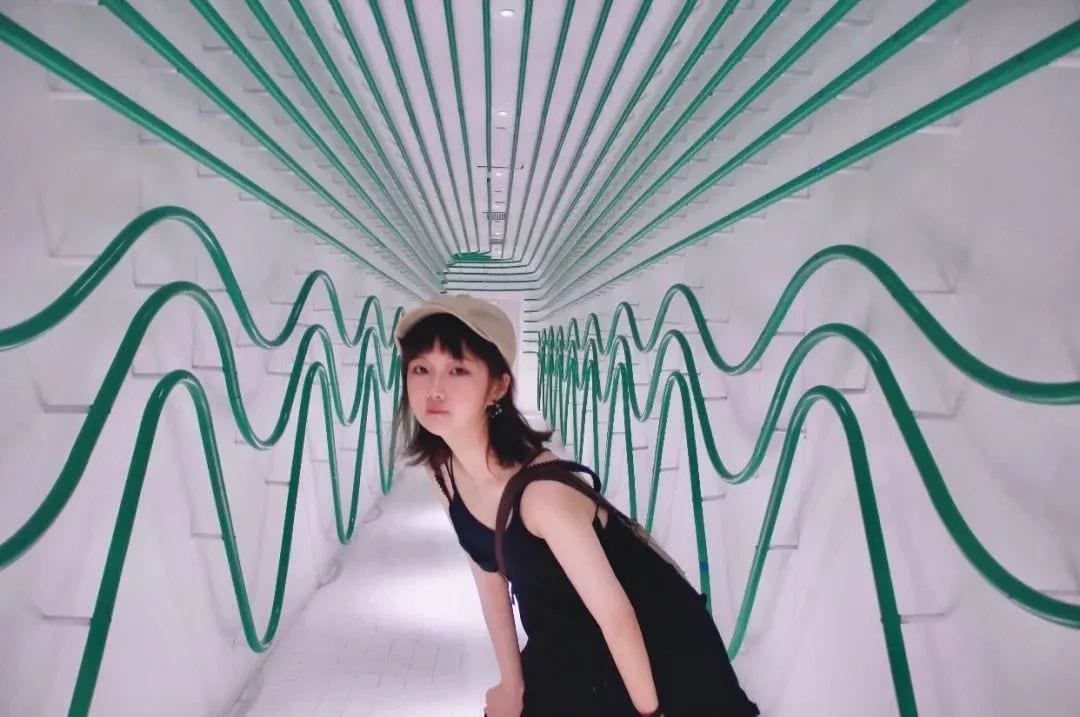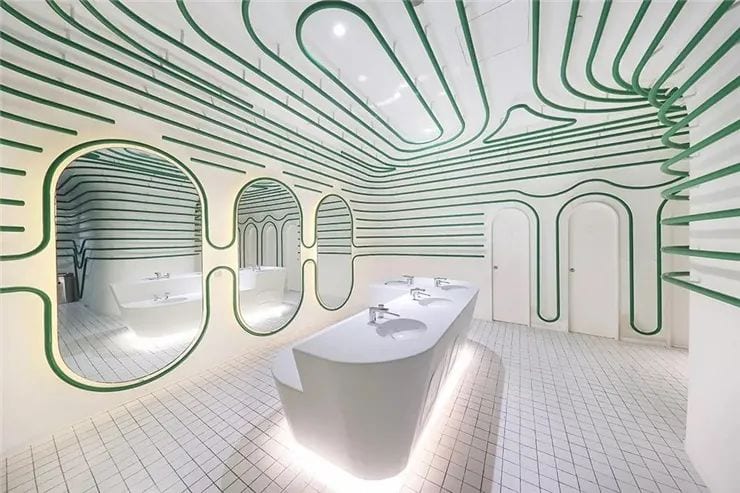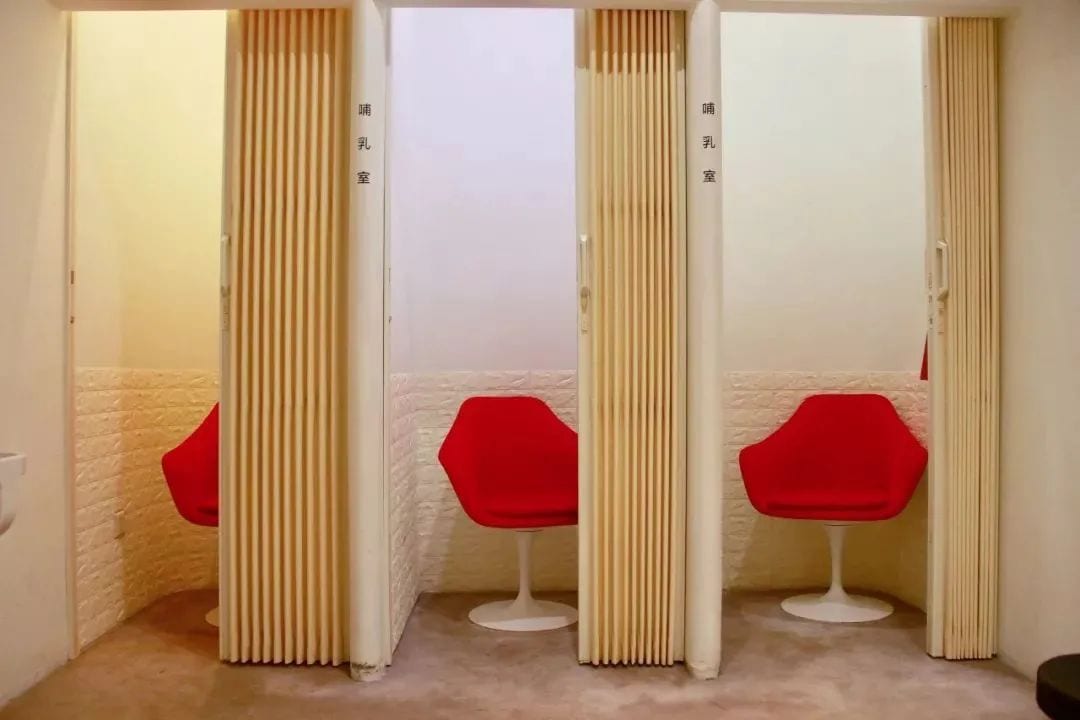 Tianjin Joy City
Dolphin Themed Bathroom
As the first bathroom in China to launch a creative block, Tianjin Joy City has created a themed block that attempts to overturn the traditional paradigm of commercial complexes. In the construction of themed bathrooms, Tianjin Joy City is also a model in the industry.In 2017, Tianjin Joy City joined hands with Coca-Cola to build the country's first porpoise themed bathroom "your smile, it cares". This porpoise themed bathroom in 4F of Tianjin Joy City, naked-eye 3D floor stickers and full wall hand-painting create a vivid sense of immersive images of water flowing waves and porpoises swimming in them. With the help of holographic projection technology, consumers can also interact with the porpoises, as if they were in a real underwater world.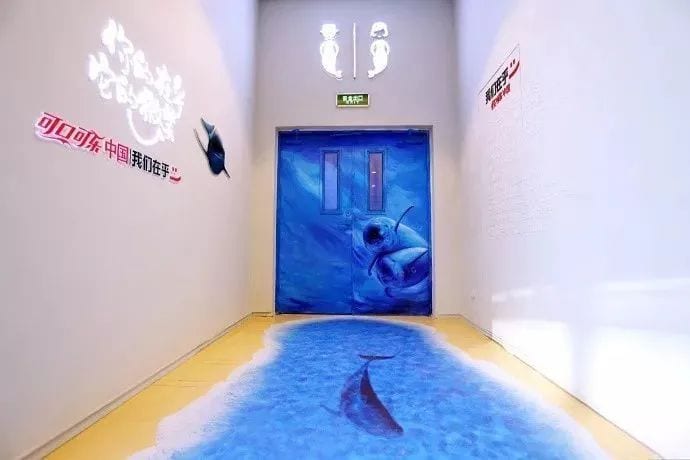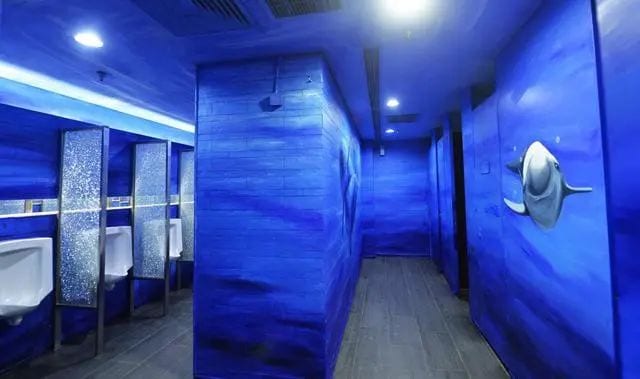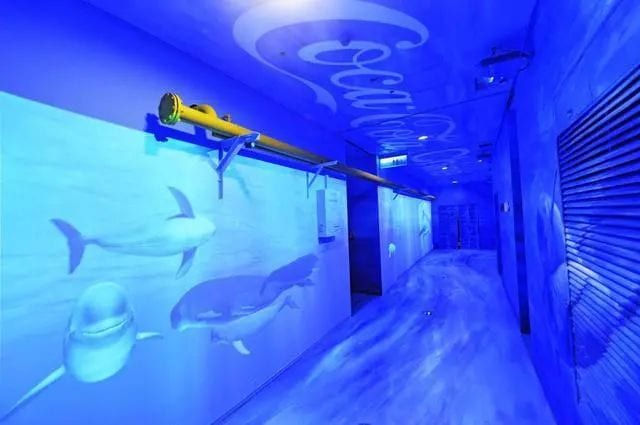 Shanghai Xintiandi
Social House Theme Space Bathroom
The 4th-5th floor of Xintiandi is the mall's own Social House themed space. As the main theme is female, the 4th floor restroom has been specially decorated with a soft and dreamy atmosphere. The washroom is divided into two functional areas: the right side is the conventional washbasin and toilet area; the left side is the rest area with dressing table, sofa, mother and baby room and changing room. The washbasin area is designed with a round mirror and cloud-shaped chandelier, with some concealed design, and the countertop looks very simple. To the left of the dressing area, the long and narrow space is warm and tidy, with professional makeup mirror and shopping bag hooks. There are also two public spaces in the area, a mother and baby room and a dressing room.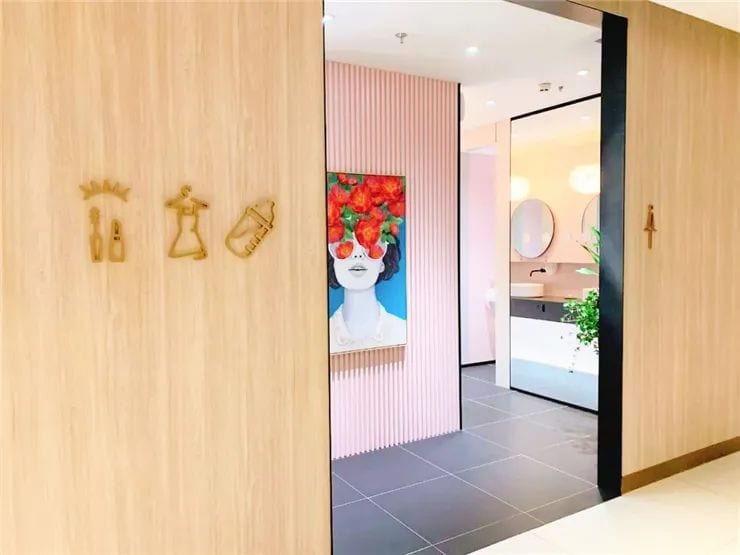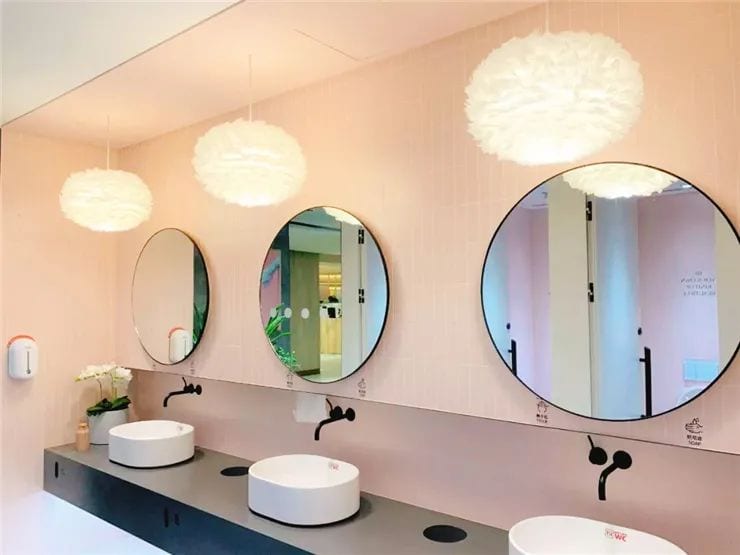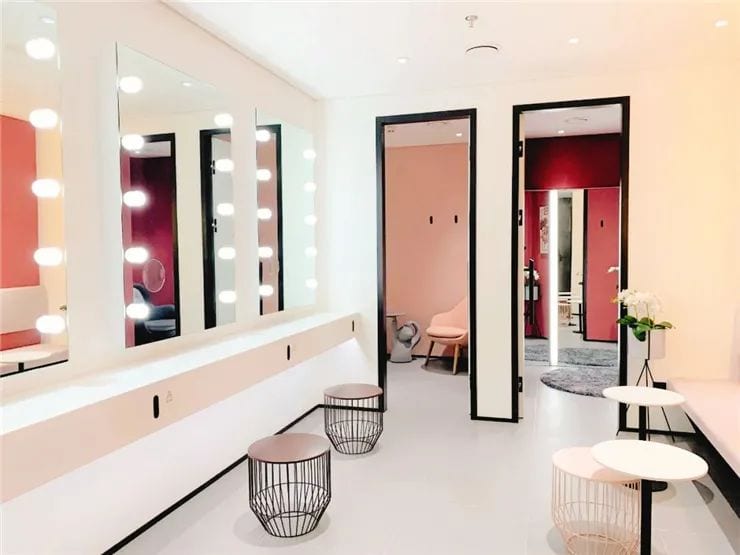 BFC Bund Financial Center, Shanghai
Luxury Bathroom
The design of the bathrooms in Shanghai's BFC, which was once judged the "most beautiful building on the Bund", is not to be underestimated. The highly saturated wall tiles with a dazzling large area of round mirror, a sense of seniority is exhaled. The overall design, size, materials, color mixing, collision, just right, and the Shanghai Bund ten miles of ocean field of international atmosphere is very in tune with.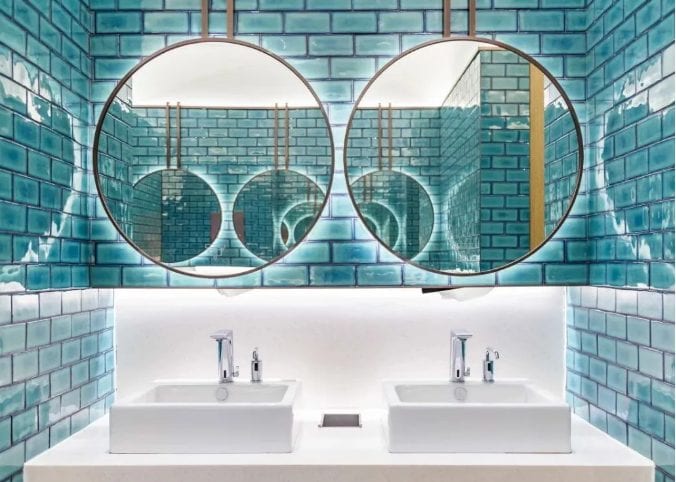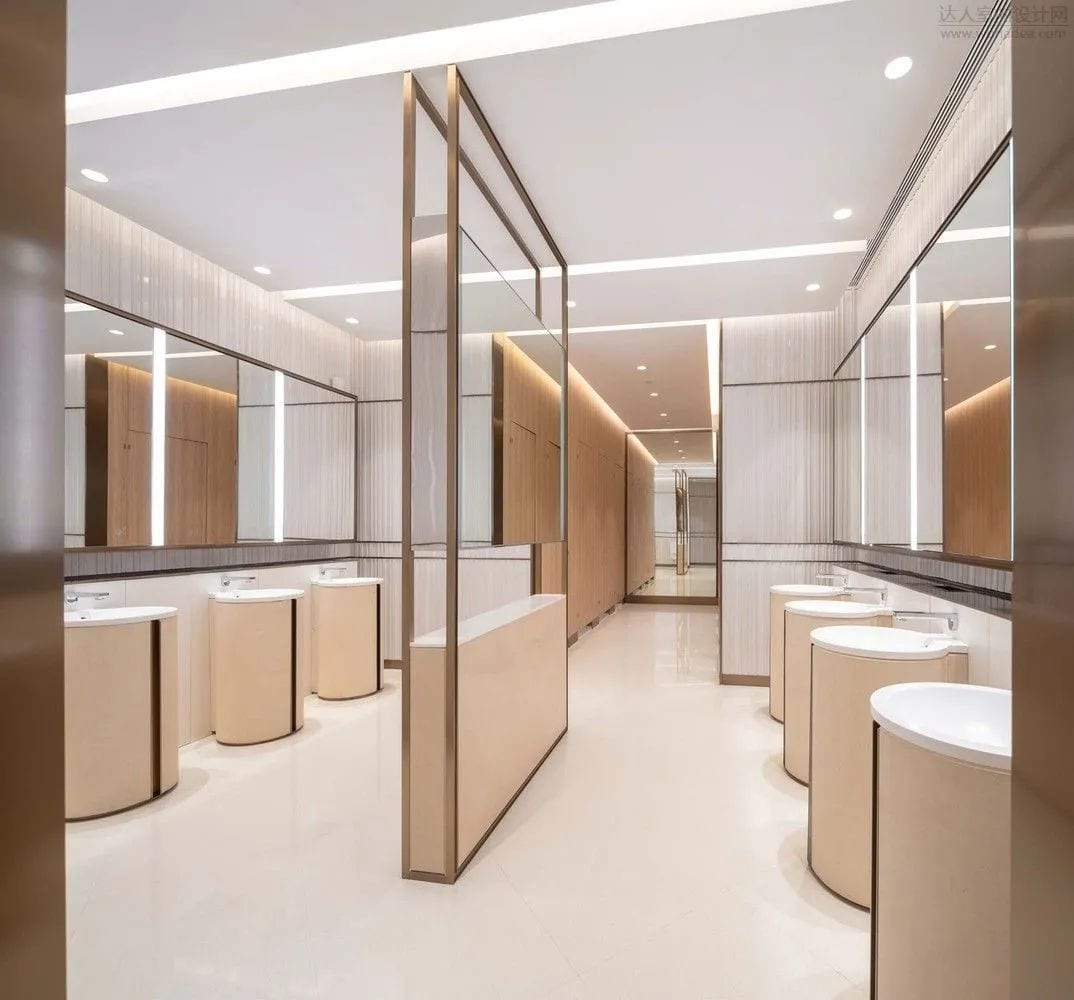 Hangzhou Yintai
Tmall Smart Bathroom
Outside the Tmall smart bathroom at Yintai in Hangzhou, girls can often be seen waiting in long queues to punch their cards. This is a Tmall and Yintai cooperation to create the world's first intelligent bathroom, bathroom first introduced by Tmall new retail technology to create a vending machine and virtual make-up mirror. In the vending machine, beautiful girls can also buy lipstick, mascara, air-cushion cream, no-rinse spray and other beauty personal care products from brands such as Lancome, Behringfeifei, Uemura show. The virtual make-up mirror allows girls to test the color of the make-up in addition to the make-up, a key test, continue to buy, beautiful.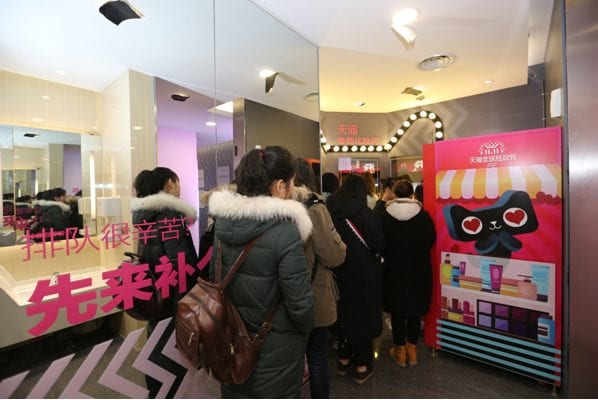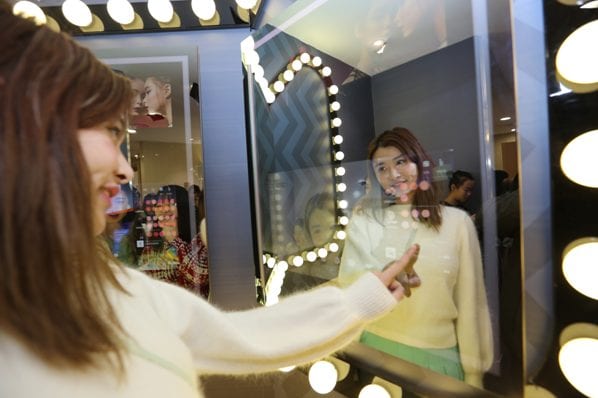 Guangzhou Pray For Colorful World
18 Themed Bathrooms
In the Guangzhou prayer colorful world, the park set up 18 creative theme bathroom, different styles, colorful, including the big-billed bird paradise, love Silk Wonderland wonderful journey, blue flowers, charm, firefly forest, ocean adventure, the universe to explore, ice and snow world and other themes. In these themed spaces, consumers can experience different scenarios, as if they have accidentally entered into a different dimensional world, which is very interesting.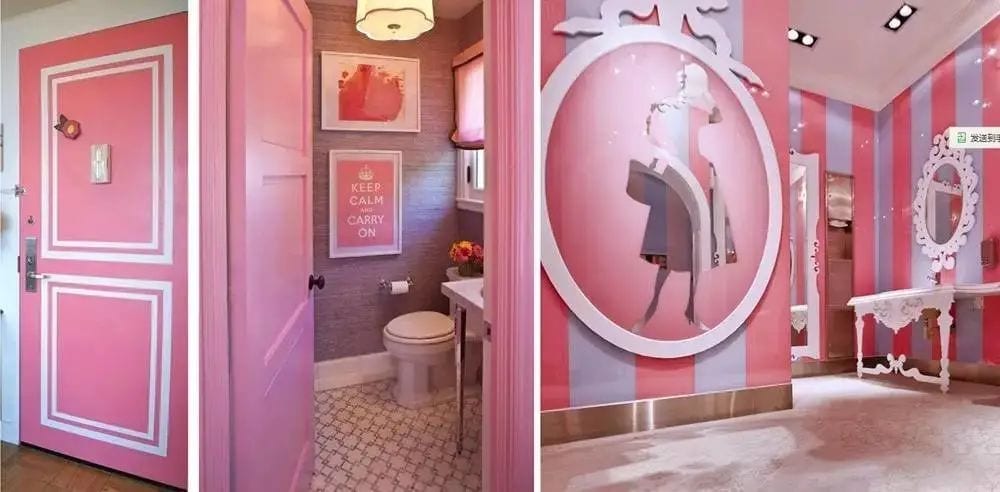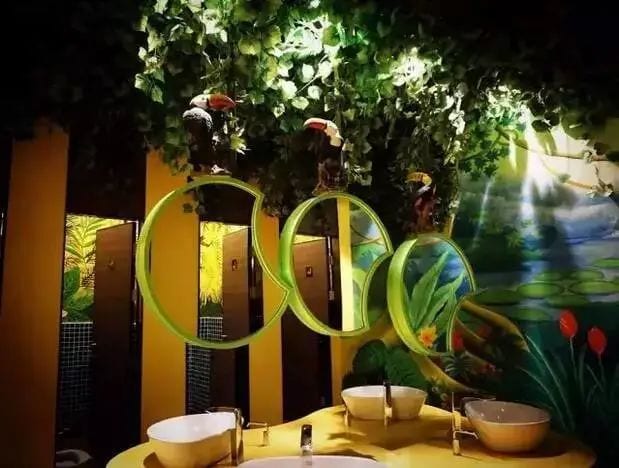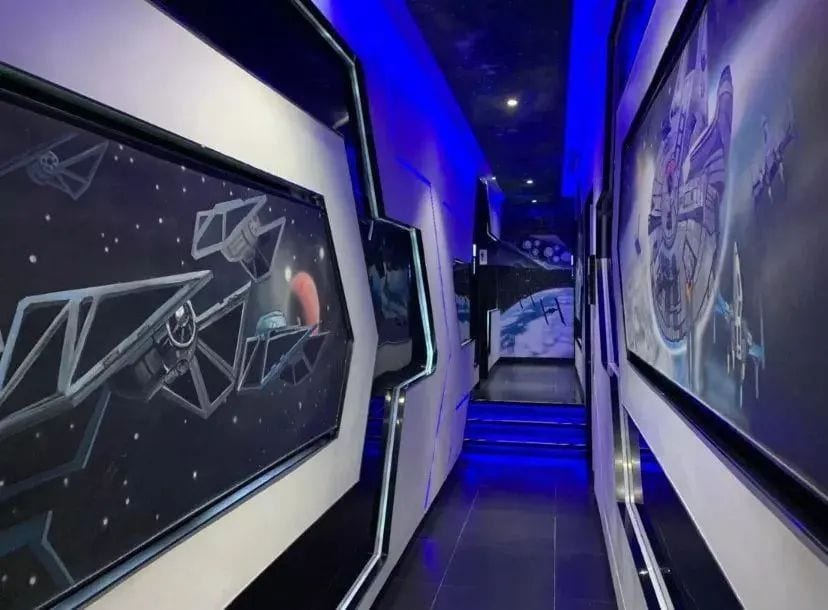 K11 Wecare WC, Shanghai
WeCare WC at K11 Shanghai is WeCare's first functional showroom open to the public. As it is located in the back area of the B3 floor of K11 art space, next to the VIP room, it is difficult for the general public to find this space. In terms of style and functional positioning, WeCare WC in K11 Shanghai focuses on the theme of children, with many children's favorite cartoon characters filling the entire space, giving the space an atmosphere of innocence, childlike fun, warmth and loveliness.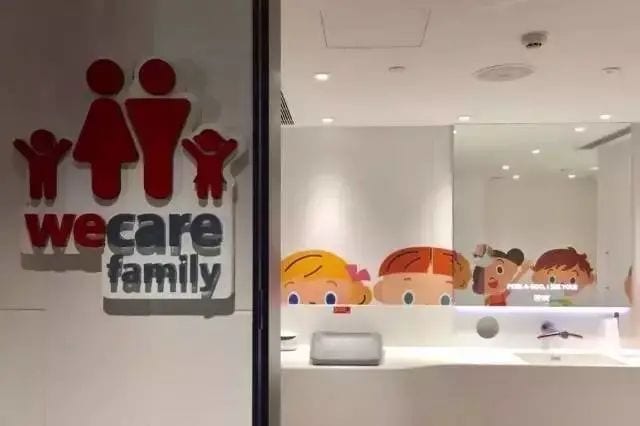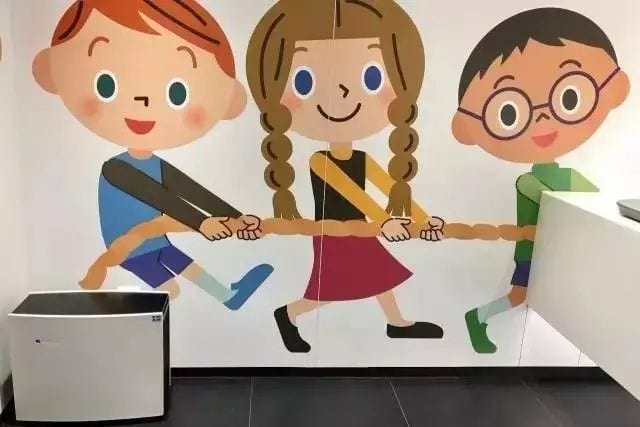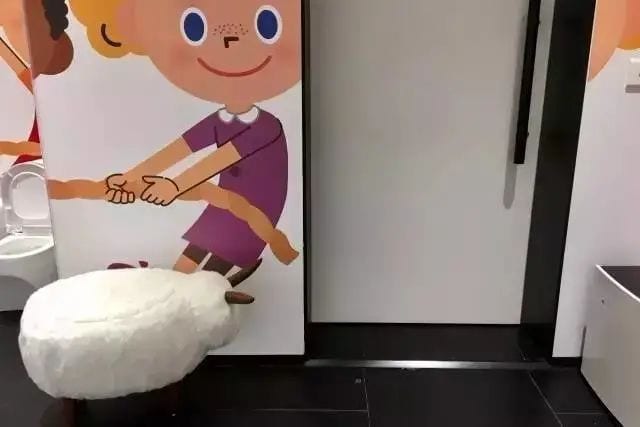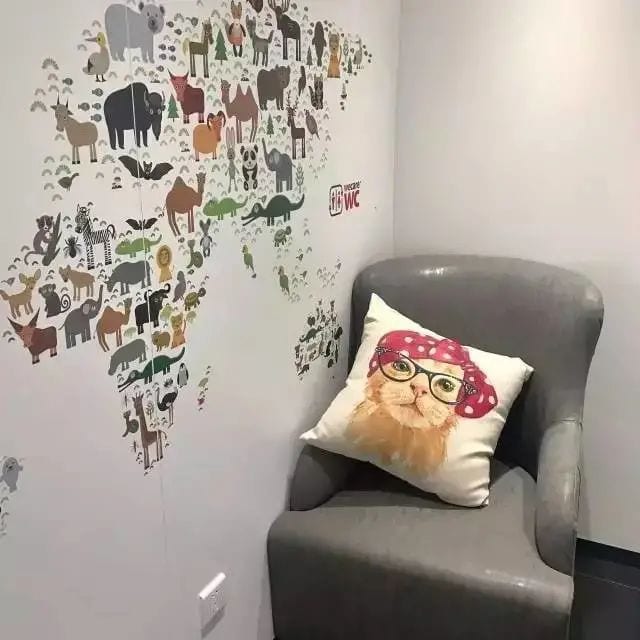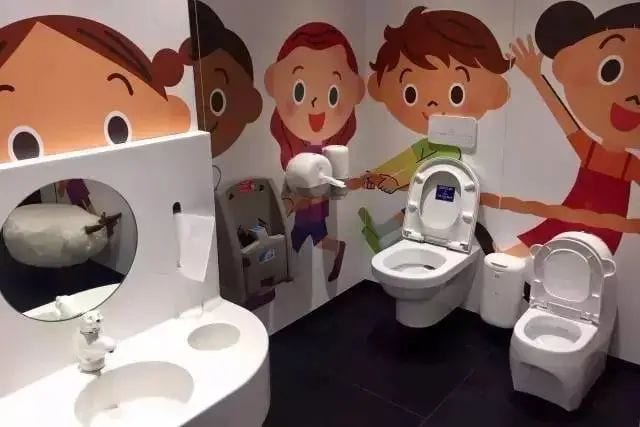 Ujoy Plaza, Chenggong, Kunming
"Bamboo" Themed Bathroom
As "the first aesthetically pleasing shopping mall in Kunming", Kunming Chenggong Ujoy Plaza is the most localized shopping mall in Kunming. In the design of the bathroom, the "bamboo" themed bathroom at Kunming Chenggong Ujoy Plaza makes use of metal mesh, pipes, semi-matte seats, marble, brass and other high-grade sense materials to create an elegant and simple "winding path" with a touch of ink and ancient charm. ".