Original Kitchen & Bath Industry Mainstream Media Kitchen & Bath News
According to the International Energy Agency IEA data, the global clean energy transition will have a profound impact on the next 20 years of mineral demand.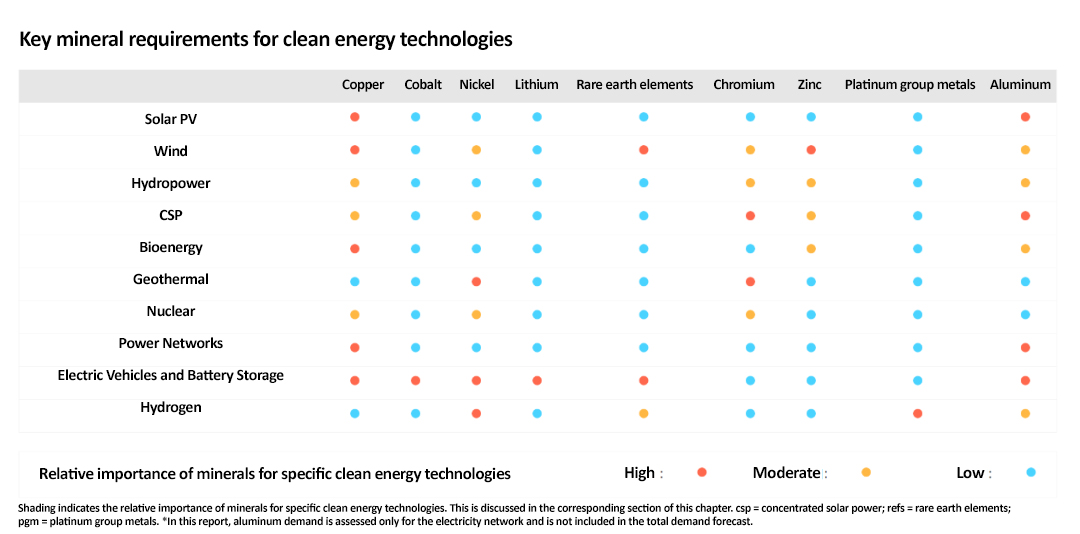 According to kitchen and bathroom information, at present, the main energy supply of building sanitary ceramics factory is natural gas, electricity, oil, coal, natural gas-fired kilns, and other distribution appliances, mechanical arms, conveyor lines and other major energy-consuming equipment. A small number of special ceramics factories will use oil-fired kilns. Zhejiang Longquan daily-use porcelain factory part of the use of electric kilns. According to senior engineer Long Guangcan, in the 1970s, China has very few large enterprises have tried electric firing kiln, but the scale is small. Electric kiln cross-sectional space is small, and the kiln body is slender. At present, military enterprises and some daily-use porcelain enterprises exist the phenomenon of using electric kilns.
Subject to international energy tension and gas supply tension, at the end of February this year, the price of industrial natural gas once rose to 6.55 yuan / cube. As the main product cost of energy-consuming industries such as building sanitary ceramics and the costs associated with carbon dioxide emissions greatly affect the competitiveness of the industry. From the point of view of decarbonization of the industrial structure, alternative and sustainable cogeneration processes are needed, thus reducing the consumption of current fuels (natural gas or coal). Therefore, in addition to the development of CO2 capture and reuse processes, renewable energy sources (photovoltaic power, hydrogen) will be considered as the main alternative way to achieve decarbonization in the production of ceramic products.
Arrow Home Group chairman and general manager Xie Yurong had pointed out at the 2010 China Building and Sanitary Ceramics Association annual meeting, entering the low-carbon green era for the building and sanitary ceramics industry is indeed a great challenge, but also an opportunity. If you can not pass this hurdle, may be eliminated; if passed, the enterprise will be able to get sustainable development.
01
Home enterprises to actively transform clean energy
Several photovoltaic projects to be put in place in 2022
In recent years, the domestic head of home enterprises are exploring the "climate neutral governance". These actions are mainly manifested in a number of aspects such as energy transformation, digital transformation and supply chain transformation.
In photovoltaic power generation, Arrow Home Group, China Kohler, Huida bathroom, JOMOO Group, Dongpeng Holdings, H & G Group, Monarch sanitary ware and many other companies began to step into the energy transition road.
Shandong Province has the largest installed capacity of domestic photovoltaic power plants in the province. Due to the good light resources here, early start, low entry barriers for enterprises, government services in place and other factors, most local enterprises in 2013 began to lay photovoltaic power plants, including Dezhou's Lehua ceramics.
At the end of June 2013, a number of enterprise projects, including Dezhou's Lehua Ceramics 1628 kW distributed PV power project. Through the acceptance of the State Grid Dezhou Power Supply Company officially connected to the Dezhou power grid, they became the first distributed PV power project in Dezhou to be connected to the grid.
At the end of 2018, Arrow Home Group's "3025kWp Distributed PV Poverty Alleviation Project of Nanxiong Lehua Ceramic Factory", which was EPC contracted by China Energy Construction Group Guangdong Thermal Power Transmission and Transformation Engineering Company, was successfully connected to the grid again. Nanxiong Lehua ceramic factory distributed photovoltaic project with a total investment of more than 20 million yuan, planning to be divided into four photovoltaic area. All the electricity generated by the Lehua ceramics factory for consumption, the surplus power for online. After the completion of the project, it is expected that the total power generation in 25 years can reach 75,041,420,000 kWh, saving 23,200 tons of standard coal and reducing 6,927.5 tons of carbon dioxide emissions.
As the largest rooftop distributed photovoltaic power station for poverty alleviation in northern Guangdong, after the completion of the project, it can optimize the system power supply structure, reduce the pressure on environmental protection, promote the sustainable development of the regional economy and contribute to the energy saving and emission reduction in the region.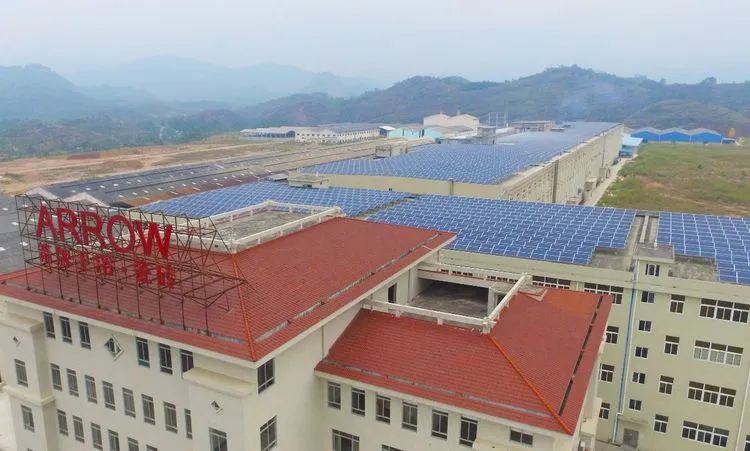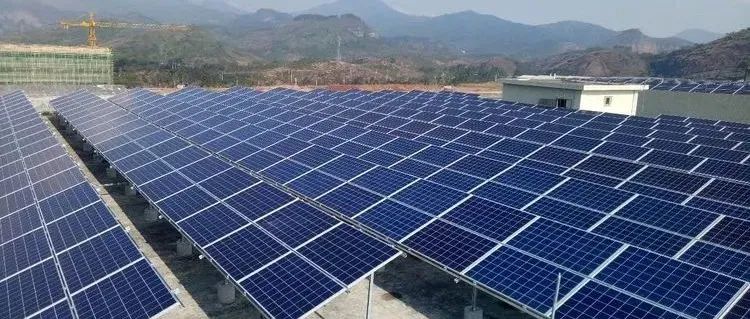 Shaoguan Nanxiong City Lehua Ceramic Sanitary Ware Factory
The solar panels of Kohler's Shanghai plant have also been completed and put into operation. It is reported that in 2021, a full year of power generation of more than 150,000 kilowatt hours can meet the needs of the office and part of the production of electricity. As a multinational company and a relatively successful localization group, Kohler's global plant management model is worth learning from. Kohler is said to have adopted a rating system for global plant management. At the beginning of 2022, Foshan Kohler factory will be in its electronic screen on the slogan "in 2022 to become the best global Kohler and China market ceramics factory".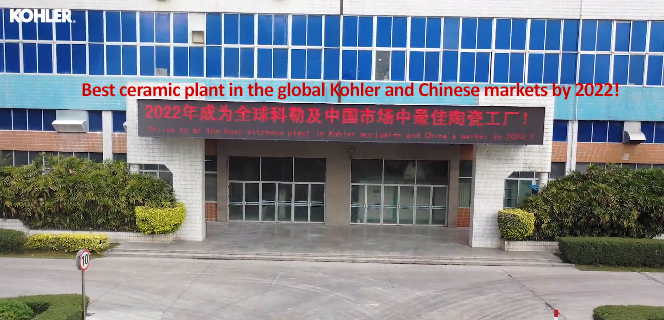 Kohler factory in Sanshui, Foshan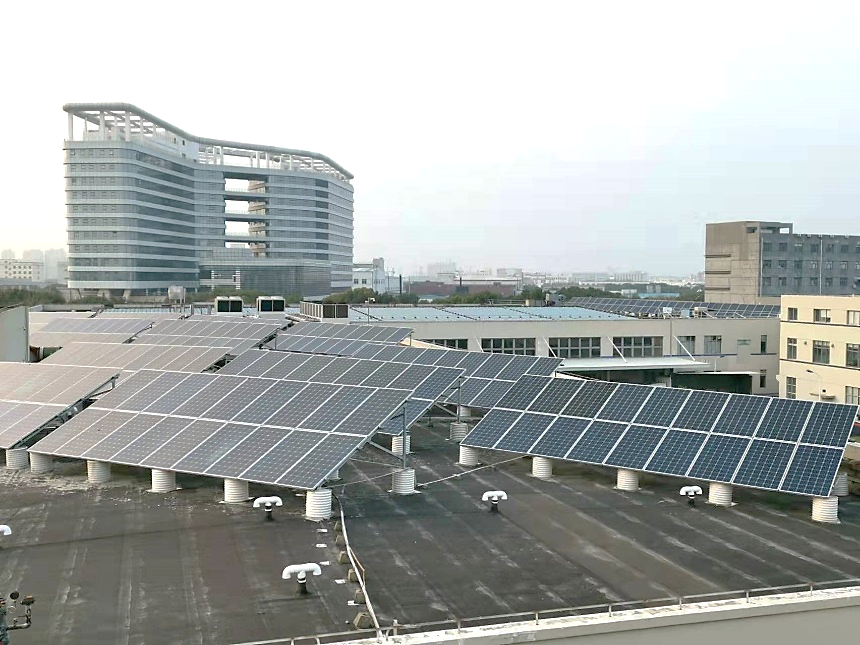 Shanghai Kohler Electronics Co.
H&G Group's Foshan H&G Dahui Sanitary Ware Co., Ltd. also began laying 25,000 square meters of rooftop monocrystalline 2565.12kWp grid-connected photovoltaic power plants in 2019. And Huida, through its holding subsidiary, has built PV power projects in two factories with an installed capacity of up to seven megawatts.
In addition, in 2022, a number of PV projects were approved for Rose Island, Ocean Sanitary Ware, Chaozhou Jiuhao Sanitary Ware and Kaiping Jiyu Sanitary Ware. Rose Island (Taishan) Bathroom Technology Co., Ltd. has a total investment of 29.94 million yuan. It has an installed scale of about 6MWp, with low-voltage access. They use self-generation, surplus power online distributed rooftop photovoltaic power generation. The electricity generated is mainly for Rose Island's use and is expected to generate an average of 5.8 million kWh per year.
Meanwhile, the third phase of 1250KW distributed photovoltaic power generation project of Guangdong Ocean Sanitary Ware Co. Their total investment is 7.5 million yuan, with a total installed capacity of about 1250KW. they use the "self-generation, surplus power online" model, and it is expected that the power generation can be absorbed by 70% of the plant. In the plant, the existing roof and open space area is 166,200 square meters, and the installation area is 12,000 square meters. It has a power generation life of 25 years. The installed equipment includes inverters, distribution cabinets, PV modules, etc. The PV modules are made of monocrystalline silicon.
Guangdong Jiuhao Sanitary Ware Co., Ltd. 251.64kw distributed rooftop photovoltaic power generation project has a total investment of 1,119,700 yuan, and the generated power is self-generated and the surplus power is put online. The average annual power generation capacity of the project is 317,900 kWh; with a production cycle of 25 years, it can save 104.27 tons of standard coal and reduce 316.93 tons of carbon dioxide per year on average.
The total investment of 80.08KWP distributed photovoltaic power generation project of Kaiping Jiayu Sanitary Ware Industry Co., Ltd. is 300,000 RMB, using 208 pieces of monocrystalline silicon 385W photovoltaic modules. An 80KW grid-connected inverter and its related accessories are connected to the grid using the self-generation and self-consumption residual power feed-in mode.
As for the hydrogen energy, according to the kitchen and bathroom information, Diou Home as well as Mona Lisa have also started the experiment. On September 24, 2021, Diou Home said in the investor interactive platform that it will actively try to use clean energy in the production process and explore more possibilities.
Just on March 23, 2022, the National Development and Reform Commission and the National Energy Administration jointly issued the Medium and Long-Term Plan for the Development of Hydrogen Energy Industry (2021-2035). The Plan clarifies the energy attributes of hydrogen as an integral part of the future national energy system. We should give full play to the clean and low-carbon characteristics of hydrogen energy and promote the green and low-carbon transformation of transportation, industrial and other energy-using terminals and high-energy-consuming and high-emission industries. At the same time, it is clear that hydrogen energy is the key direction of strategic emerging industries. This is a new growth point for building a green and low-carbon industrial system and creating industrial transformation and upgrading.
According to IHS Markit Power, global annual investment in the hydrogen energy industry is expected to exceed $1 billion by 2023. Yet even though the cost of hydrogen production has fallen by 40%. It is expected to fall a further 40% by 2025, but the costs are still relatively high. The main cost comes from the cost of the hydrogen generation process and the cost of equipment.
02
The supply crisis of energy equipment in the post-epidemic era
According to the International Energy Agency IEA, the current supply and investment plans for many key components are far from being able to support the rapid meeting of the installed capacity of photovoltaic and wind power generation in the short term. According to the global distribution of resources, most minerals come from a small number of producers. For example, in the case of lithium, cobalt and rare earths, the world's top three producers control more than three-quarters of global production. This high geographic concentration, long lead times for starting new mines, declining regional resource quality, and various environmental and social impacts trigger far-reaching implications for the future of reliable and sustainable supplies of raw materials. And these raw materials are critical to the production and energy transition.
Major global energy concentrations
However, the pressure from raw materials will not only affect decarbonization, but also the process of digitalization. The current manufacturing of terminal digital devices such as cell phones involves nearly 40 elements from the periodic table, some of which are present in less than 0.001% of the total content of the earth's crust. According to a study by the European Commission, digital technology contains almost the entire periodic table of elements in which copper, gallium, germanium, gold, indium, tantalum, China (41%) and African countries (30%) are the main suppliers.
The shortage of semiconductors, on the other hand, is increasingly limiting the global production capacity of many electronic devices, with important implications for the widespread deployment of smart manufacturing in particular. According to Alicia Valero, professor of mechanical engineering at the University of Zaragoza and director of the Industrial Ecology Group at the CIRCE Institute, key elements for electronics, such as silver, cadmium, cobalt, chromium, copper, indium, lithium, manganese, nickel, lead, platinum, tellurium or zinc, will likely be at risk of bottlenecks between now and 2050, which in turn will put the digital transformation face in crisis.
In a post-epidemic era dominated by scarcity and uncertainty, a new post-COVID-19 supply chain is necessary, and industrial symbiosis will be seen as a key strategic plan by some companies.
Source: ITC Competitive Intelligence Unit, International Energy Agency