How Far Is It For Zhejiang To Build The World's Largest Intelligent Bathroom Base?
Original Lin Xiaoxiong, Shi Yangyan Kitchen And Bathroom Information
Recently, the Department of Economy and Information Technology of Zhejiang Province released the "14th Five-Year Plan" (hereinafter referred to as "the Plan") for the construction of the global advanced manufacturing base in Zhejiang Province. They will accelerate the construction of global advanced manufacturing base, and strengthen the smart door lock, smart home appliances, smart lighting, smart kitchen and bathroom and other end products, and build a global influence of smart kitchen base and smart bathroom base.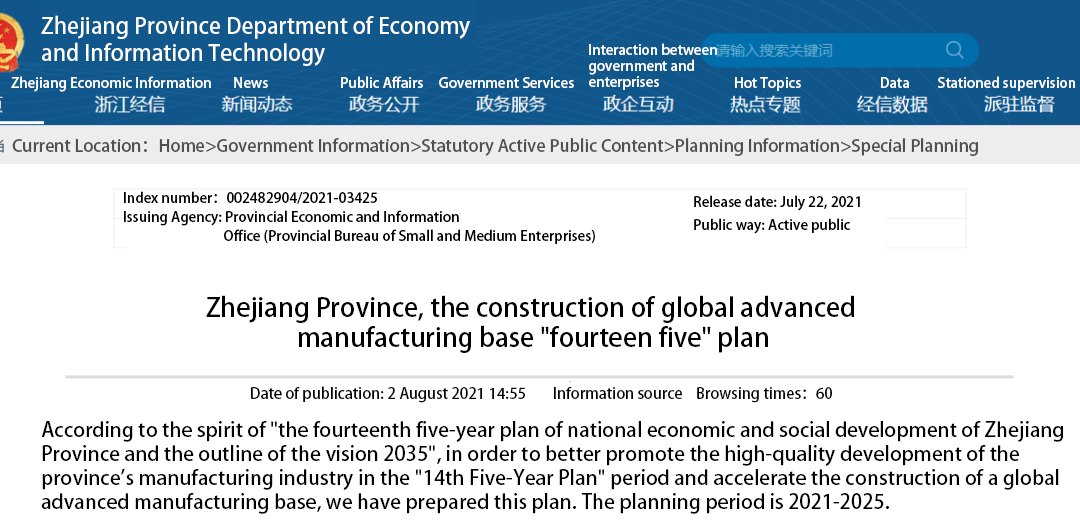 "Thirteenth Five-Year" period, the development of intelligent sanitary ware industry has been included in the key industrial development plan of Zhejiang Province. Among them, Taizhou, Zhejiang Province is the earliest start, the largest production of intelligent toilet industry clusters. Since 2015, the number of intelligent toilet enterprises in Taizhou has increased rapidly. The industry output value also increased from 2 billion yuan in 2015 to 7.5 billion yuan in 2020.
And in 2018, Taizhou City introduced the "Taizhou Smart Toilet Industry Cultivation Work Program". It strives to achieve an annual output of more than 20 million units of intelligent toilets in Taizhou City by 2023, and the total output value of the whole industry chain exceeds 100 billion yuan. It strives to achieve more than 10 enterprises with sales volume exceeding 1 billion yuan, including 4 enterprises with sales volume exceeding 5 billion yuan, and strive for more than 5 enterprises to land in the capital market.
Data show that in 2020, China's smart toilet omnichannel sales will reach 4.081 million units, an increase of 20.1% year-on-year. Its sales will reach 14.22 billion, an increase of 14.8% year-on-year. In recent years, the number of smart toilet enterprises in Zhejiang Province has increased rapidly. It has gathered large OEM manufacturers such as Taizhou Ikahe, Tejjer, Cncoma, BJB, Quzhou Hilk, Ningbo Jitian and so on. Especially Hilk is a cover supplier that relies on Arrow to make it big. These companies occupy the share of outsourcing from major brands and have become the basis for building a globally influential smart bathroom base in Zhejiang.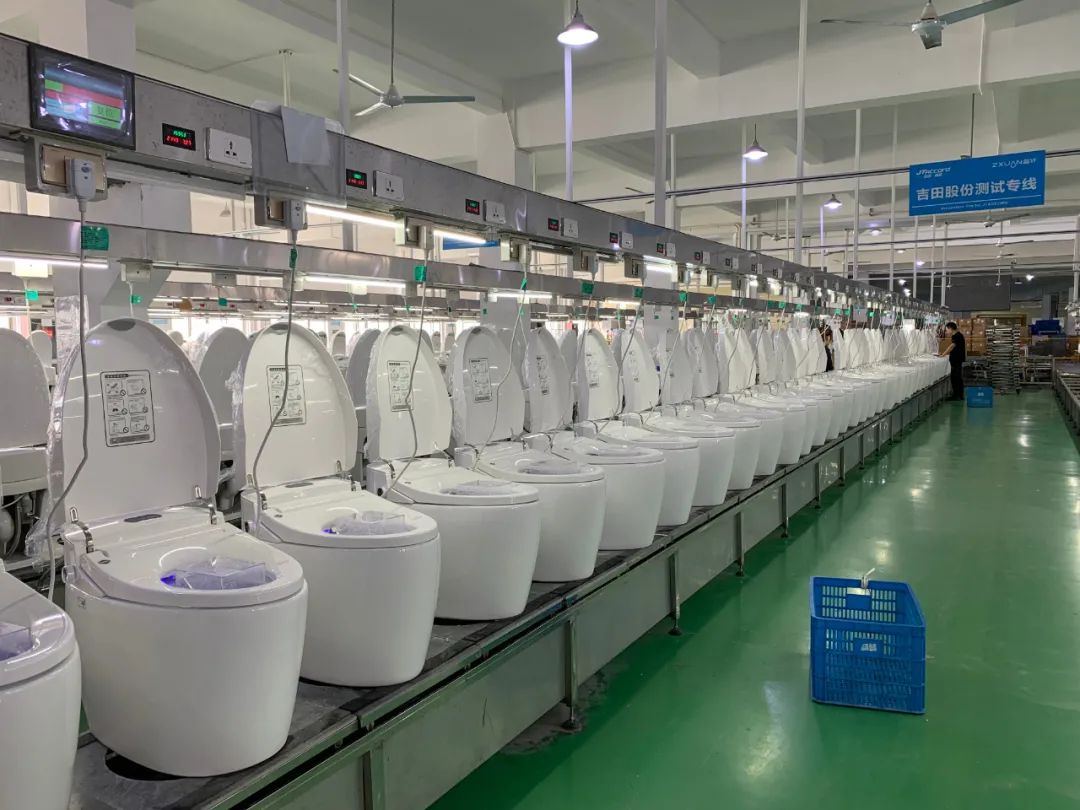 Production line of Ningbo Yoshida
The "14th Five-Year Plan" period is a key stage for the industrial Internet to combine 5G, big data, artificial intelligence and other new generation information technology to accelerate the transformation and upgrading of the manufacturing industry. The Plan shows that Zhejiang will plan to establish a library of intelligent manufacturing enterprises, accelerate the construction of "future factories", intelligent factories (digital workshops), and carry out intelligent manufacturing pilot. They will create a number of smart manufacturing benchmark areas and clusters, and improve the smart manufacturing classification and promotion mechanism and policy incentives.
This year, Jomoo, Weimei, Huida5G smart factory has been launched, which has a stimulating and guiding effect on the upgrade construction of smart factories in the industry. With the development and popularity of 5G technology, more and more 5G ceramic sanitary ware factories will appear. Ceramic and sanitary industry from industrialization to digital has become inevitable.
Today, Zhejiang Province's digital economy is growing rapidly, and its total volume ranks fourth in the country. The value added of its core industries grew by an average of 15.2% per year, accounting for 10.9% of the gross domestic product (GDP). It ranks first in China in terms of "industry digitization" index. According to the Plan, by 2025, the value added of core industries in Zhejiang's digital economy will account for 15% of GDP. The added value of high-tech manufacturing industry accounts for 19% of the proportion of industry above the scale.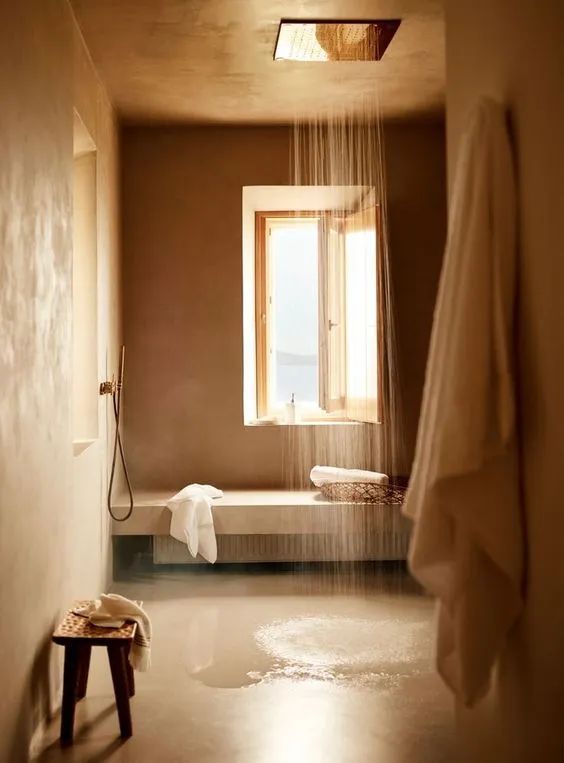 It is worth noting that Zhejiang's intelligent bathroom industry has made great progress. But at this stage of Zhejiang's intelligent bathroom industry, in terms of value-added rate, labor productivity, innovation capacity, quality brand, etc., there is still a large gap with the global advanced.
Take the total labor productivity of the manufacturing industry on the regulation as an example, it is 235,000 yuan/person in Zhejiang in 2020. If we compare it with the data of the United States, Germany and Japan in 2016, it is only one-fifth of the United States, and one-third of Germany and Japan. Another example is for the proportion of high-tech manufacturing industry in the regulated industry, the value added of high-tech manufacturing industry in Zhejiang in 2020 is 15.6% of the regulated industry, while the United States exceeded 25% in 2015, and South Korea exceeded 30% in the same year.
Face up to the gap and narrow it. Even in some areas, some aspects of the global advanced to achieve the later. This is the "14th Five-Year Plan" during the Zhejiang to make efforts in the direction.
According to the "Plan" shows that Zhejiang in-depth implementation of the "Eagle Action". It will focus on components, key parts and supporting products, guiding intelligent sanitary ware enterprises to deep plowing niche areas. It will cultivate a number of invisible champions and special new "small giant" enterprises. This is also an important part of the construction of Zhejiang intelligent sanitary ware base with global influence.
However, Chaozhou, Foshan, Dongguan, Zhongshan, mainly in Guangdong, as well as the rise of Xiamen's intelligent sanitary industry also deserves our attention, especially the Chaozhou production area of intelligent sanitary ware has become the largest growth industry outside of sanitary ceramics.
Xiamen production area gathered most of the currently listed sanitary ware enterprises, including Arrow cover one of the top five supply R & T, the acquisition of the BGT Group Solux Technology, as well as having AXENT, Yousheng's Vidya system are very noteworthy.
The Chaozhou region is dominated by companies such as Sakurai, Mengjia and BGT. Chaozhou area about 400 sanitary ware enterprises equipped with intelligent toilet sales. The total sales volume in 2019 is about 3.3 million units, of which, about 3.25 million units are sold domestically and about 44,000 units are exported. It is mainly exported to the Southeast Asian market. In addition, the gathering of head enterprises in Foshan, Dongguan Botai, Kohler large cover supplier of Zhongshan Metu, Guangdong production area strength is also very strong.
Whether Zhejiang intelligent sanitary ware can defeat other production areas and become a global intelligent sanitary ware manufacturing base.