Let Manufacturers Have No Hard To Recruit Business! Where Does Yianju's Grievance Originate?
Original Kitchen And Bathroom Industry Mainstream Media Kitchen And Bathroom Information
In recent years, the development of the bathroom industry dividend period gradually faded, the capacity-based model gradually fallen. The industry has reached a bottleneck, and major enterprises began to try to break out from different directions. Some companies began to try the designer channel, the whole installation channel, work channels and other diversified development of the operating model. But after several tosses and turns, we finally found that only the dealer channel is the fundamental development of the enterprise. Continuously plowing the layout of the dealer channel is the right way to sustainable development.
But it is not easy to plow the dealer channel. Nowadays, dealers not only face rising labor costs, store rental costs, but also face the rising 85, 90 consumer groups that pay more attention to a service experience. At this time, if you also need to hire a person for logistics and installation and after-sales, which will undoubtedly cause a sharp increase in operating costs, increasing the operating pressure and operational risks.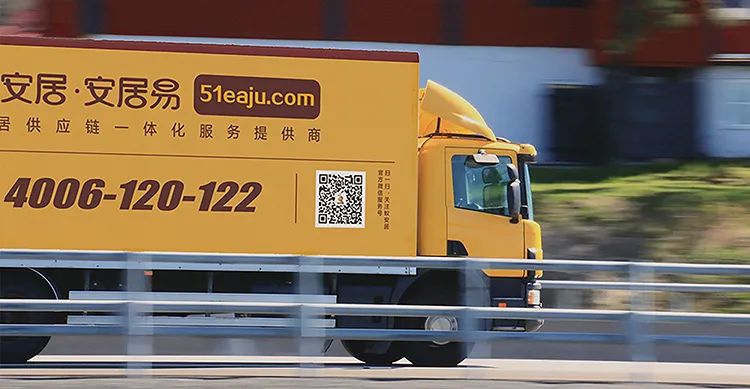 New consumer groups pay more attention to the quality of service experience
In addition, the sanitary industry channel flattening has become an irreversible trend. In the past, the general agent and the large exclusive regional agent, gradually realized the flattening of the city, into a small dealer. This means that companies in the city, especially in large cities such as North, Guangzhou, Shenzhen, and other investment are mostly not exclusive. Basically, a mall is assigned a dealer. And these dealers are basically 5-10 people operating stores, and the difficulty of trying to build a service system is very high.
At the same time, over the past two years, in the first and second-tier city dealers channel near saturation state, sanitary ware companies began to sink the channel to compete for market share in third and fourth-tier cities. To quickly seize this blank market share, the sinking channel investment is usually small and beautiful small stores.
Although it is easier to quickly open the layout of small stores, the pain points faced in the operation process are gradually exposed. First of all, the small store after-sales service capacity is weak, no own warehousing, distribution, installation, and maintenance of after-sales professional team. If each time for a single customer to find temporary logistics and distribution and social mechanics, often incur higher costs. In addition, temporary services will often be relatively inefficient and service quality will be compromised. The image of the brand will be greatly reduced in the minds of consumers, and the brand premium capacity will be significantly reduced.
Coupled with the storage capacity of small stores, low-pressure capacity, high operating costs, and increasingly transparent prices, it makes business more and more difficult. Sanitary ware enterprises in the third and fourth-tier cities investment, but also often because of this problem are stuck in the door. This requires manufacturers in the investment process from "product thinking" to "customer thinking" change, from selling products to dealers to dealers empowerment, to solve the dealer pain points of the transformation.
▼
Make up for the "small business" service gap
Let the brand have no hard-to-recruit dealers
To empower existing dealers and enhance the competitiveness of terminal channels, it is only a matter of making joint efforts from several dimensions, such as product quality, function, design and service experience. But due to the rapid development of science and technology in recent years, the industry's production level is increasingly enhanced, product quality, functionality, design between peers has tended to the same level. Product homogenization problem is becoming increasingly serious, service has become the brand out of the road of differentiation. For the sink channel serviceability is weak "small business", it should focus on good sales, attraction and conversion, and the service link to professional service organizations to undertake, the professional things to do to the professionals.
To solve these problems, enterprises can not get around the keyword is service. And nowadays, once the industry mentions services, we can't get around the solution expert of the home service supply chain – Yianju.
Yianju launched the bathroom boutique services, but also from the "small business" pain points, to create a full set of the warehouse, distribution, installation, and maintenance of integrated service solutions to make up for the sink channel market "small business" service gaps. This effectively solves the problem of sinking channels and new dealers with weak service capability. In the meantime, through professional, intensive, standardized and digitalized operation solutions, it helps "small and medium-sized dealers" to achieve cost reduction, efficiency increase and the establishment of quality service reputation.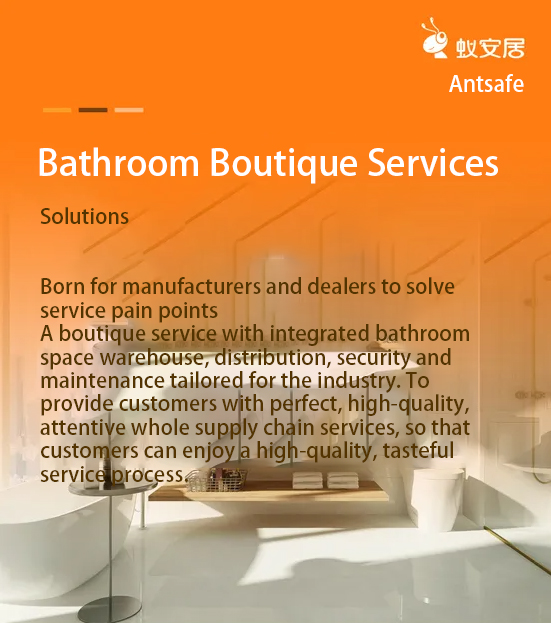 Yianju bathroom service solutions
Service 1: Butler installation – to solve the regional security and maintenance service problems
Yianju has 30,000+ installation technicians in the country, more than 3,000 own gold technicians with more than 10 years of experience, which can realize the coverage of 2200+ districts and counties in the country for home installation and maintenance capabilities. Through the standardized door-to-door service process, strict technician assessment and certification system, and professional technical support online guidance and other service systems, they can ensure the quality of service. Eventually help manufacturers and dealers to achieve high-quality, standardized service delivery in provincial capitals, prefecture-level cities and areas under the town, and effectively enhance the terminal service reputation.
Service 2: Warehouse and assembly integration services – intensive unified warehouse and common distribution, with one refusal to pull the plug
Yianju has more than 500,000 square meters of warehousing resources in 17 provincial capitals, and can undertake the intensive operation and management of manufacturers' regional central warehouses and dealers' warehouses. Through scientific operation management and a self-developed WMS warehouse management system, Yianju achieves 100% inventory accuracy rate as well as a significant increase in operational efficiency and warehouse utilization.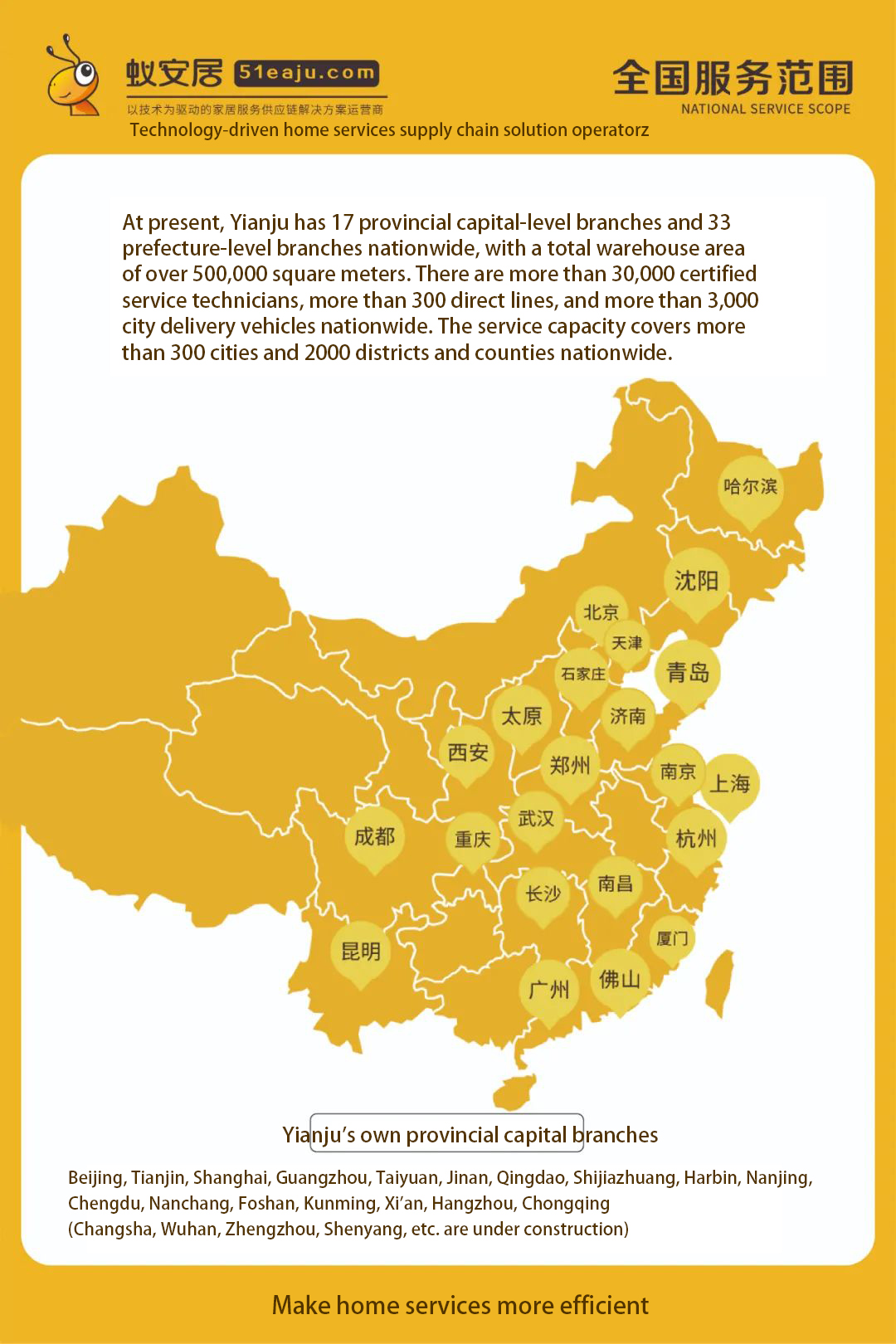 Yianju's own provincial capital branch

Yianju warehouse view
In the distribution and installation process, relying on Yianju's 2,000+ city distribution vehicles and 3,000 own gold-medal technicians, we can realize the installation with goods, 24-hour delivery and installation in the same city, disassembly, delivery and installation completed in one day. The delivery and installation are completed within 24 hours in the same city, and the disassembly, delivery and installation are completed in one day. Through the unified warehouse, unified distribution, delivery and security services and intensive operation mode, the terminal service greatly improves the door-to-door efficiency and reduces service costs. At the same time, Yianju's unified training and management of technical capabilities and service standards have greatly improved service quality and helped businesses establish a reputation for service.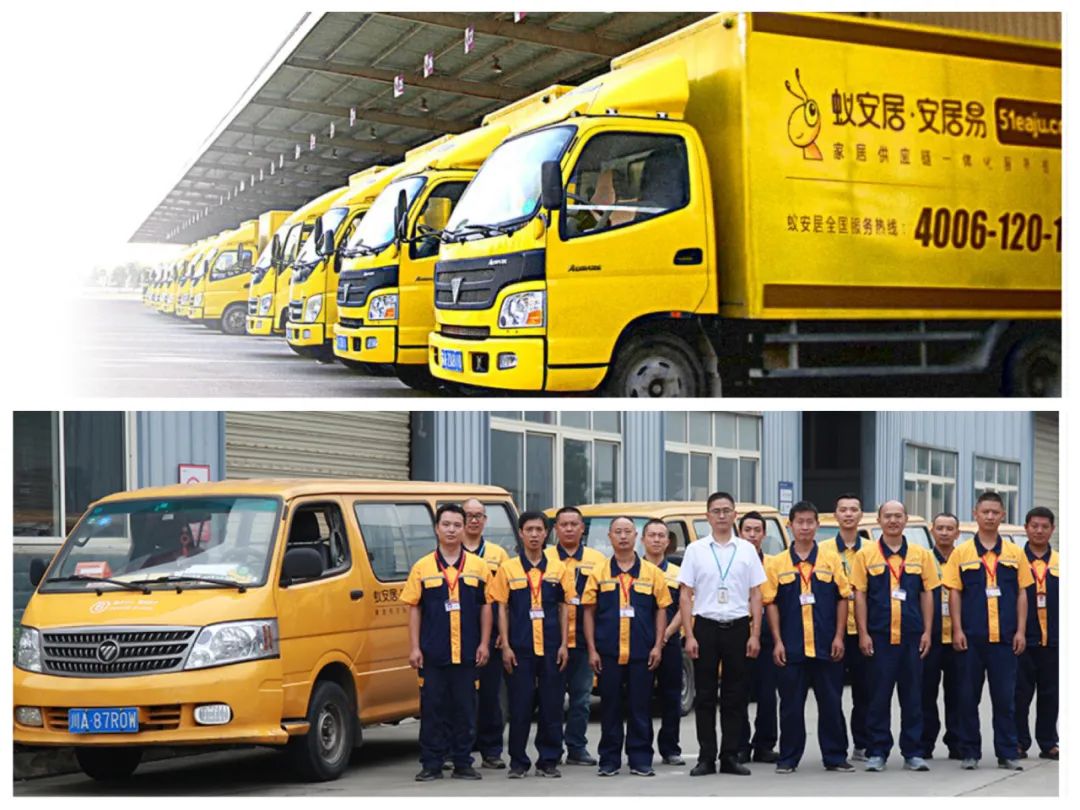 Yianju's rich city distribution vehicles + professional technician resources
Service 3: Efficient maintenance – solving the multiple visits for in-bond and out-of-band maintenance
With the continuous upgrading of product functions and designs, as well as the popularity of intelligent sanitary products, there is a greater need for specialized maintenance technicians to solve after-sales problems for repair work orders.
Yianju's first high-efficiency repair starts from problem analysis, and the repair technician contacts the customer by phone in advance, makes a preliminary judgment of the fault problem by asking questions, and brings accessories to the door, which greatly improves the success rate of one visit to repair. Through the preliminary determination of the fault problem by asking questions, the repair technician will come to the door with accessories, which greatly improves the success rate of one visit.  Through Yianju's efficient repair mode, the one-visit solution rate reaches 95.3%, which effectively reduces the service cost arising from multiple visits for repair.

Yianju's efficient repair service
In addition, as an important support for efficient maintenance, Yianju can provide customers with parts library operation services, for some special parts with a special delivery process, dedicated tracking to ensure timely delivery, the fastest 24 hours to complete the repair. There are special delivery processes for some special parts, with dedicated tracking staff to ensure timely delivery and completion of repairs in as little as 24 hours.  After the repair is completed, Yianju will provide customers with a complete failure analysis report of the product/accessory, residual rate, return rate and other data to help manufacturers find the problem of the product/accessory and assist them to continuously improve the process and product.

Yianju Parts Warehouse
Yianju's empowerment makes the company more "popular" among dealers and easier to empower investment. When the company invites investment, it can be clear to new dealers that selling goods and services are separate, and dealers only need to do a good job of front-end sales, and the community will be empowered. The distributors only need to do a good job of front-end sales, community stores can also have a professional after-sales service. As Li Qi, chairman of Yianju, said, "Because of professional services, Yianju allows manufacturers to no longer have difficulty recruiting business, so that dealers no longer have difficulty expanding channels and products.
At the same time, for dealers who want to join the brand side but have insufficient funds, Yianju also provides auxiliary services for capital flow. For example, Yianju's supply chain finance, through the involvement and participation of financial institutions, they can help distributors with entrepreneurial desires. Through the involvement and participation of financial institutions, they can help new dealers with entrepreneurial desire and practical ability to solve the problem of mismatch of funds in the supply chain process, so that funds and business flow can be better matched. This configuration also provides a strong boost for business investment.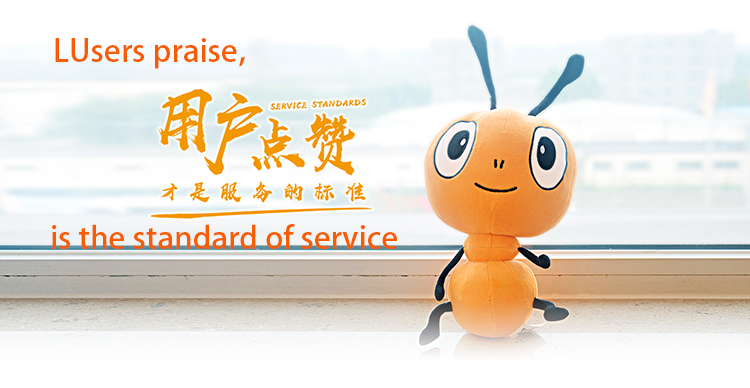 Through the standardization of the bathroom boutique service process, intensive management model to help manufacturers, Yianju solved the problem of uneven service levels of dealers. The national dealers of sanitary ware enterprises such as the completion of a unified and efficient one-stop service, will undoubtedly create a good reputation in the terminal market. Yianju's empowerment provides manufacturers and dealers with a virtuous cycle from service to reputation to brand and then to premium, truly achieving the effect of 1+1>2.
Therefore, at a time when the industry is facing the trend of channel flattening, Yianju's huge service network can help manufacturers empower every dealer at the service end and build up the brand's service advantage by relying on the service.