Kitchen & Bath Kitchen & Bath Headlines
No matter which era, "product is king" is the main theme of the manufacturing industry, including sanitary ware. Recently, foreign bathroom brands have been releasing new products. In the context of the normalization of the epidemic, many new products are focused on health attributes. Energy-saving, antibacterial, zero contact has become the focus of the product. It is worth mentioning that there are companies for the existing series to add new elements after the repackaging launched, so that the classic products rejuvenated charm.
Moen
Nebia by Moen Quattro Series Shower
Moen recently released the Nebia by Moen Quattro showerhead, which is more water efficient than the traditional 2.5 gallons per minute showerhead. It has a flow rate of 1.5 gpm and a low flow mode of 1.2 gpm. The showerhead applies Moen's Magnetix technology and comes with a removable plastic base for quick installation. The showerhead is available in seven finishes, including chrome, brushed nickel, brushed gold and bronze.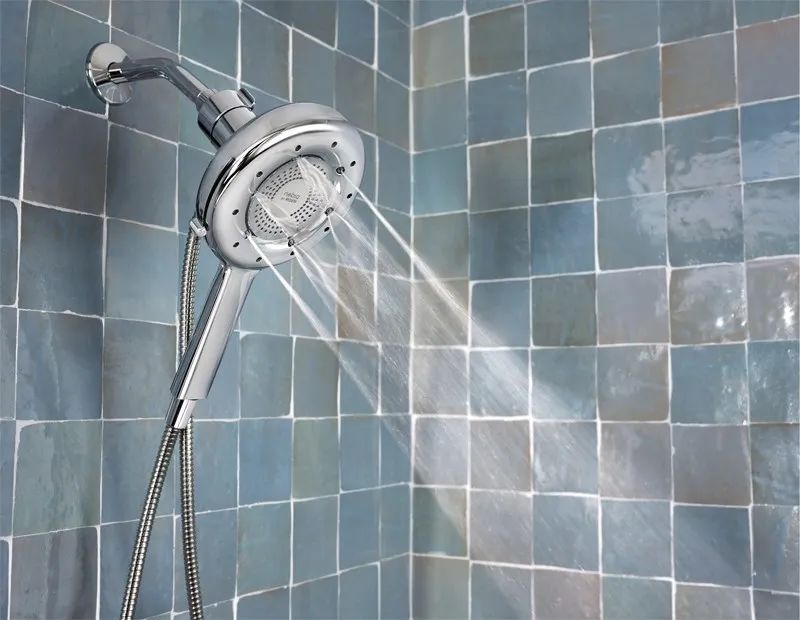 Duravit
D-NEO Series Products
Created by Duravit in collaboration with Bertrand Lejoly, it encompasses toilets, bathtubs, bathroom cabinets and accessories. It is designed with straight lines and geometric shapes to fit different sizes of bathrooms. The collection focuses on eco-friendly features. The ceramic is made of DuraSolid material, which has characteristics such as stability and non-slip. The toilet is made of HygieneGlaze antibacterial material, which can effectively kill bacteria and germs.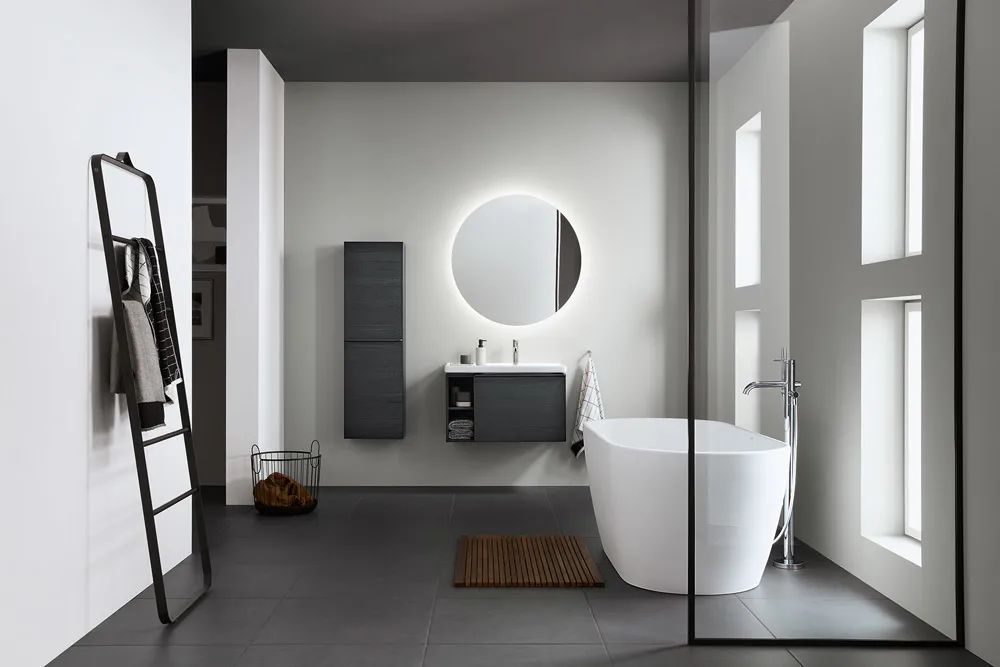 Laufen
Kartell by LAUFEN series products
At the ongoing Milan Design Week 2021, Laufen presented its new Kartell by LAUFEN collection, which includes basins, toilets, shelves and other products. The collection has clear lines and is available in a variety of sizes and colors such as glossy white, glossy black, matte white, matte black, orange and yellow. Its shelves have a transparent design, which brings a different visual effect to the bathroom.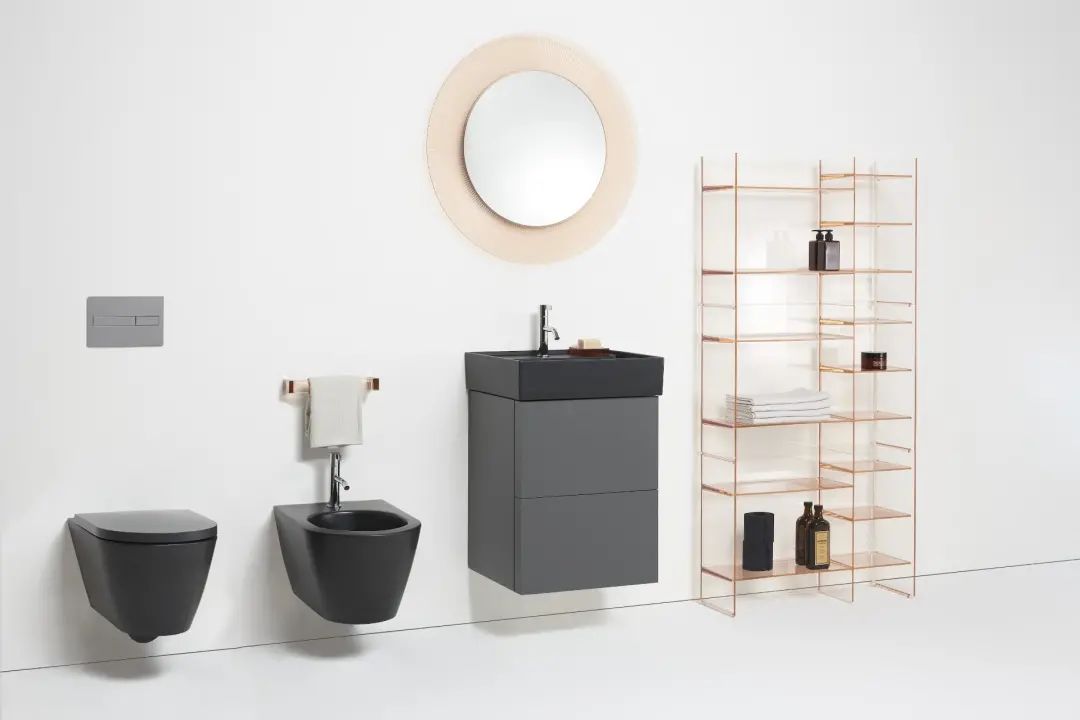 Kaldewei
Ming series basin
Kaldewei has recently launched the Ming series of washbasins based on the concept of the Chinese Ming Dynasty. The new product has a slim appearance and a curved silhouette that stands out in the bathroom. The collection offers a choice of pure black, pure white, black matte and white matte finishes that can add a unique touch to different bathrooms.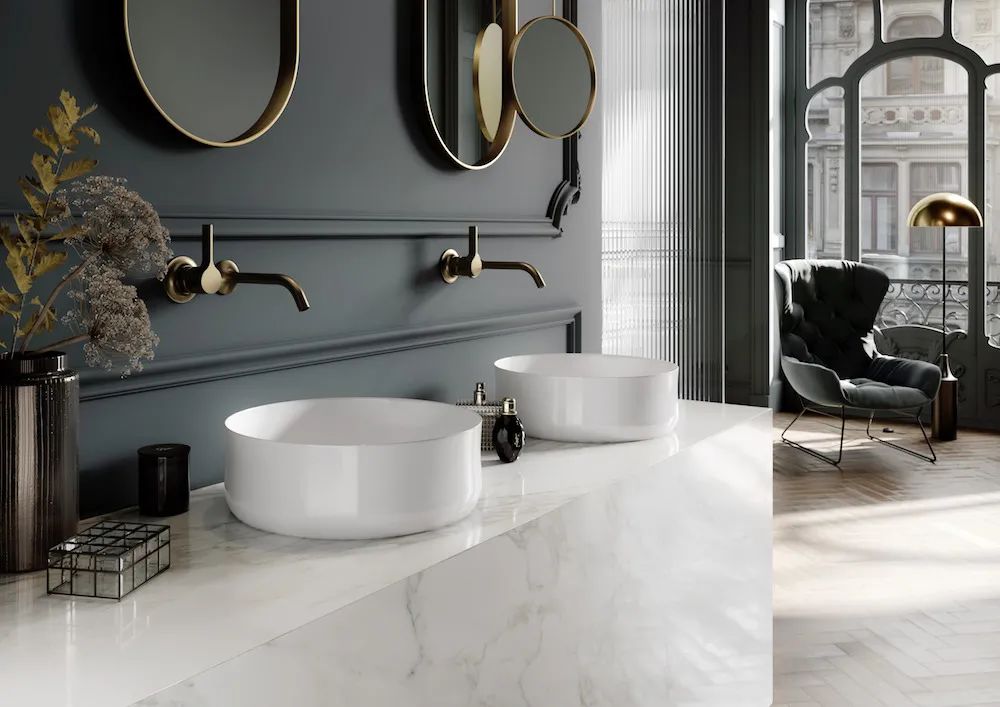 Villeroy & Boch
Antis Series Sanitary Ceramics
Villeroy & Boch recently launched the new Antis collection, which includes basins, bathtubs and other products. The collection offers a wide range of colors, from fiery to restrained, from Bordeaux red to sophisticated neutrals. The collection is made of titanium porcelain, giving the products a slimmer, more refined and elegant exterior.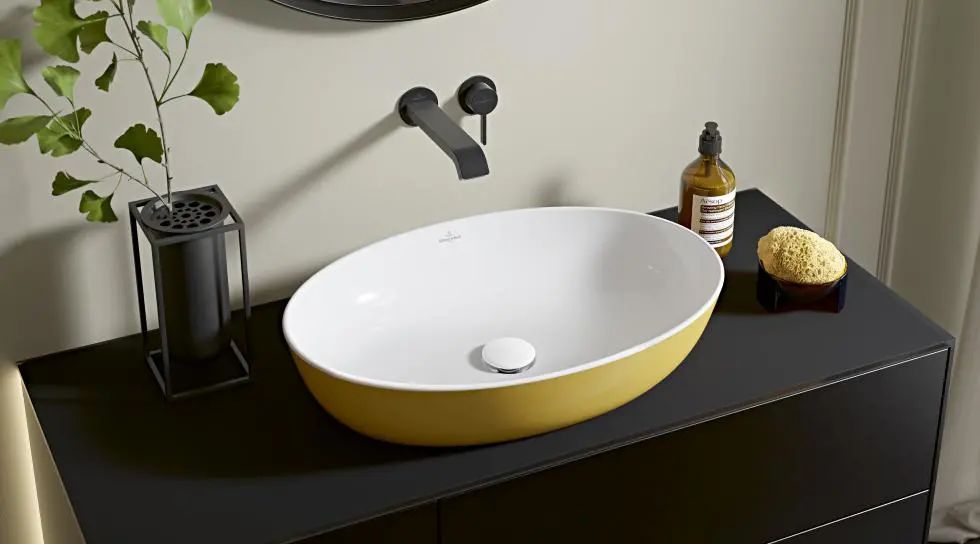 Grohe
Eurosmart faucet
The Grohe Eurosmart faucet collection has been around for over 20 years, and to meet the demands of modern life, Grohe has recently added some new elements to this classic collection. The new Eurosmart series not only introduces a modern design language, but also a number of new technologies, including optimized grips, the addition of non-contact mode, and the introduction of anti-scald technology, making it suitable for use in homes and public places.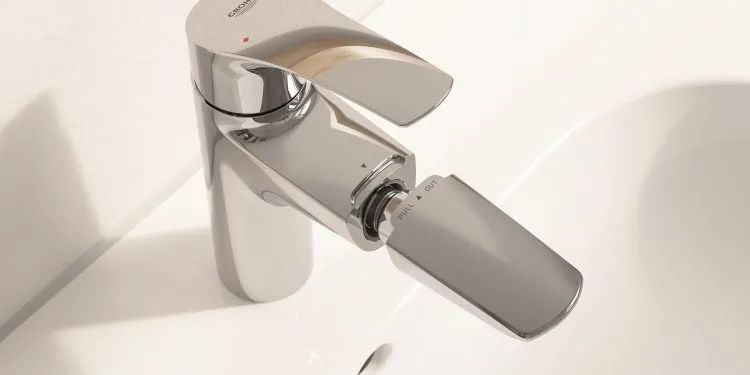 Hansgrohe
Jocolino Kids Hand Shower
Designed for children, the handheld shower comes in three shapes: lion, zebra and crocodile. It can be easily switched between two modes by turning the handle, with the Rain mode providing a soft flow of water. The slightly stronger MonoRain rinses away shampoo and body wash.
BRAVAT
Gna-Wise Smart Toilet
The new Gna-Wise Smart Toilet from BRAVAT Germany. It has a flat and minimalist design with a large 50mm flushing pipe and a large water seal area. It is equipped with a full range of intelligent technologies such as efficient flushing system, minimalist ultra-thin remote control, five-position adjustable water/air temperature/seat temperature, automatic flushing away from the seat, luminous flush button, and healthy deodorization. It has developed a more humane bathroom product.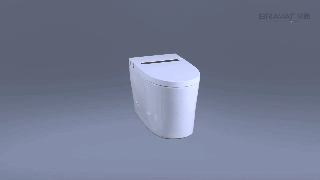 TOTO
Automatic flushing intelligent toilet
TOTO recently added the automatic flush function for a number of its smart toilet products, including NEOREST AH, NEOREST RH, GG/GG-800 and other series. TOTO said that with the penetration of new lifestyles and increased consumer awareness of hygiene, and the market has put forward more diverse needs for sanitary products. The new feature allows users to flush without touching the toilet, and the toilet will automatically close the lid and start the flushing process after leaving the seat. It can also output different water flows according to large and small bowel movements, saving water and hygiene.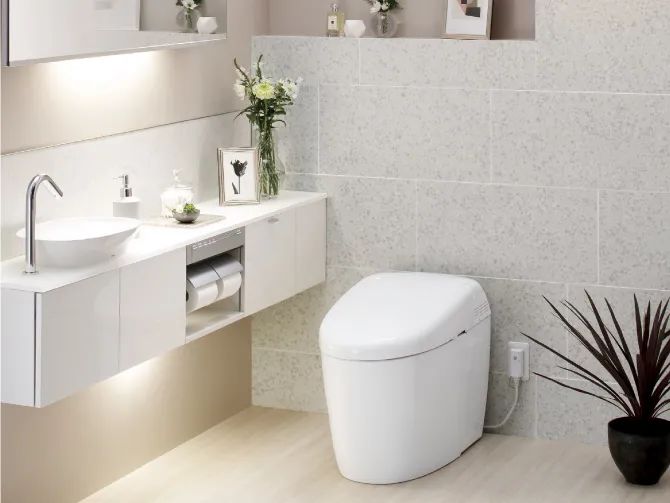 SANEI
Tetra Pak series basin
SANEI recently exhibited the Tetra Pak series basin at the 2021 Guangzhou Construction Expo. Its unique texture and texture attracted the audience to stop and watch. It exudes a unique Far Eastern charm under the lighting of the site.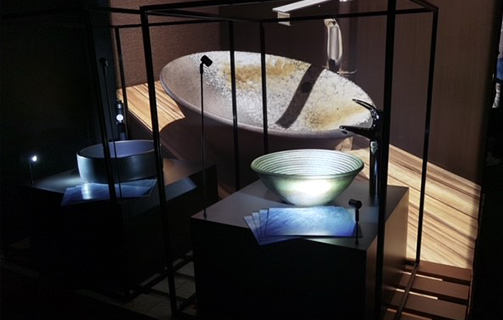 Kludi
Kludi Push series shower control panel
The Kludi Push series is a push control panel designed by Kludi for showerheads, which can be switched by pushing the button to close the water and water flow mode. The details are well thought out, including the fact that the button protrudes when the water comes out. This makes it easier for people with visual impairments to use. The product is also very easy to install.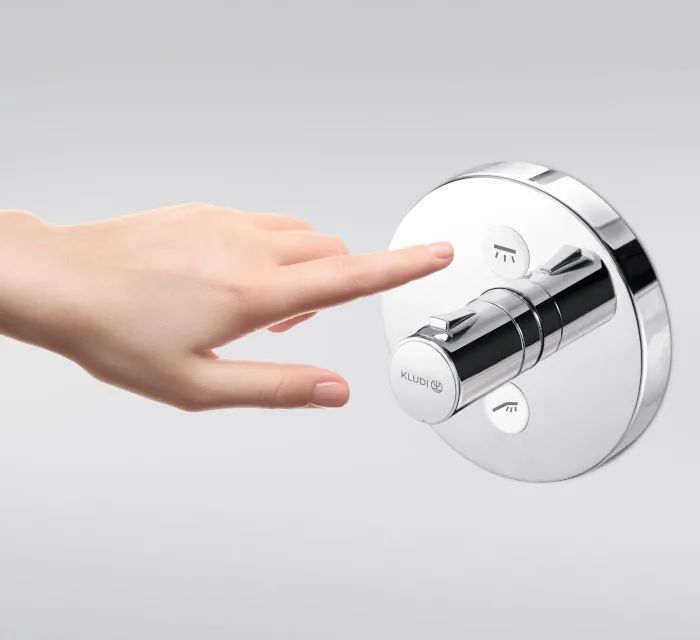 Panasonic
C-Line Series Bathroom Cabinet
Panasonic has recently upgraded the classic "C-Line" bathroom cabinet series. The upgraded product will be available in November. The new products include antibacterial materials for the mirror doors and faucet handles, as well as a variety of door colors, and enhance the decorative space of the bathroom cabinet itself.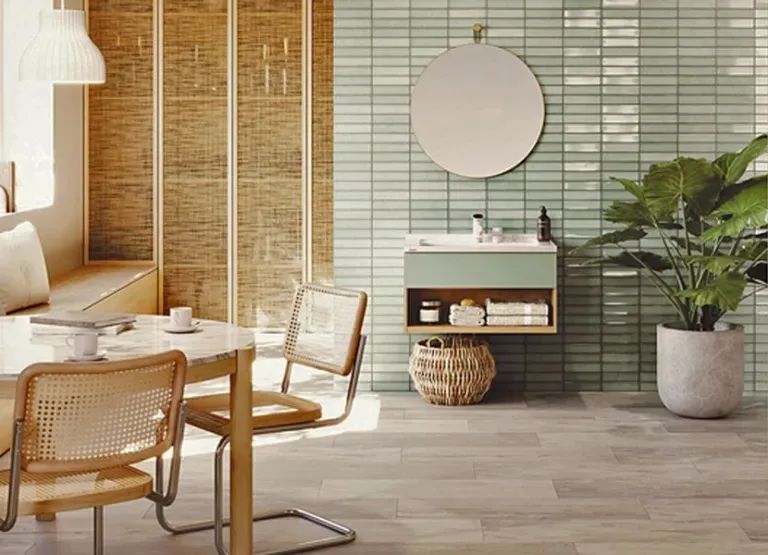 Toshiba
SCS-SCK7000 and SCS-SRM7000 series smart toilets
Toshiba's new smart toilet lid, introduced in the second half of the year, is divided into two models, SCS-SCK7000 with a remote control on one side and SCS-SRM7000 with a wall-mounted remote control. The new product is a full-coverage design, which effectively reduces gaps and improves cleaning convenience, and is also equipped with a ceramic heater. It can be unaffected by the outside temperature when making heat. The cleaning water stream is mixed with air and can provide a comfortable washing experience without weakening the water stream.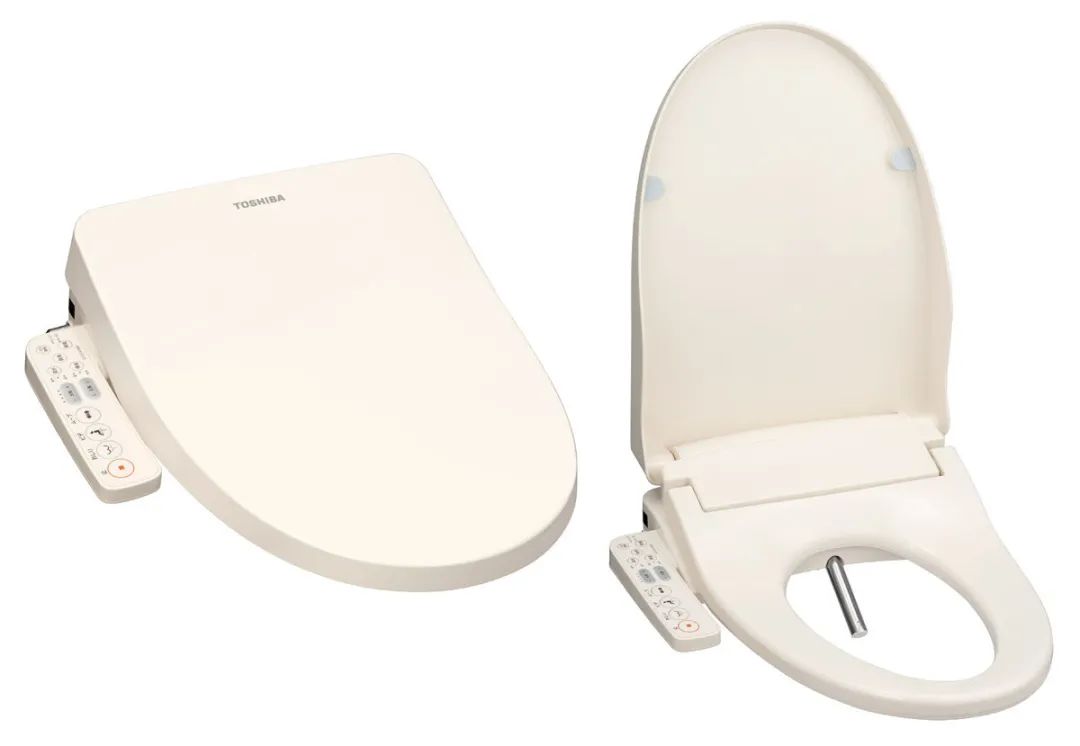 THG PARIS
HIRONDELLES Series Faucet
THG PARIS introduces the new HIRONDELLES gold-plated faucet. Its swallow motif symbolizes freedom and happiness. It is delicately set in the handle, which is beautiful and enhances the feel of the hand. The collection is available in several models, including clear and platinum seals, in addition to gold-plated models. It is a reflection of THG PARIS' technical excellence in its craftsmanship.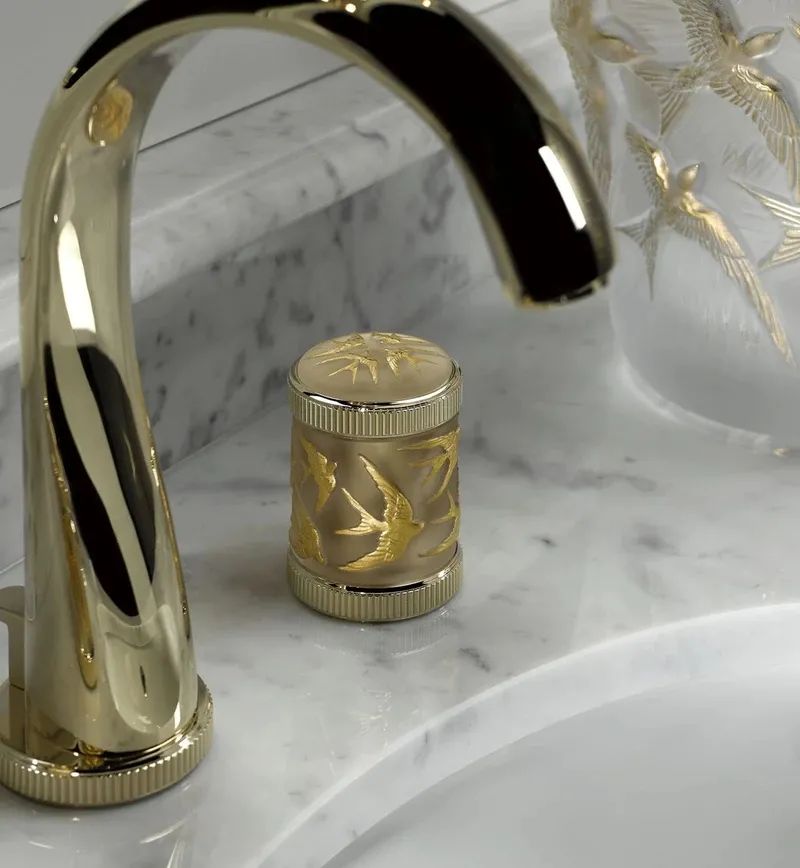 Agape
Vitruvio Series Bathroom Mirror
Italian bathroom brand Agape's Vitruvio series bathroom mirror, presented at Milan Design Week 2021, inspires users with its round + square design. The circle part is also an LED light-emitting strip. Available in a variety of sizes, this product creates a ladies' or children's washing area in the bathroom, making it easy for families to use it at the same time.