Do you have trouble with fast flowing tips when washing fish or vegetables in the kitchen?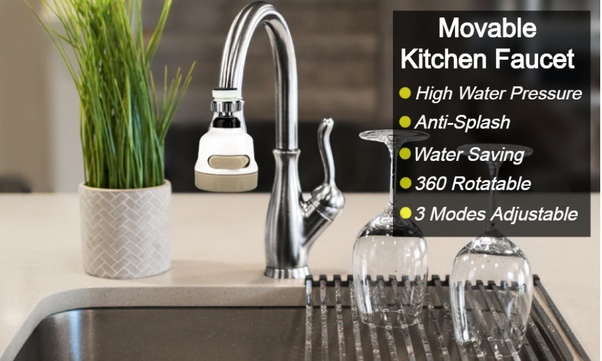 360° rotatable stainless steel faucet extender kitchen sink aerator kitchen shower 3 modes 1 piece silver
High quality. The faucet booster water-saving device is made of high quality ABS and stainless steel, it is really durable and thick.
Three modes. Pulse mode, shower + pulse, shower mode. Different water pressure can be adjusted according to your needs. Rotatable, easy to clean from multiple angles.
Made with environmental protection concept, it can remove more than 50% of energy cost and water consumption, saving you money.
Easy to install and clean, suitable for 99% of types of faucets. Convenient and flexible, saving your time.
Quiet technology avoids harsh sound during use. Enjoy the sound. Silent technology avoids harsh sound during use. Enjoy the sound.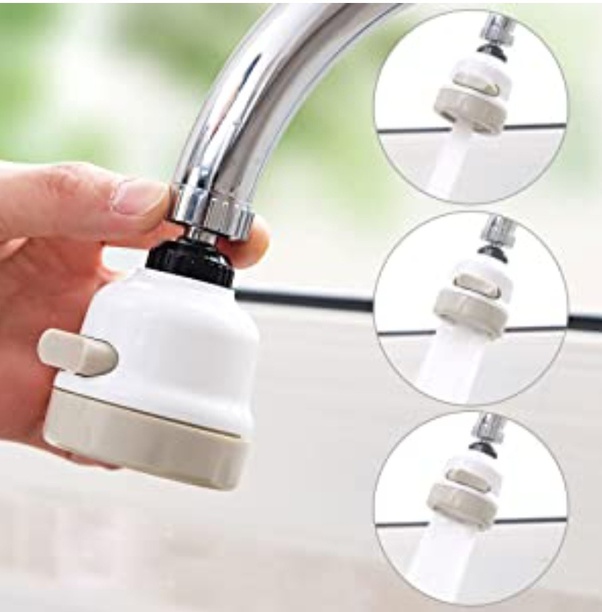 Movable kitchen faucet head / high pressure sink nozzle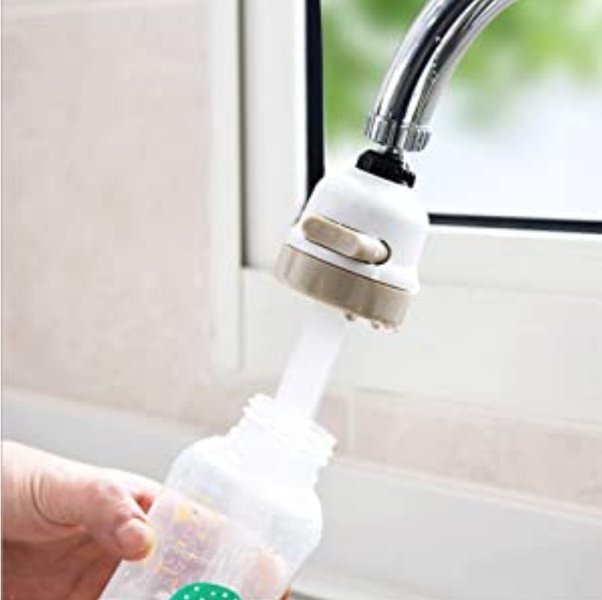 – 360-degree rotating water-saving faucet aerator
– To clean, simply remove the filter and rinse it off under water.
– Increases water pressure. Prevents water from flowing, mixes well with air, water feels soft, enhances water power, and cleans more easily.
Product Name. Faucet water-saving device
Material. ABS + silicone + stainless steel
Product size: 8.3×2.2×5.3cm/3.2"×0.8"×2"
Three modes: pulse mode, shower + pulse, shower mode
Package includes: 1 x faucet nozzle filter
Three modes :
– Pulse mode has high water pressure, which can easily clean stains and milk stains in high water cups and bottles.
– Shower + Pulse: strong pulse in the middle, surrounded by delicate shower mode to meet your needs
– Shower mode has more delicate water for cleaning greens and children's delicate hands without splashing and wetting clothes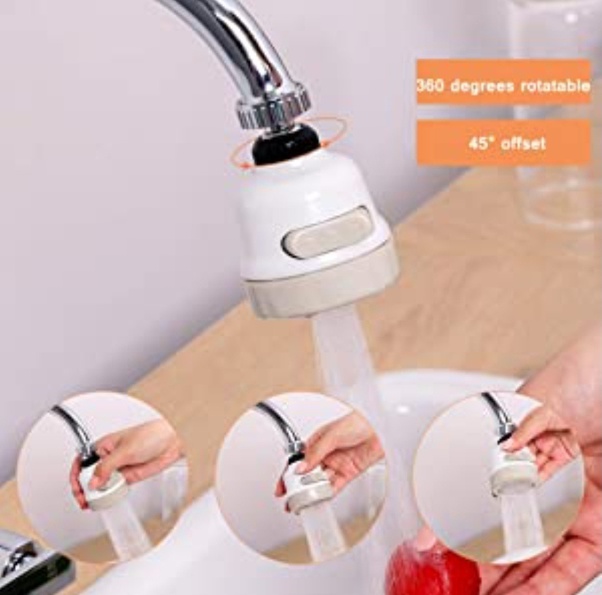 How to clean the stainless steel water outlet panel?
– The plastic bottom of the faucet aerator is removable for cleaning
– The stainless steel panel has dense water outlet holes that are easily stuck by small objects
–  Gently disassemble the plastic ring at the bottom, then clean the stainless steel panel with detergent and water, it is easy to clean.
– After cleaning the panel, install the accessories in order (especially the small rubber washers).
– Do not need to clean the panel often, only when the water flow is small or small holes can not be properly sprayed to clean.
Instructions
– Simxen kitchen water shower faucet faucet aerator, faucet splash filter three-position adjustable faucet water-saving device head nozzle for kitchen and bathroom.
Features:
– Faucet pressure saving device, stainless steel spout, fine water quality.
– Three-position adjustment. (pulse mode, shower pulse, shower mode)
– Free positioning for easy multi-angle cleaning.
Installation steps:
Internal filament faucet installation.
– 1. Remove the original bubbler.
– 2. Remove the white part of the tap water saver.
– 3. Align the faucet and tighten it clockwise.
– 4. Complete the installation.
Installation of external wire faucet.
– 1. Remove the original bubbler and remove the white part of the water saver. 2.
– 2. Tighten clockwise.
Specification:
– Material. ABS + silicone + stainless steel
– Size: 83 x 53 x 22mm.
– Color: White
– Package includes. 1 x faucet nozzle
Benefits Of Using A Kitchen Faucet With A Spray Head
Faucets in the kitchen area can have many different features, but a kitchen faucet with a spray head is required. You can choose from a pull-down or pull-out spray head, or a more traditional side spray.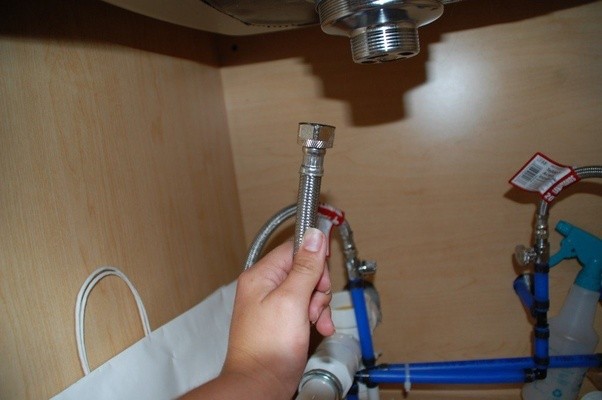 The sprayer feature provides you with a cleaning tool that you can't simply get with any faucet. There are many uses for sprayers and they are becoming more advanced and effective.
Pull down kitchen faucet sprayer
Pull down water spray faucets were developed with function in mind. They usually come in a stainless steel or chrome finish and have a bit of a look like what you might see in an expert kitchen area. They enable you to clean dishes more easily and they are very powerful to get the gunk out of the pots and pans without wasting your energy.
If you're looking for a modern or commercial search for your kitchen and you truly desire a faucet that will provide you with the most when it comes to operation, a pull down faucet sprayer is the way to go. They come in a variety of sizes, and companies like Hansgrohe are understood for producing quality faucets with this type of functionality.
Pull out kitchen faucet sprayer
Pull-out faucet sprayers actually allow you to pull the neck of the faucet out and use it as a sprayer. They usually have a button that allows you to go from typical faucet water to a sprayer.
Take out faucets are very popular because you don't have to stress the side sprayer for a one or two hole setup. They work so well that many leading brands such as Moen, Delta and Kohler have faucets with a take out sprayer feature.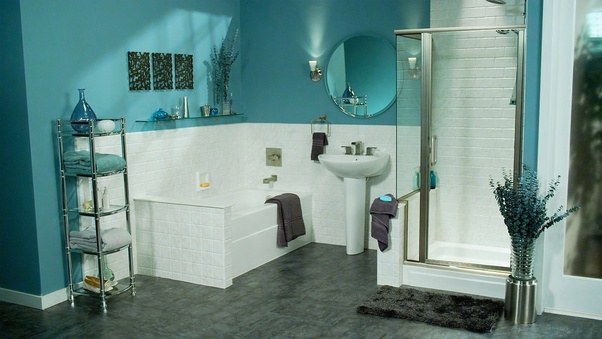 Side Spray Faucets
Somewhat traditional, side sprayers still have many benefits that you can't receive from other types of kitchen faucets. Anyone looking for an art deco look or an antique search for their kitchen area will definitely want a faucet with a side spray. These are also great for three-hole and four-hole sink installations. Side jets likewise give you the advantage of a longer hose pipe.
Often, side jets allow you to do more outside of the sink than taking down or out of the system, but they may not be as practical for your cooking area. All the top brands such as Danze, Delta, Price Pfister, Kohler, Moen and numerous others bring these types of faucets.
Which one is the right one for you?
Now that you understand all of the various options of kitchen faucets with sprayers is, you can choose the one that is right for you. There are many options out there, from $100 and up all the way up to $1000, you need to choose the one that fits your kitchen and your budget.
With the cost of some faucets with sprayers ranging from $200 to $500, you really don't want to choose a cheap model. Getting a sprayer with a metal or flexible tube will be important because the less expensive plastic and rubber hose tubes won't last as long. Replacing a sprayer can be a struggle and a bit expensive in takeaway units, and you may also get a new tap, so make sure you get one that is designed to be built to last.
In order to pick the best quality kitchen faucet with sprayer, some additional knowledge would be very valuable, so you can take a look at this social page to learn some standard information on best practices.