Sales In The First Half Of The Year Exceeded 27 Billion! This Home Giant Has Acquired Another Bathroom Company
Original Kitchen & Bath Kitchen & Bath Headlines
Recently, FBHS announced that it has completed the acquisition of Aqualisa Holdings (hereinafter referred to as Aqualisa) for $160 million (about RMB 1.080 billion). FBHS owns well-known bathroom brands such as Moen and ROHL. In the first half of the year, its water innovation business had sales of $1.294 billion (about RMB 8.728 billion). The acquisition will strengthen FBHS's global presence in the sanitary industry.
Spending about 1.08 billion yuan to acquire a British bathroom company
On August 1, local time, FBHS announced that it has acquired Aqualisa, a British bathroom brand known for its innovative and intelligent shower systems and customer service. The acquisition was completed on July 29 for approximately $160 million (approximately RMB 1.080 billion).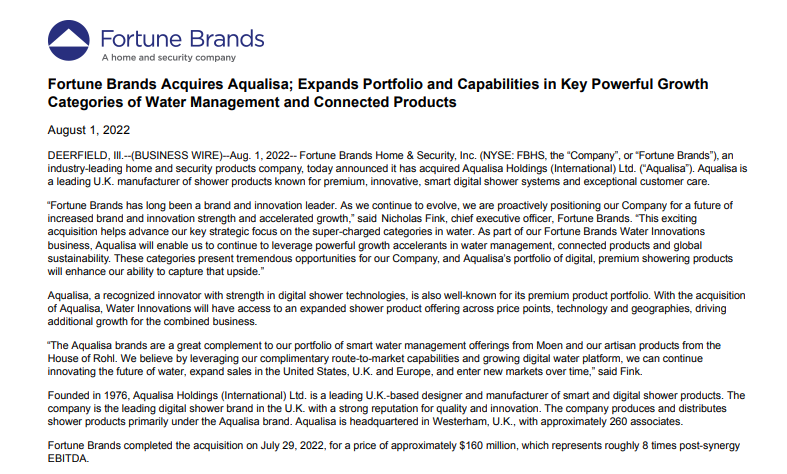 Nicholas Fink, CEO of FBHS, said the acquisition is a key strategy for the company in the water sector. As a member of the Water Innovation business, Aqualisa will enable the company to provide strong momentum in water management, connected products and global sustainability. Also, with the Aqualisa acquisition, FBHS' Water Innovation business will gain access to digital shower products across price points, technologies and regions, driving further business growth.
Nicholas Fink also said that Aqualisa is a great addition to the company's bathroom brands such as Moen and ROHL. They will leverage strong marketing capabilities and a continuously growing water innovation platform to expand sales in the U.S., U.K. and Europe, and enter new markets in the future.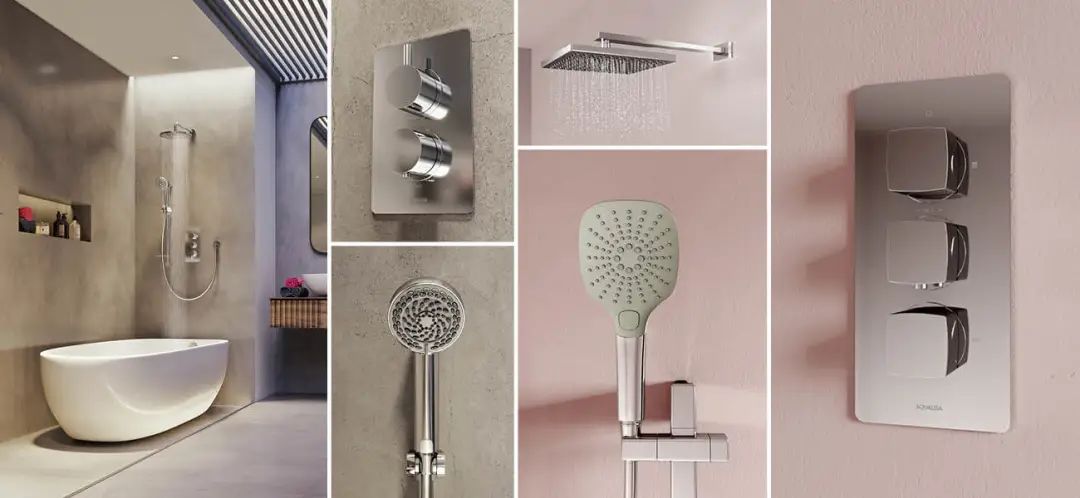 According to public information, Aqualisa was founded in 1976 and is a leading manufacturer of intelligent shower products. It has a strong reputation in the UK market for shower products manufactured and marketed primarily under the Aqualisa brand. Currently, the company is headquartered in Westram, UK, and employs about 260 people. As previously reported, Aqualisa replaced its chief executive officer not long ago. Mat Norris has replaced Colin Sykes, who had held the position since 2018. The latter will continue to serve as a non-executive director and strategic advisor to the company.
First-half sales of approximately $27.183 billion
According to the recently released FBHS H1 2022 report, the company achieved sales of $4.028 billion (approximately RMB 27.183 billion) from January to June, an increase of 9% year-on-year. During the same period, FBHS' EBITDA was $373 million, a 6% decrease year-over-year.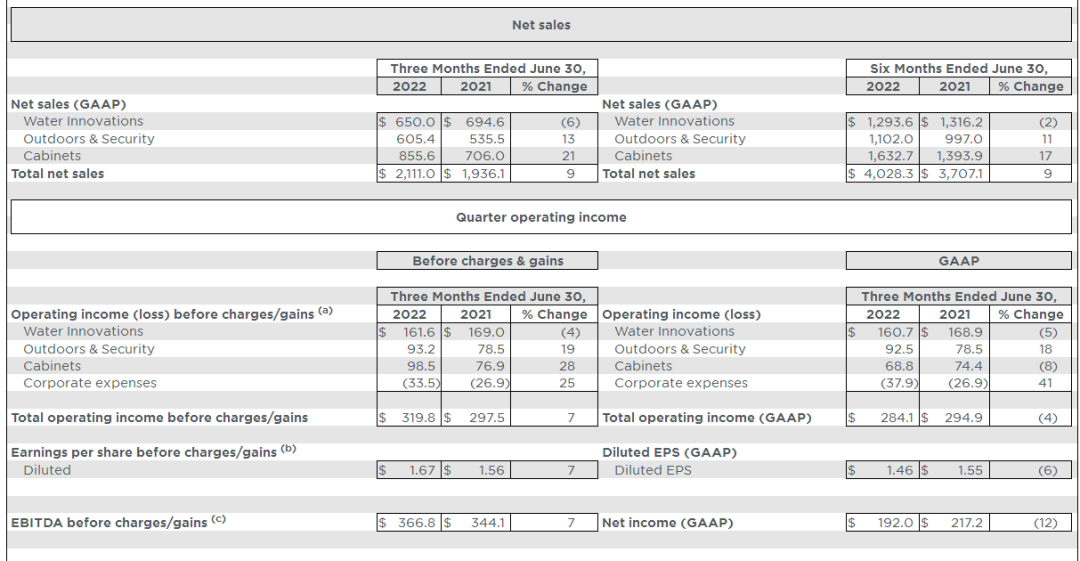 By business, in the first half of the year, sales of FBHS' water innovation business (plumbing business) were $1.294 billion (approximately RMB 8.728 billion), a decrease of 2% year-over-year. Sales of the cabinet business, including bathroom cabinets, were $1.633 billion (approximately RMB 11.014 billion), an increase of 11% year-over-year. Sales of outdoor and security products business were $1.102 billion (about RMB 7.432 billion), an increase of 17% year-on-year.
In its semi-annual report, FBHS mentioned price adjustment measures, saying that it delivered strong results in the second quarter as inflation was fully offset by price and cost-related measures. They also said that sales of outdoor and safety products and cabinet products all grew, driven by these measures. However, sales in the Water Innovations business declined 6 percent in the second quarter due to the impact of the outbreak-related shutdown in China, and when China is removed, Water Innovations sales had a 4 percent growth rate and an operating margin of approximately 24.9 percent.
A review of FBHS's annual reports published since its IPO shows that the company's sales have doubled in 10 years. In 2011, FBHS sales were $3.3 billion, and have largely maintained a growth trend over the past 10 years since then. By 2021, FBHS sales reached $7.7 billion, an increase of 26% from the previous year. Looking ahead to 2022, FBHS expects full-year sales growth to remain in the 6.5% to 7.5% range. Earnings per share are in the range of $6.36 to $6.50.
Acquired more than 20 companies in 50 years
As a giant company, although FBHS is not as well known in China as subsidiaries such as Moen and ROHL, the development of this company is a typical example of the growth of the home industry through acquisition. It can be said that the history of FBHS is a history of brand acquisitions.
In 1970, the company acquired Master Lock, a security lock company.
In 1988, the acquisition of Aristokraft and Waterloo
In 1990, the acquisition of Moen
In 1998, acquired Decora, Diamond, Kemper, Schrock
In 2002, acquired Omega
In 2003, acquired American Lock, Therma-Tru doors
In 2007, acquired Simonton windows, Fypon millwork products
In 2011, listed on the New York Stock Exchange
In 2013, acquired Wood Crafters
In 2014, acquired Sentrysafe and sold Simonton windows
In 2015, acquired Norcraft, sold Waterloo
In 2016, acquired Riobel, Perrin & Rowe and established Global Plumbing Group (GPG)
In 2017, the acquisition of Shaws, Victoria + Albert
In 2018, the acquisition of Fiberon
In 2020, the acquisition of Larson storm doors
In 2022, the acquisition of Aqualisa