Original Longji Kitchen & Sanitary News
On April 15, Turkey's largest sanitary ware manufacturer and exporter ECZACIBAŞ YAPI GEREÇLERİ ("EYAP") sold 10.29% of its shares to its holding subsidiary Eczacıba Holding A.Ş for a cash consideration of 208, The cash consideration was 208,755,000 Turkish Liras (RMB 169 million).
Currently, EYAP's main brands include Vitra, burgbad and ARTEAM. It is reported that the Vitra brand alone accounts for more than 50% of Turkey's total exports of sanitary ceramics, Vitra 76% of revenue from exports.
According to the Turkish Ceramic Association data, in 2020, Turkey's entire ceramic industry exports of $ 1.304 billion, of which $ 269 million in exports of sanitary ceramics, tile exports of $ 777 million. Turkey's top 10 countries exporting sanitary ceramics are Germany, France, the United Kingdom, Italy, Israel, Spain, glass, the Netherlands, Belgium.
The top 5 companies in Turkey's sanitary ceramics exports in 2019 are
EKOM ECZACIBAŞDIŞ TİC. A.Ş. (EYAP Group)
KEY BANYO VE MUTFAK ÜRÜN. DIŞ. TİC. A.Ş.
ECE BANYO GEREÇLERİ SAN. VE TİC. A.Ş.
ÇANAKCILAR SERAMİK SAN. VE TİC. A.Ş.
EGE VİTRİFİYE SALIK GEREÇLERİ SAN. VE TİC. A.Ş.
(In millions of US dollars)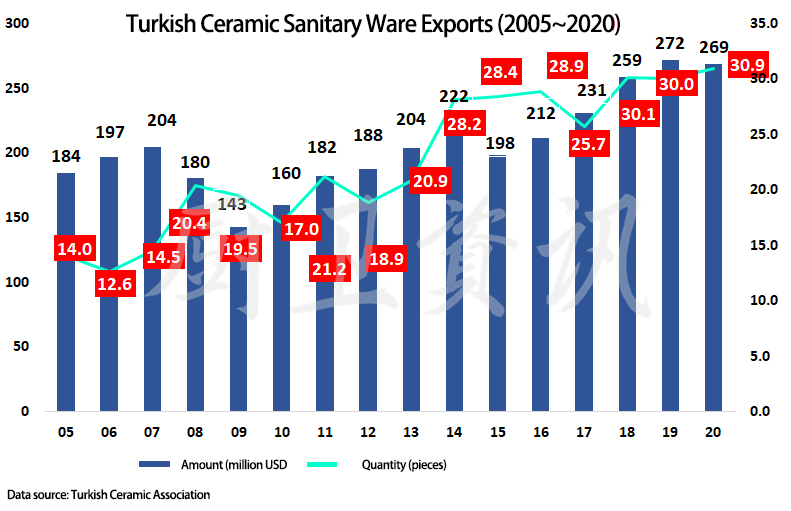 At present, in terms of price competition, Turkey wins the European and related markets in general through low price competition, and the Turkish ceramic industry has also been considering Chinese sanitary ware exports as the biggest competitor. Compared with Italy, Germany, China, Turkey, four countries of sanitary ceramics export prices, Germany has the highest prices, Turkey has the lowest.
The following are exported to Germany, France, England and Italy four destination market unit price comparison




In addition, according to the Turkish Ceramic Association data show that the data for the 1-3 quarters of 2019-2020, for example, the world's top 10 sanitary ceramics exports are China, Mexico, Germany, Turkey, Italy, Thailand, glass, Portugal, Egypt, the United States. And the top 10 importing countries are the United States, Germany, France, Britain, Canada, Spain, the Netherlands, South Korea, Australia, Japan.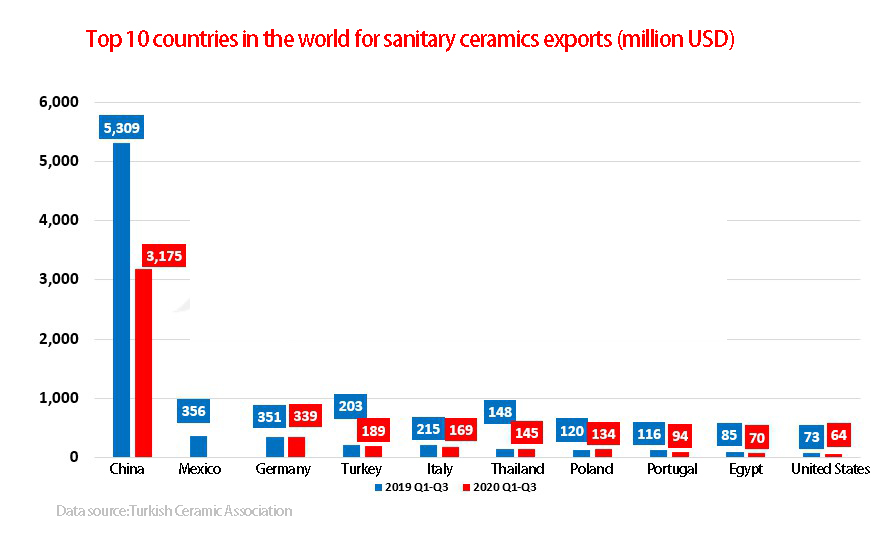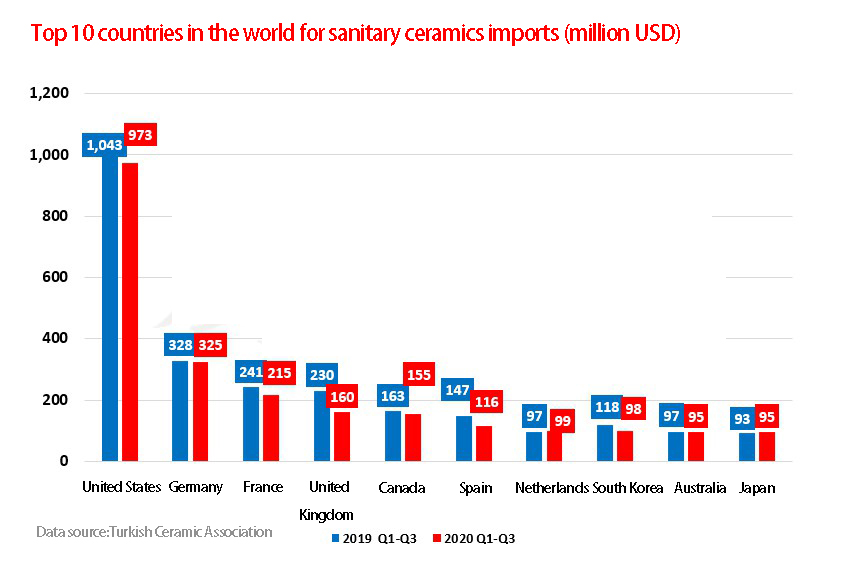 Finally, want to get more export data of Turkish ceramic industry please leave a message in the background "Turkey"