Villeroy & Boch Terminates The Acquisition Of Ideal Standard
Kitchen & Bath Industry Mainstream Media Kitchen & Bath News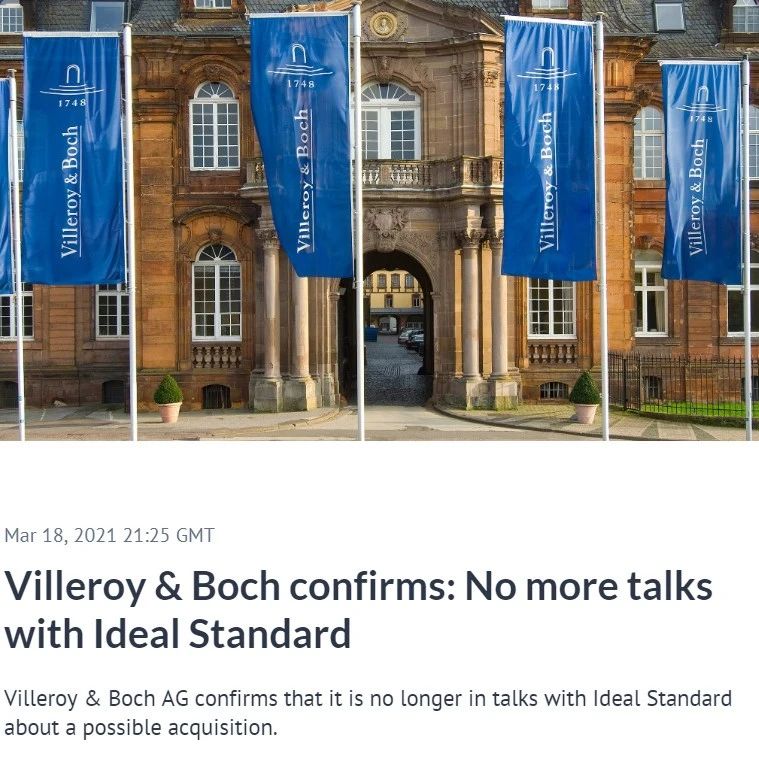 On the evening of March 18, Villeroy & Boch AG announced via its website that it is no longer in talks with Ideal Standard International about a possible acquisition.
Villeroy & Boch did not explain this result in the announcement, but only added that it will continue to ensure the Group's continued profitable growth by acquiring other high-quality assets. 2020 epidemic has led to a longer timeline for most acquisitions, as Frank Göring, Villeroy & Boch's CEO, revealed at the beginning of the year at the 2020 annual results presentation, that Ideal Standard's acquisition plan, which was put on hold due to the epidemic, would again be in question. The acquisition of Ideal Standard, which had been put on hold due to the outbreak, would again be problematic.
When the acquisition was first announced, it was touted as potentially Villeroy & Boch's biggest acquisition to date (quick link: Villeroy & Boch wants to buy Belgian sanitaryware maker Ideal Standard International Group). Ideal Standard International is owned by CVC Credit Partners and Anchorage Capital, and has annual revenues of 760 million euros (5.9 billion yuan) and 9,000 employees. Villeroy & Boch 2020 has revenues of €800.9 million (RMB 6.2 billion) and 7,100 employees. It can be said that the two companies are on par in terms of scale.
American Standard and Ideal Standard
The Ideal Standard brand has a history dating back to 1949, when it was spun off from the former American Standard company.
In 2007, American Standard sold its global kitchen and bath business to Bain Capital for $1.745 billion, which had revenue of $2.4 billion in 2006. In the same year, Bain Capital formed a new company called Ideal Standard International. The other businesses in North America and Asia were sold to Sun Capital and LIXIL respectively, while the European and Latin American businesses were retained and still operated under the name Ideal Standard.
Around 2010-2014, it underwent several restructurings. The initial restructuring was completed in 2011, but due to poor performance, consecutive losses were incurred in 2012 and 2013, and further restructuring plans were proposed in 2014, which included a debt-to-equity swap with Anchorage Capital. In the same year, the EU Competition Commission approved Anchorage Capital and Bain Capital as the two controlling shareholders. 2017, CVC Credit Partners acquired the shares held by Bain Capital, while providing an additional €75 million in funding with Anchorage Capital to help Ideal Standard's development.
Since 2017, there have been strikes at a number of Ideal Standard's factories distributed across Europe (quick link: Italian sanitary ware factory employees strike march), although some of the factories have undergone expansions during the period, and Villeroy & Boch made it clear when making the offer that the subject of the acquisition must be a profitable company. Therefore, there were also reports in the foreign media that Villeroy & Boch's board of directors doubted the balance sheet shown by Ideal Standard? Or was Ideal Standard's offer too high?