Kitchen And Bathroom Industry Mainstream Media   Kitchen And Bathroom Information
Arrow Sanitary Ware, Jomoo Kitchen & Bath Crown
________________________________________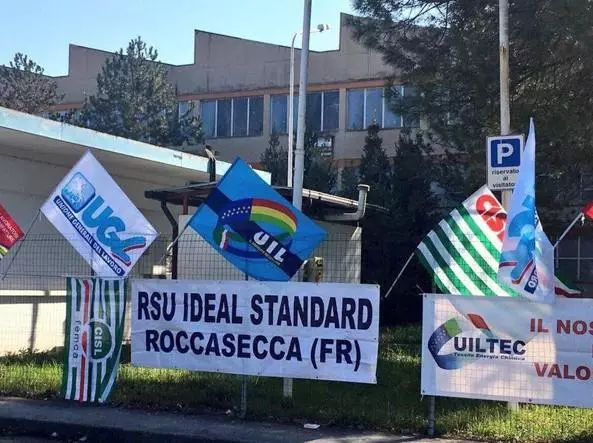 Belgian sanitary ware company ideal standard employees held a demonstration strike
Recently, the Belgian multinational sanitary ware company decided to close the factory in Rocca Seca, Italy, the termination process began on November 30, with only one day's notice, which will lead to the collective dismissal of 294 employees in the absence of preparation.
On December 1, local time, employees supported by unions and institutions gathered in front of the factory gates to pull banners. At the same time, local unions and the government have been actively communicating with the factory. In order to avoid the possibility that hundreds of families will suffer without any economic certainty, a consultation with the employees will be held. It is reported that the meeting was scheduled to take place on December 15, but news has been received that it has been postponed and no specific time has been announced.
Deger Group managed to pay off 208 million euros of bank debt
According to foreign media reports, German multinational kitchen equipment manufacturer Deger Group has now pledged 97% of the company's shares as collateral in order to pay off its debts. Its deficit reached 21 million euros in 2016, compared with a profit of only $4 million the previous year. Impairments due to lower sales and higher operating expenses, as well as the deterioration of intangible assets and real estate investments. 2016 Group turnover reached 202 million euros, of which the German market accounted for 71%, exports accounted for 8% and 21% within the group.
Kohler's Chikalang plant in Indonesia to become operational in 2019
Indonesia's population boom offers great business opportunities for industry, including the bathroom equipment (sanitary) industry, of which Kohler also wants a share. The U.S.-based Kohler even promised to build a factory in Indonesia to fight for the potential market of bathroom equipment.
Recently, Kohler's kitchen and bathroom group president Ray Lee (Larry Yuen) said, "By investing $100 million, we are confident that the plant can be operational in 2019." Kohler has already held a groundbreaking ceremony for the plant, which will have a capacity of 1 million units per year, and Kohler chose Chikalang, West Java, for its strategic location and proximity to its main market, Jakarta.
Reilly is confident that Kohler's bathroom equipment plant will benefit the surrounding population, as the 20-hectare (ha) plant is expected to employ 1,000 people. He added that the construction of the plant in Indonesia will fill the 42 plants that are currently in production. "Previously, we already had 42 plants located around the world, but it would still not be complete without a plant in Indonesia." Reilly claims that one of the factors driving Kohler to build a factory in Indonesia is the abundance of raw materials. Several of the raw material components needed to produce bathroom equipment, such as kaolin, are in abundant supply in Indonesia.
If the new plant is already in operation, Kohler Indonesia will produce several types of bathroom equipment. However, Kohler still relies on imports for the supply of other household equipment, such as kitchen equipment. "We will import first and test the domestic market sales in Indonesia at the same time."
He explained that in order to make bathroom equipment sales bigger, going forward, Kohler will target sales to the middle class people. In addition, Kohler will cooperate with several real estate developers such as Agung Sedayu Group, Intiland Development, Lippo Group and Sinar Mas Land.
Currently, Kohler sells its products through showrooms in 10 major cities in the country, such as Jakarta and Surabaya.
To be able to sell more widely and compete with other bathroom equipment manufacturers, Kohler has set a plan to increase the number of showrooms and the company has set a target to set up showrooms in 50 cities.
Kohler Recognized as a 2017 Green Master
Kohler was recognized as the 2017 Green Guru of the Year based on the company's sustainability at the 2017 Green Guru Forum, organized by the Wisconsin Business Council for Sustainability.
Kohler's sustainability journey began with the creation of the first water-efficient product in the 1970s. In 2008, Kohler committed to the goal of delivering solid waste to landfills, reducing or offsetting 100 percent of greenhouse gas emissions and reducing water use by 2035. The company is driving toward its goals by developing products that have less impact on the environment as a whole, and by integrating sustainability into the product development process itself.
South Korea bans trash cans by toilets
South Korea's Ministry of Administration and Security said on January 1, 2018 that the country will apply the new public toilet law enforcement order to ban garbage cans next to toilets in public restrooms, and require signage and baffles between urinals when cleaning and maintaining public restrooms. A Korean media said that this is a culture that is unique to several countries such as South Korea.
According to Yonhap News Agency, the trash cans next to the toilets in public toilets are facing the situation of being banned because of the problems such as odor, aesthetics and pest attraction. The report noted that in the future, toilet paper can be thrown directly into the toilet after using the toilet, and a separate recycling bin for sanitary products will be set up in the women's bathroom. In addition, heterosexual cleaning staff cleaning public toilets will be required to place a "cleaning in progress" or "under repair" sign at the entrance in order to respect the human rights and privacy of users.
In addition, in the future, new or renovated public toilets will be constructed in such a way that the interior cannot be seen from the outside, and male urinals will have a barrier between them, while existing toilets will have a barrier at the entrance to protect privacy.
According to Korea JoongAng Daily, putting trash cans in public toilets is a culture unique to only a few countries such as Korea. But from next year, the phenomenon will disappear. Officials from the South Korean Ministry of Administration and Security said, "We expect that after the new regulations are implemented in public toilets, the situation in people's home restrooms will also be improved as soon as possible."
LIXIL received the Environment Minister's Award from the Japanese Ministry of the Environment
Recently, LIXIL window decoration products won the Minister of the Environment Award in the "COOL CHOICE LEADERS AWARD" sponsored by the Ministry of the Environment of Japan. "
In addition, the summer 2017 edition of the L2-Tech (El-tech, Leading Low Carbon Technology) certification organized by the Ministry of the Environment of Japan has been announced, and a total of 3,236 products have been certified. L2-Tech certification was awarded twice, in summer and winter, and has the distinction of having certification standards that increase as technology improves.LIXIL4 products high-performance resin window products were certified. Many companies use glass alone for certification, but LIXIL only certifies window products.
Danube Group plans new sanitary ware plant in Dubai
Danube Group plans to build a new sanitary ware factory in Dubai next year, group executives said. The company will reportedly recruit about 100 people to produce its branded products for the new plant. Instead of relying on a single product, we are relying on a diversified product portfolio and we are importing products from different factories, which will be located in Dubai Science and Technology Park," said Sajan, its chairman. He said, "We will start with hygiene products and then extend the product category at an initial cost of at least $10 million (DM 37 million)." As it expands over the years, costs will increase. The company saw a 30 percent increase in sales in the first 10 months, and Sajan expects another 10 percent increase in the next two months.
In addition, Danube Group announced in November that it plans to grow the African market and that it plans to look for franchise partners in Africa. The main countries the company is targeting are Ethiopia, Kenya and Nigeria. Danube already sells in these markets, but the search for a franchise partner is an important step for future expansion, driving a stronger presence on the continent. It is reported that it already has a franchise partner in Tanzania, so it is now looking for similar partners in other African countries.
Duravit wins 2017 DKB Product Design Innovation Award
On November 22, Duravit was invited to attend the 15th Designer and Kitchen & Bathroom Awards 2017 at Bloomsbury Big Top in central London. The Duravit Luv collection, designed by Cecilie Manz, won the "Design Innovation Award" in the bathroom product category.
Geberit and Panasonic on Forbes' inaugural list of most trusted companies
Geberit was ranked 18th and Panasonic was ranked 10th in Forbes' World's Top Regarded Companies. This places Geberit alongside companies such as Adidas and Microsoft, with Germany's Siemens at the top of the list. The list is based on Forbes' 2017 Global 2000 ranking, which includes public companies from 58 countries with a total revenue of $35.3 trillion.