International Brands In China In 2021: Lixil Grows By Only 1%, Gebreit Shuts Down Zhejiang Factory
Kitchen And Bathroom Industry Mainstream Media Kitchen And Bathroom Information
International brands' annual sales situation in 2021 is out. According to the statistical analysis of Kitchen & Bath Information, most brands like Lixil maintained growth of about 20% in sales in mainland China last year, but there is also some weak growth.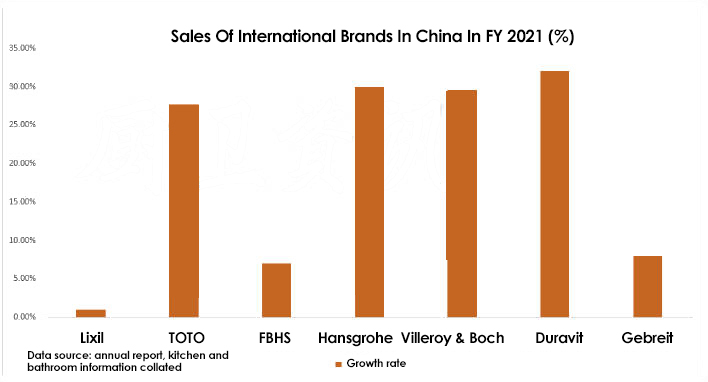 TOTO
Grew 28% in China
Sinking into second and third-tier cities
According to TOTO's fiscal year 2021 report, the company achieved sales of 645.3 billion yen (RMB 32.7 billion) during the period from April 2021 to March 2022, an 11.7% increase year-on-year. It reported an operating profit of 52.2 billion yen (RMB 2.6 billion), up 31.6% year-on-year. Ordinary profit was 56.9 billion yen (RMB 2.9 billion), an increase of 38.6% year-on-year. Net income attributable to shareholders of the parent company was 40.1 billion yen (RMB 2 billion), an increase of 48.8% year-on-year.
Of this, revenue in mainland China for fiscal 2021 was 92.4 billion yen (RMB 4.7 billion), an increase of 33% year-on-year. It posted an operating profit of 15.8 billion yen (RMB 807 million), up 36% year-on-year. With the addition of Taiwan operations in China, TOTO's total revenue in China was 5.677 billion yuan (in RMB), an increase of 28% year-on-year.
From January to December 2021, TOTO achieved sales of RMB 5.398 billion and operating profit of RMB 1.057 billion in mainland China, both up 21% year-on-year.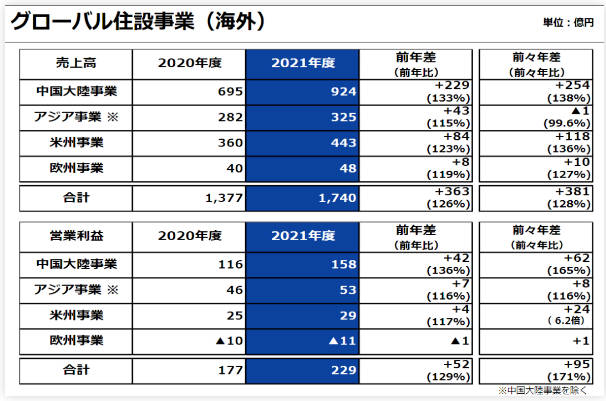 According to the report, TOTO's sales in mainland China contributed the majority of results in the East China region, accounting for 42%, followed by South China (24%), North China (20%) and Midwest (14%). All regions achieved sales growth, with the North China market growing by 29%. On the product side, sales in the three categories of sanitary ceramics, sanitary ware, and faucet hardware increased 21%, 22%, and 21% year-over-year, although the increase was narrower than in fiscal 2019.
TOTO's previously released medium-term plan promotes the expansion of high value-added products into China's second and third-tier cities, leveraging the strength of the TOTO Sanitary Ware luxury brand and strengthening the promotion of Sanitary Ware. According to TOTO Sanitary's sales data, sales in 2020 and 2021 grew by 11% and 39% respectively, using 2019 sales as the base. However, the first quarter of 2022 sales just passed was only 77% of the same period of the previous year.
In other markets, the Americas and Europe achieved sales growth. The smart toilet market in the U.S. exploded. Sales of Toilet Bowl increased by 96% over 2019, and sales increased by 85% over 2019. It became the main driver of sales and profit growth in TOTO's U.S. market.
LIXIL China
Grohe growth, American Standard weakness
Engineering shifts to retail and e-commerce
According to Lixil's fiscal 2021 annual report released on April 28, core earnings were below full-year expectations, even with continued strong sales in the Americas and Europe and an economic rebound in Asia Pacific, as the Japanese business was impacted by procurement difficulties and logistics disruptions. The company achieved revenue of ¥1,248.6 billion ($73 billion) for the period from April 2021 to March 2022. It posted an operating profit of 64.9 billion yen, up 13.2% year-on-year. It included final net income from discontinued operations of 48.6 billion yen, an increase of 47.1% year-on-year.
In particular, the China Water Technology Division reported revenues of 55 billion yen (2.807 billion yuan), an increase of 1% year on year. Sales growth was driven by Grohe products in the retail channel.
Both Grohe and American Standard subsidiaries recorded growth in sales and operating profit in fiscal 2021, with Grohe Group revenues of 1.776 billion euros (RMB 12.5 billion), an increase of 18 percent. Its operating profit was 252 million euros (1.775 billion yuan), an increase of 32%. ASB (ASD Holdings), a subsidiary of American Standard, posted revenues of $1.408 billion (RMB 9.396 billion), an increase of 13%. Its operating profit was $77 million (RMB 510 million), an increase of 14%.
It is worth noting that in FY 2021 Lixil added 300 million yen (RMB 153.6 billion) in spending on IT only to its capital expenditures.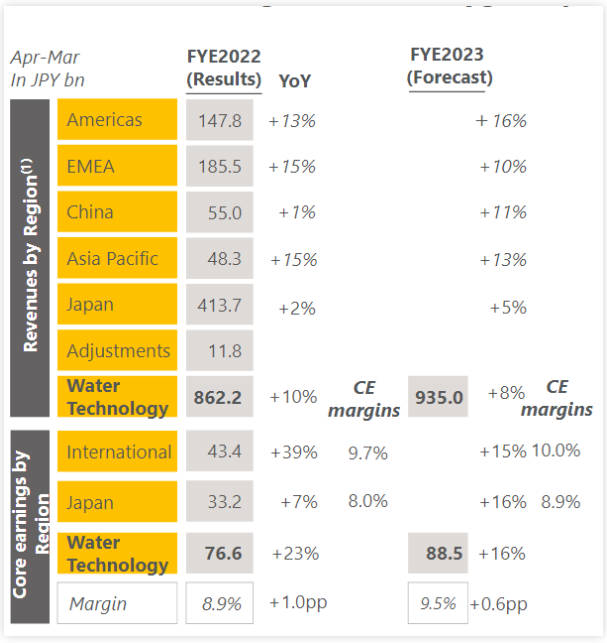 In addition, at the earnings presentation, Lixil Group President and CEO Kinya Seto was asked by reporters how he sees the current real estate situation in the Chinese business, and his statement was as follows:
The most number of price transmissions in the Americas business. Again, competitors are doing the same, so I don't think price pass-through itself will affect demand. However, Lixil Americas' faucet business is the weakest of all the international businesses, but the ceramics business in the Americas is very strong. We want to strengthen our faucet business, especially for showers. In this regard, we are able to use zinc materials. And our competitors are currently focused on brass and copper, which can improve our cost advantage. As for ceramics, I think the optimization of prices will be done in much the same way as the others. At the same time, I believe the real estate market may be affected by the increase in mortgage rates, but this effect will not have an immediate effect. In addition, there is currently a large demand for renovations and improved improvements in the US. If there is a bad situation in the real estate market, does it seriously affect our business? We do not believe this is necessarily the case. At this point, based on the orders received, we think the situation has been relatively stable so far. Of course, regarding the future, now that the U.S. is raising interest rates more and more often, this change cannot be foreseen. As for the China business, I think there are still risks, so we are trying to reduce the size of each business unit by moving from engineering projects to retail and from engineering projects to e-commerce. This will be a resilient result of the transition, although it may not show bright results in the short term. Meanwhile, Grohe's China market business is performing well. I think Grohe has been recognized by end users as a good product and brand in the China market, and the design and brand recognition are spreading. On the other hand, American Standard brand products, which have been relatively strong in the original engineering business, are struggling a bit.
Villeroy & Boch
China market grows 29.6%
Villeroy & Boch's consolidated revenue reached €945 million in 2021, an increase of 18% year-on-year. The Bathroom & Wellness segment generated revenues of 22.3 million euros, up 16.8 % year-on-year, while the Tableware & Lifestyle segment generated revenues of 20.9 million euros, up 20.6 % year-on-year. EBIT revenues were 92.8 million euros, up 87% year-on-year.
EMEA's sales in Europe, Middle East and Africa increased by 17.2%, with revenues in the Middle East of €7.7 million. Its revenue in Europe was 103 million euros, up 16.3% year-on-year. Its sales in China increased by 29.6% and in the United States by 27.7%.
In its announcement, Villeroy & Boch noted that it benefited from digital marketing with the launch of its TV and online brand campaign "Love The Moment" for the European market in 2021. In addition, it is optimizing traditional marketing channels by expanding e-commerce channels and digital marketing through social media platforms such as Instagram and Pinterest, as well as newsletters.
FBHS Group's
China's market grows 7%
Focus on international business for brands such as Jiumu and Huida
FBHS Group reported consolidated revenue of $7.7 billion (RMB 513.8) in 2021, an increase of 26% year-on-year. It reported an operating profit of $1.1 billion (RMB 7.34 billion), up 36% year-over-year.
For the year ended December 31, 2021, the FBHS Group's China revenue was $510.4 million (RMB 3.37 billion), up 7% year-over-year. FBHS' plumbing business operates primarily under the Moen, ROHL, Riobel, Victoria+Albert, Perrin & Rowe and Shaws brands. The majority of its operations are in the United States, China and Canada, with the remainder in Mexico, Southeast Asia, Europe and South America.
In 2021, its international operations accounted for 32% of net sales, primarily to wholesalers, home centers, large retailers and industrial distributors. Home Depot and Lloyd's sales represent approximately 21 percent of 2021 net sales in the plumbing segment. Key competitors in this segment include Masco, Kohler, Lixil, InSinkErator, Huida, Hgill, JOMOO and imported private brands.

Hansgrohe
China's market revenue of more than 2 billion yuan
Axor (Axor) brand China performance than Germany
In 2021, the Hansgrohe Group achieved total revenues of 1.365 billion euros (9.528 billion yuan), an increase of 27% compared to the previous year (1.074 billion euros). It posted an operating profit of €249.7 million (RMB 1.76 billion), also up 27% compared to the previous year (€197 million). Revenue from overseas markets reached 74%, up 1%. Revenue in Germany was €349 million (RMB 2.435 billion), up 20 percent compared to 2020 (€291 million). The market outside Germany grew by nearly 30%.
Strong sales in China and the United States, Axor (Axor) last year in the Chinese market for the first time than the German market business. Hansgrohe's China revenue exceeded 2.3 billion RMB, according to Kitchen & Bath analysis.
Duravit
China's revenue exceeded 1 billion
Chongqing invests another 300 million yuan
Duravit Group sales exceeded 600 million euros for the first time in fiscal 2021, reaching 601 million euros, an increase of 28%. Business in Europe and China continued to grow. Sales in China amounted to approximately €139 million. According to a release from the CEO of Duravit AG, sales in China reached RMB 1 billion by the end of December 2021.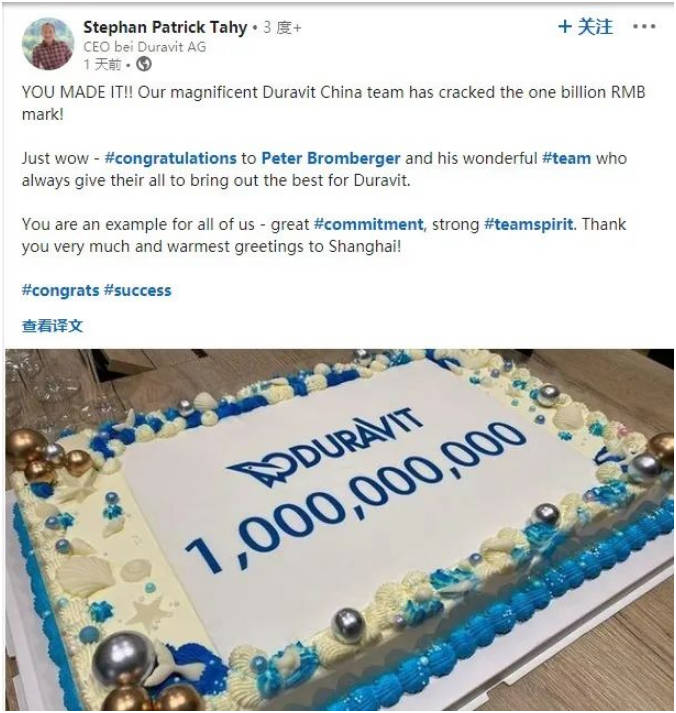 This screenshot is a screenshot of the Duravit AG CEO's Collage message from Kitchen News on December 1, 2021
In 2022, Duravit signed a contract with Chongqing to invest another 300 million RMB. It is reported that the second phase of the expansion project is expected to be built from 2022 to 2024. The project will increase the annual production capacity of 700,000 pieces of high-grade sanitary ceramic sanitary ware upon completion. The combined annual production capacity with the first phase of the project can reach 1.45 million pieces. In 2022, it's planned to invest 147 million yuan and complete about 50% of the plant construction.
The project covers an area of 87 mu and is the second phase of expansion. After completion, the Jiangjin Luohuan base will be the largest overseas production base invested by Duravit since its establishment, and the largest overseas investment project since Duravit was founded nearly 200 years ago.
Geberit
China's market growth of 8%
Zhejiang plant shut down and written off
Gebreit reported net sales of CHF 3.46 billion (RMB 23.5 billion) in fiscal 2021, an increase of 15.9%. EBITDA was CHF 1.069 billion, an increase of 15.6%. Significant increases in raw material prices since the end of 2020, as well as significant increases in energy and freight costs, have had a negative impact on margins. These negative effects were partially offset by regular and unconventional price increases. The partial normalization of marketing costs compared to the previous year also weakened the result. Currency effects did not have a significant impact on operating margins. The growth in operating results and the improved financial performance led to a 17.7% increase in net profit to CHF 756 million.
Growth in China was 8.0%, slightly above the average of the previous years and much stronger than in the previous year (+2.3%). There was no growth in Tier 1 and Tier 2 cities. And Tier 3 and Tier 4 cities also saw declines, with prices falling.
Gebreit had 26 plants worldwide during the reporting period, of which 22 were located in Europe, 2 in the United States, 1 in China and 1 in India. It is worth noting that in 2021 Zhejiang Daishan Gebreit Co., Ltd. resolved to dissolve and implemented liquidation in April of the same year, and is currently in the process of cancellation. In its annual report, Gebreit also mentions the restructuring of its Chinese plants: three small plants located in the territory of China, the United States and Ukraine, whose activities were consolidated in other larger plants due to a lack of scale and the existence of poor logistics conditions. Daishan Gebreit was established on July 9, 1996, with 156 participants according to the enterprise search information, and mainly produced and sold plastic water tanks and other related sanitary products. After the closure, part of the factory's operations were integrated into the Shanghai factory, and the rest of the operations were integrated into the European factory.