Kitchen And Bath. Kitchen And Bath Headlines
Sanitary Brand Dynamics
Kohler Named "Design China Beijing" Design Exhibition
From September 23rd to 26th, "Design China Beijing", a high-end design exhibition in Asia, was held in Hall 11 of the National Agricultural Exhibition Center (Beijing). As the title sponsor of "Design China Beijing", Kohler launched the "Kohler Selection – Design China Beijing" design forum on September 23, and proposed a new "multi-dimensional space of happiness", which will be held at the National Agricultural Exhibition Center (Beijing). "We also invited renowned design figures Hao An Yi, Zhuang Rui An and Liu Hao Yang to discuss the topic, with a view to providing more possibilities for creating a happy and sustainable living space in the future.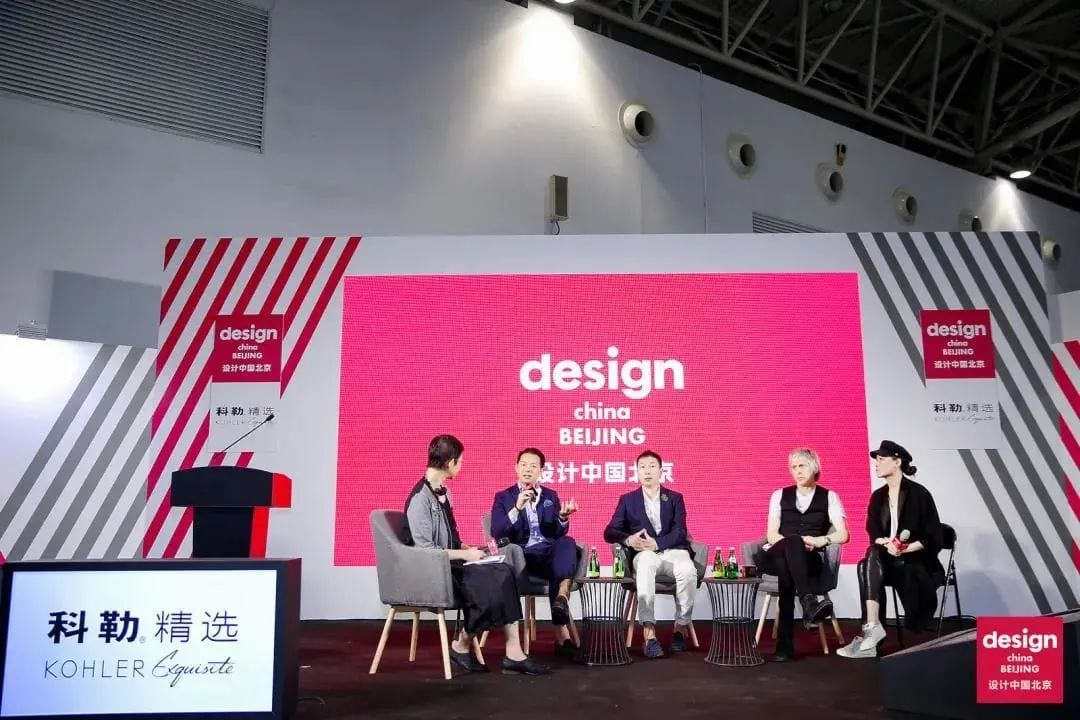 Moen Launches New Online Subscription Service
Recently, Moen launched a new online subscription service. Relying on Moen's new Flo by Moen water security system, subscribers can remotely monitor the safety of water in their property. With Flo by Moen, users can monitor leaks, check water usage, implement smart water shut-offs and alert their team to potential water issues in real time. With Flo by Moen, users can control the water safety of individual property units, entire buildings or multiple properties from anywhere, at any time, to avoid serious flooding and pipe leaks. A variety of accessories will also be available to help properties install and adapt to Moen as a water security system.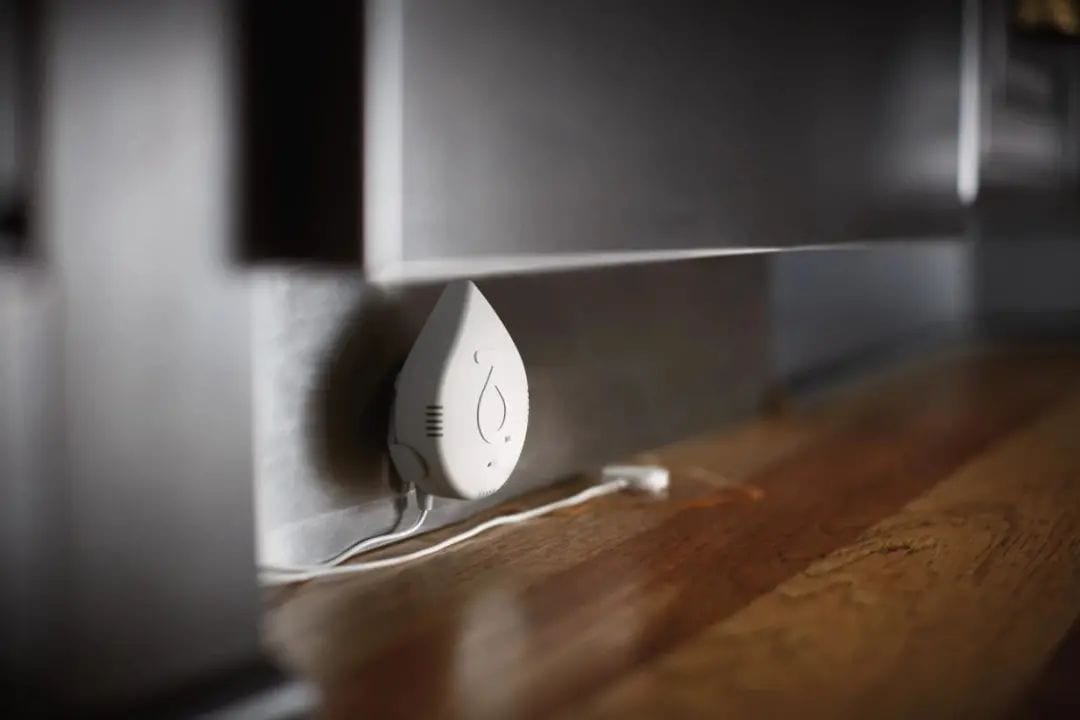 Geberit's "G-Talk Inspiring Encounter" In Guangzhou And Shenzhen
On September 22nd and 24th, Geberit's "G-Talk Inspiration" 15-city series of designer events went to Guangzhou and Shenzhen, and were held in Guangzhou and Shenzhen respectively with the theme of "Precision Water Supply and Drainage, Healthy New Bathroom" and "G-Talk". In Guangzhou Xi Lin Yuan and Shenzhen Fan Shu Li, Geberit invited Professor Kong Aiguo from Fudan University, Deng Li Si, Founder of C&C Design Group, Qin Yue Ming, Design Director of Shenzhen Longlian Design Consultant Co. Renowned personalities exchange and collide to achieve cross-border sharing of design, urban culture, travel, art, finance and more.
Hansgrohe Closes The Summer 2020 National Promotion
From July 15 to September 20, the Hansgrohe 2020 summer national promotion closed. As many as 44 dealers participated in this event, covering more than 247 stores, with more than 200 live broadcasts and record high sales figures. The three most popular and hot series of products in the promotion were the Realm Rain white shower, Pure Realm Intelligent Integrated Toilet, and Black Customized rushing rain shower, and Hansgrohe's summer promotion mascot teddy bear was also sought after.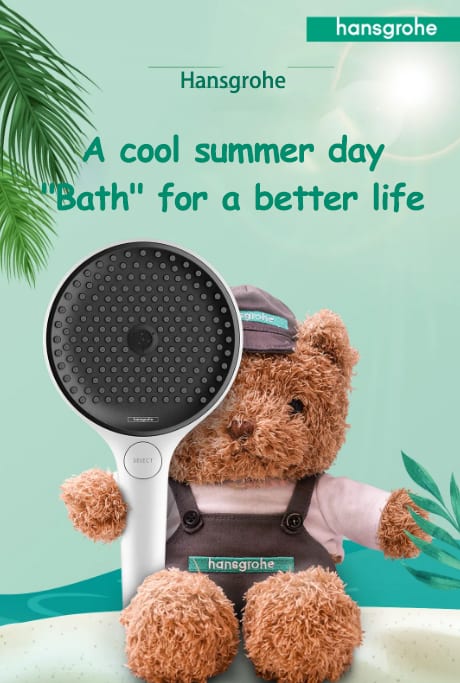 "Afsl Beauty + Club Designer Club" Officially Launched!
Recently, "AFSL Beauty + CLUB Designer Club" was officially launched. AFSL aims to create an open community for designers to cooperate and exchange ideas, and to promote communication and cooperation among design talents by creating an online community for aesthetics sharing, brand information, and social interaction in the language of design.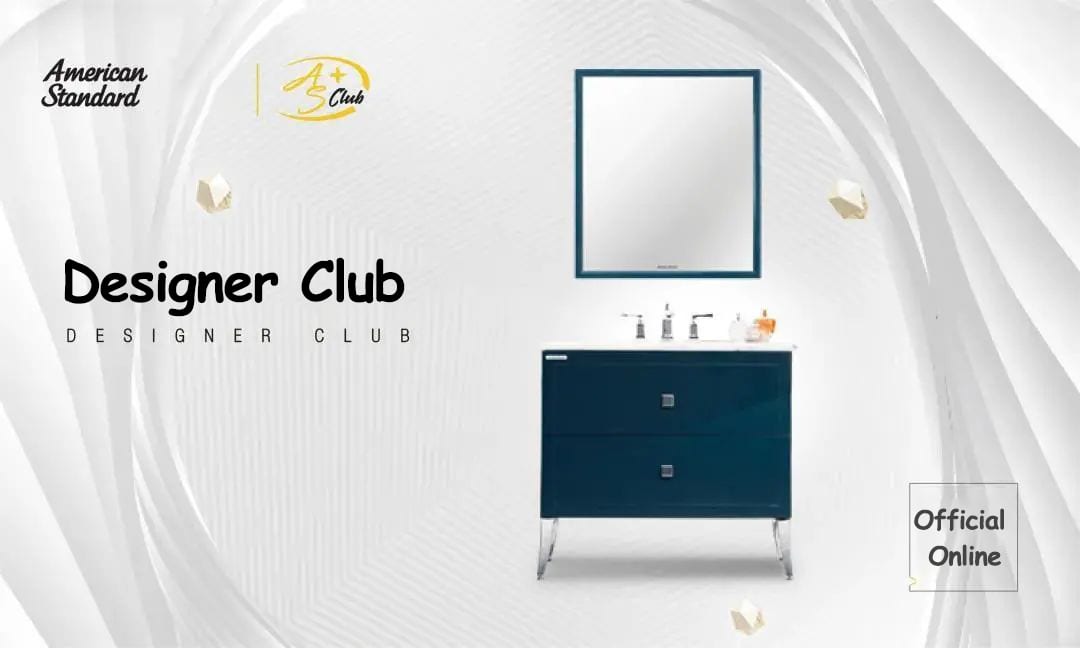 Grohe Holds National Eleventh Day Launch Party
On September 10th and 11th, the second phase of GroheGold Store Manager Training Camp and National Eleventh Five-Year Promotion Kick-off Meeting was officially opened. GroheGold store managers enhanced their understanding of Grohe's key products, their on-the-spot ability and customer needs through the PK competition, which helped GroheGold store managers to develop a better understanding of Grohe's key products, their on-the-spot ability and customer needs. Get ready for the next promotion.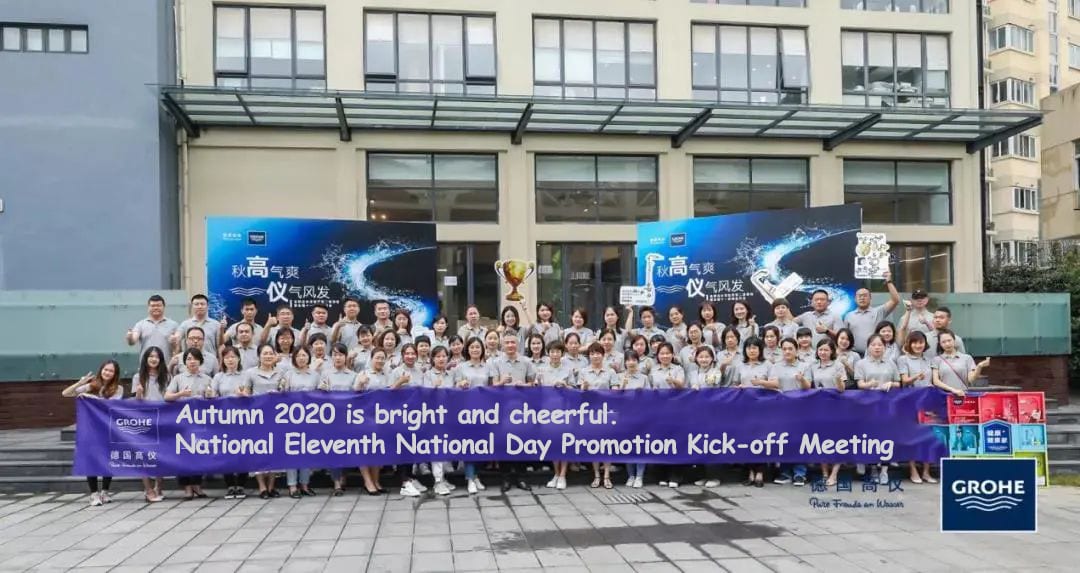 Jomoo Helps Renovate Toilets At Yungang Caves
On September 25, the signing ceremony of the "Ancient Architecture Beauty – Chinese Soul – Chinese Ancient Architecture Cultural Craftsmanship Inheritance Public Welfare Action Yungang Grottoes Station and Yungang Grottoes Toilet Renovation Public Welfare Donation Project" was held at the Yungang Grottoes Research Institute. As early as March 1961, the Yungang Grottoes were announced by the State Council as one of the first batch of national key cultural relics protection units, and in December 2001, they were listed on the UNESCO World Cultural Heritage List, Jomoo promotes constructive ancient architecture and culture protection with the power of science and technology, and this public welfare action will strongly support the overall improvement of the service and facilities standard of the Yungang Grottoes scenic area, and further meet the needs of different people. The needs of the tourist groups, to promote the Yungang Grottoes tourism service system upgrade, through the construction of cultural, "intelligent" bathroom, so that tourists get a better experience during the visit, enjoy a more intimate, more humane "Yungang service".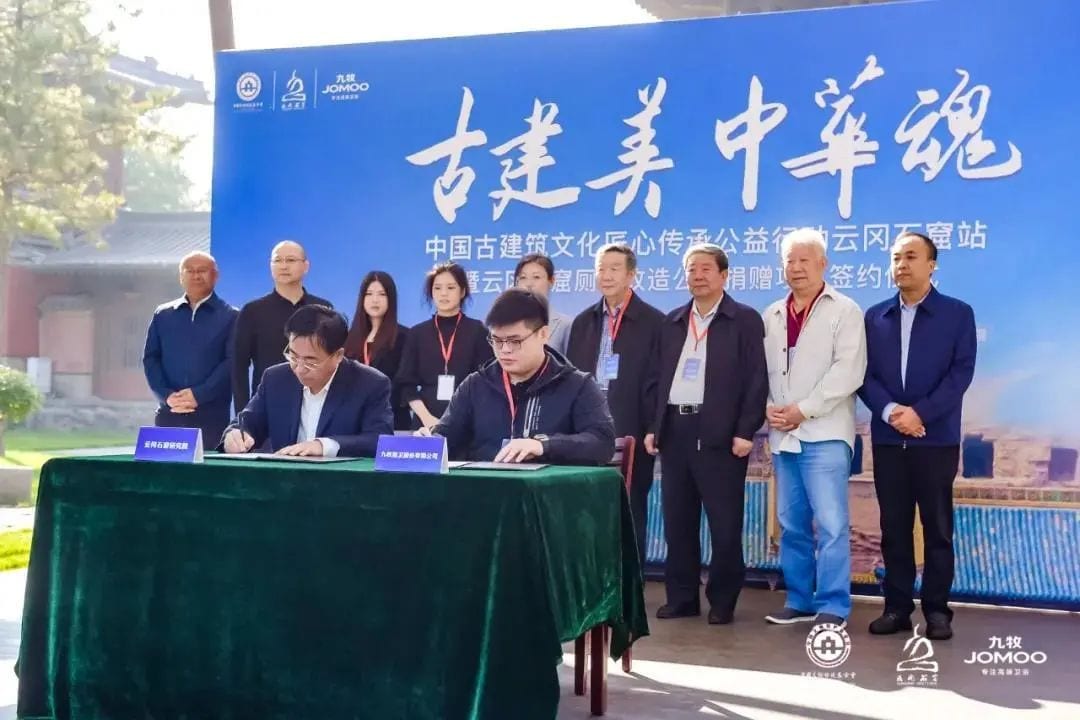 Hegii Oriental Satellite TV "Dream Remodelers" Season 7 Online
Recently, the seventh season of Oriental TV's "Dream Renovator" was launched, and Hegii and "Dream Renovator" are working together for the fourth time in one product. From public market stalls to century-old houses; from the cozy huts of husband and wife to the Ideal cottages of young people; in the prosperous city, in the rustic old town, Hegii and the Dream Reinventor have left a story about love together. Along the way, Hegii and the "dream remodelers" have worked together for 39 different families and projects, to provide quality design and bathroom solutions.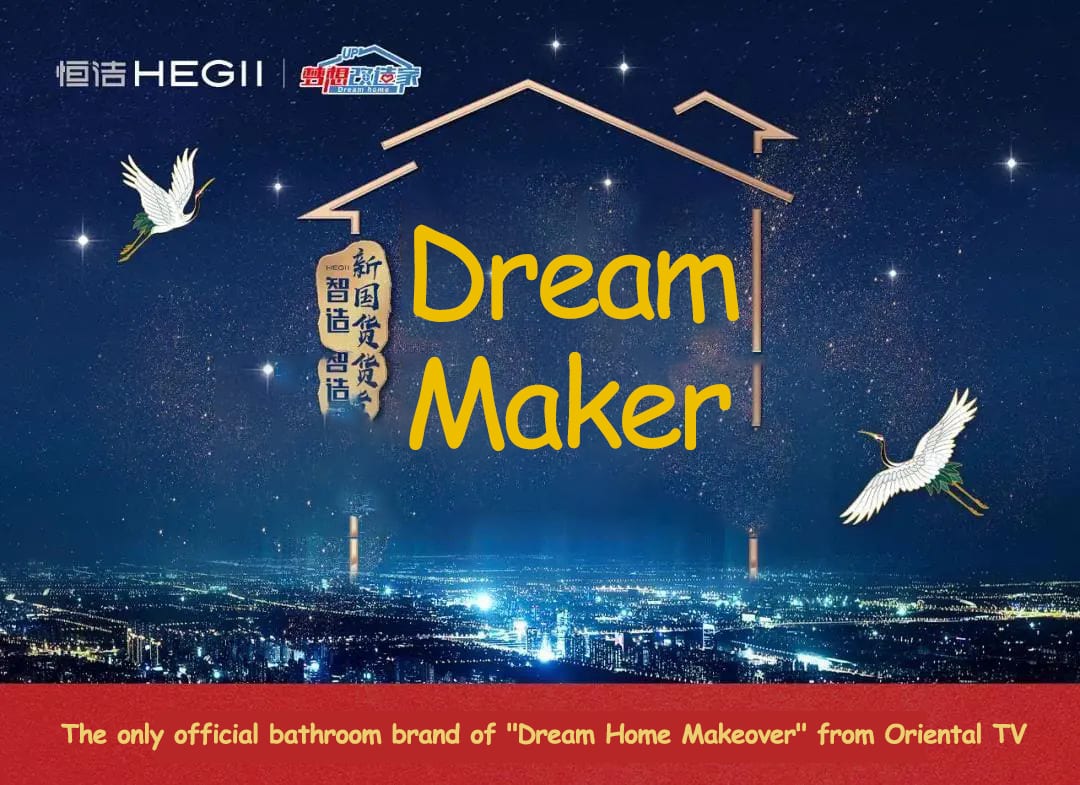 Huida Bathroom Appeared In The "Everyone Loves Made In China" Live Studio
On September 23rd at 8pm, the Red Star Macalline Surprise Night Live broadcast, jointly organized by CCTV and Red Star Macalline, was held as scheduled. Live broadcast to show the explosion of UV sterilization smart toilet HDE3011 in the ultraviolet sterilization, frequency conversion is hot, zero water pressure and flushing 360-degree infinite knob operation and other aspects of the black science and technology features, by CCTV host Chen Weihong and Long Yang's praise in a row, showing the brand strength of the Chinese bathroom.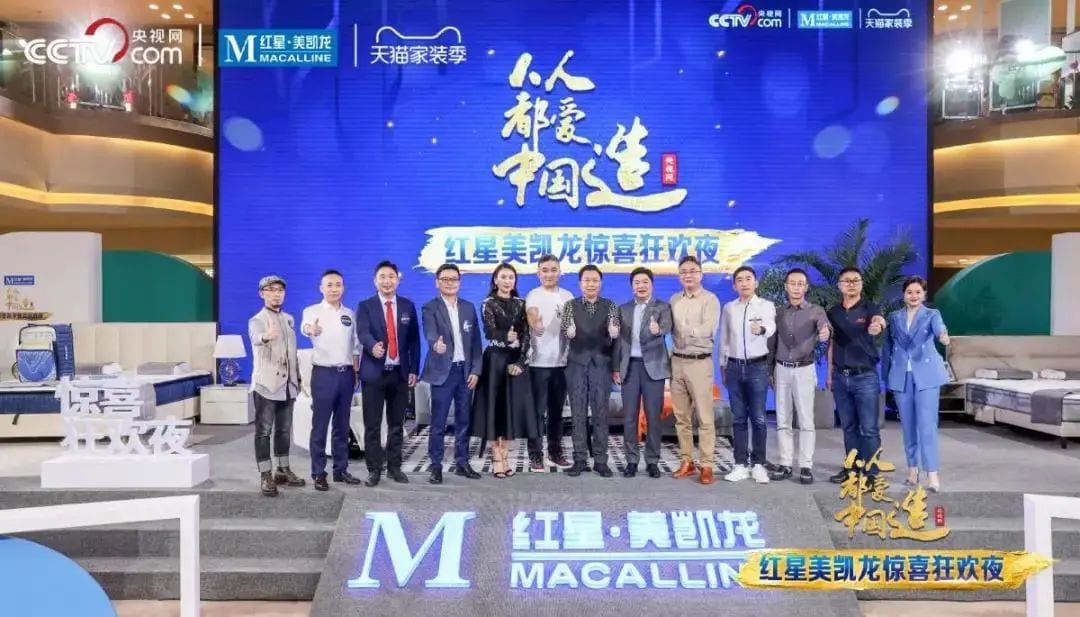 Dongpeng Whole Bathroom To Help The Film "Winning The Title" Public Screening
On September 25, the movie "Taking the Crown" was officially released in the country. The movie "win the crown" tells the legendary history of the Chinese women's volleyball from the 1980s peak of the five consecutive championship, to the 2004 Athens Olympic Games miraculous turnaround, and then to the miracle of the Rio 2016 Olympic Games. As the film's ticket joint marketing partners, Dongpeng whole bathroom through ticket giveaways, publicity, the spirit of the women's volleyball internalized into the production of enterprises and other ways to express the spirit of the women's volleyball learning, respect and heritage.
Faenza Held A "Deconstruction Of Art, Evolution Of Life" Micro-Documentary Launch Ceremony
On September 27th, Faenza hosted the launch of "Deconstructing Art, Evolving Life" and the launch of the Faenza International Design Masterpieces Space. 2020, Faenza, in collaboration with architect Leonid Krykhtin and YANG Design founder Mingjie Yang, will launch a home design micro-documentary about the art behind the home. The Master Story. National and international design giants Yang Mingjie, Leonid Krykhtin, Emiliano Onesti and Kelvin Goh will launch a co-branded space with FAENZAFaenza, and in conjunction with the launch of the Faenza 2020 collection, a visual feast about art and design is underway.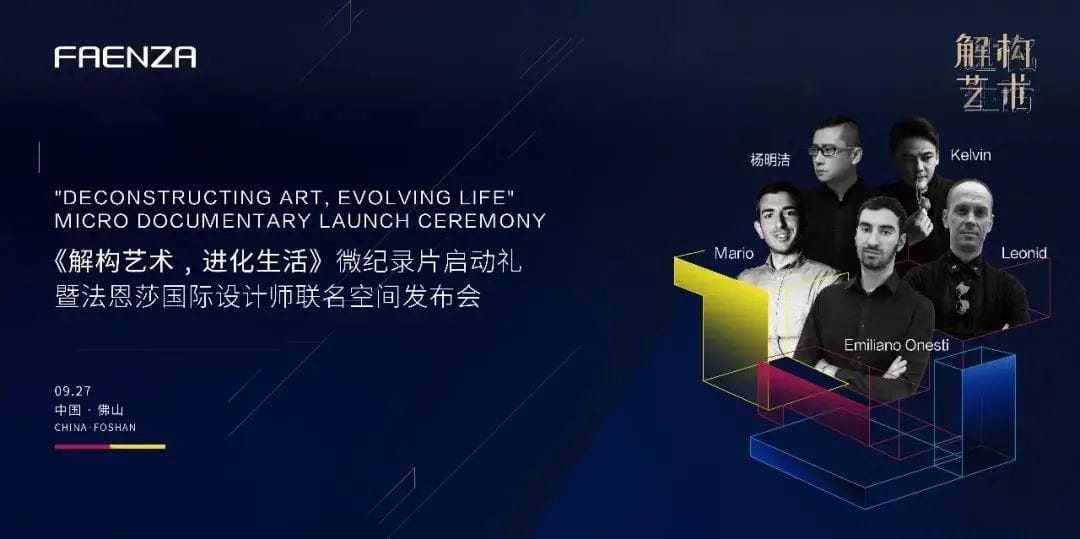 Aosman's High Speed Rail Campaign Goes Live
On September 24, Aosman Sanitary Ware held a signing ceremony for its high-speed rail advertising at its headquarters. In Chengdu, Dali, Guangzhou, Kunming, Puning, Shaoyang, Shenzhen, Tianjin, Weifang, Wuhan, Xiaogan, Xuzhou, Yueyang, Zhuzhou and other places, Aosman invited industry insiders to participate in the local signing ceremony to witness the launch of Aosman's high-speed rail advertising.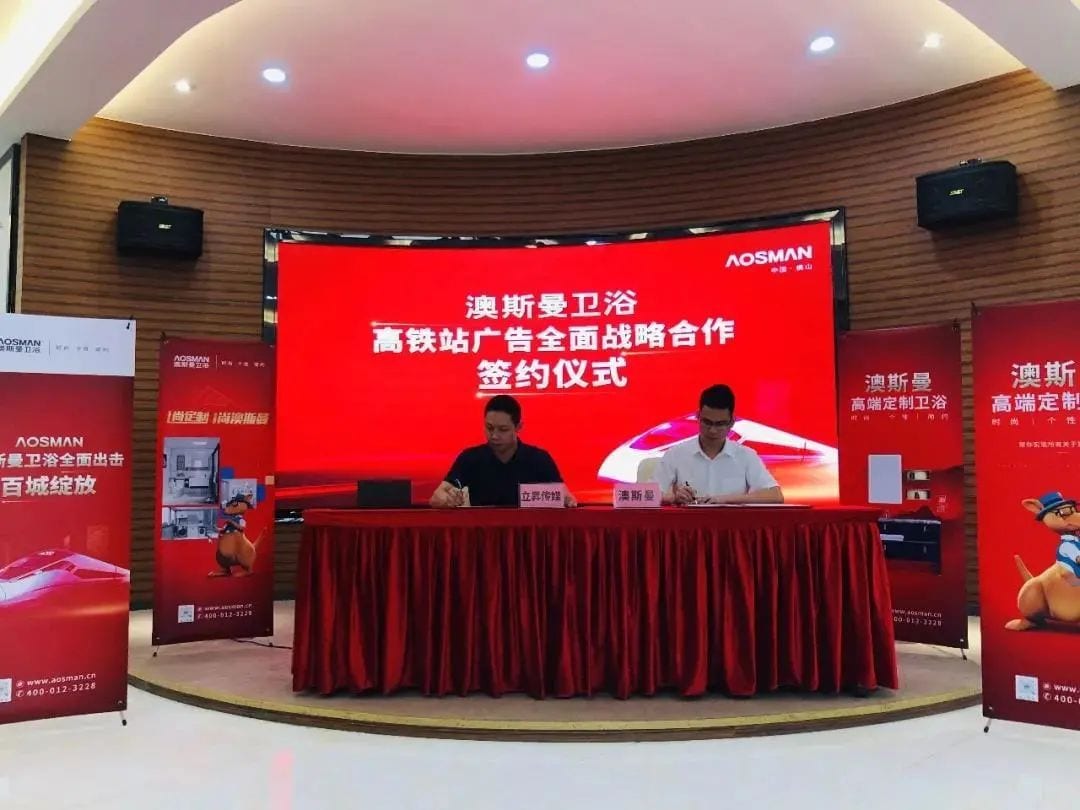 Huayi Sanitary Ware Held Sales Summits In Zhejiang And Fujian In 2020
On September 22, the sales summit jointly sponsored by Huayi headquarters and Zhejiang and Fujian offices kicked off in Huayi headquarters. 2020 is the first year of Huayi brand upgrade, Huayi from the corporate image, terminal stores, products, services and so on to play a series of combinatorial punch to accelerate the brand leap. In order to clarify the next phase of the target, seize the peak season marketing opportunity, Huayi bathroom at the meeting announced immediate concessions related to headquarters preferential policies.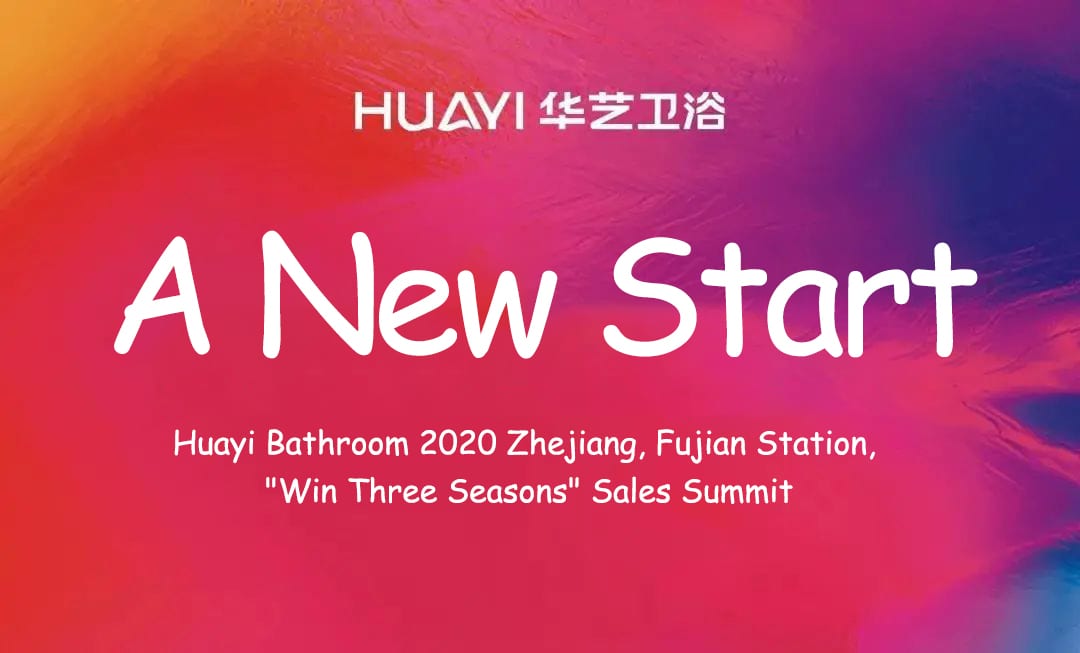 Tepe Bathroom Ushered In The Hotel, Villa And Other Areas Of The Designer Groups
Recently, a group of more than 20 professional designers of hotel, apartment and villa visited the headquarters of Chinese ceramics industry and communicated with each other in the Tepe sanitary ware headquarters. Through the site visit, product tasting, the design team of the Tepe bathroom products, fashionable personality design, real texture of the exquisite craftsmanship is very interested in, many designers were attracted by the Tepe bathroom products of many characteristics, and praise for the unique design of the showroom. This face-to-face communication not only deepened the designers' understanding of the Tepe brand, but also played an important role in the brand building of Tepe Sanitary ware.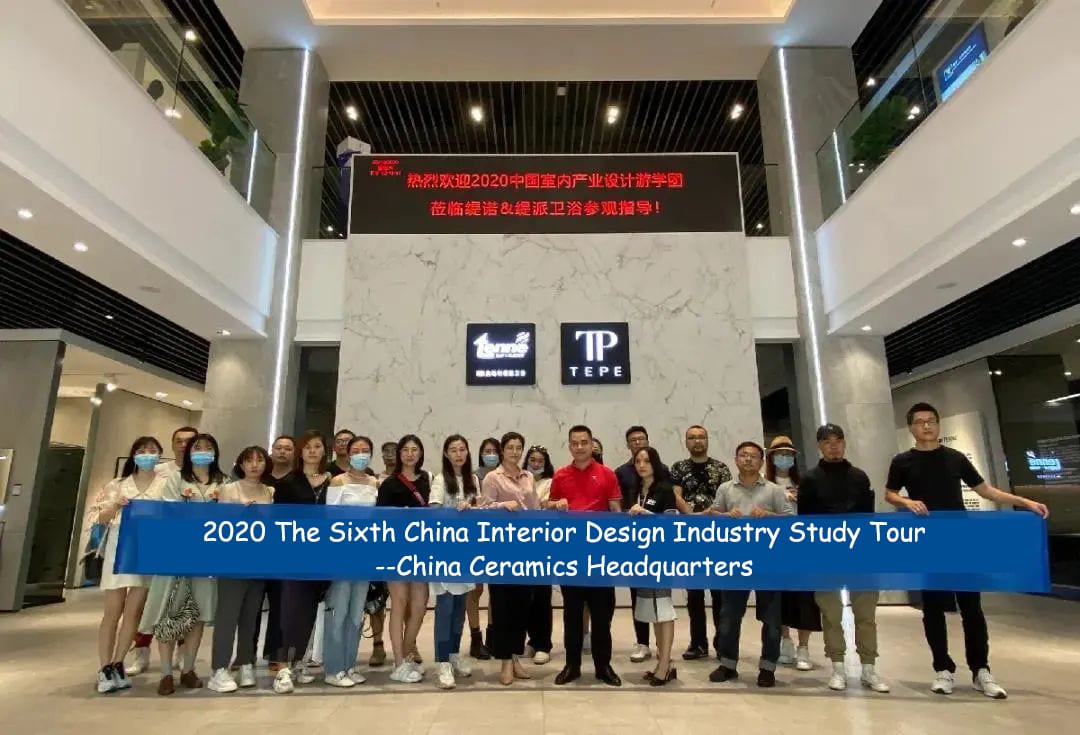 Ikahe's Green Concept Appeared In 500 Offline Stores Nationwide.
Recently, as "paperless toilet" concept initiator, Ikahe sanitary through with Tencent.com, Phoenix, Netease, Sohu and other hundreds of media will be green and healthy toilet concept delivery to every corner of the country, accumulated tens of millions of people browse read, make hundreds of millions of families fully understand the new era of intelligent toilet way of the new transformation. Ikahe Gold bathroom in Shanghai, Hangzhou, Wuhan, Changchun, Daqing, Weifang and other cities have launched a green theme exhibition, offline over 500 stores have become the entrance to the new toilet experience, so that everyone who loves the Earth's environment can easily practice the concept of environmental protection, environmental protection into daily life.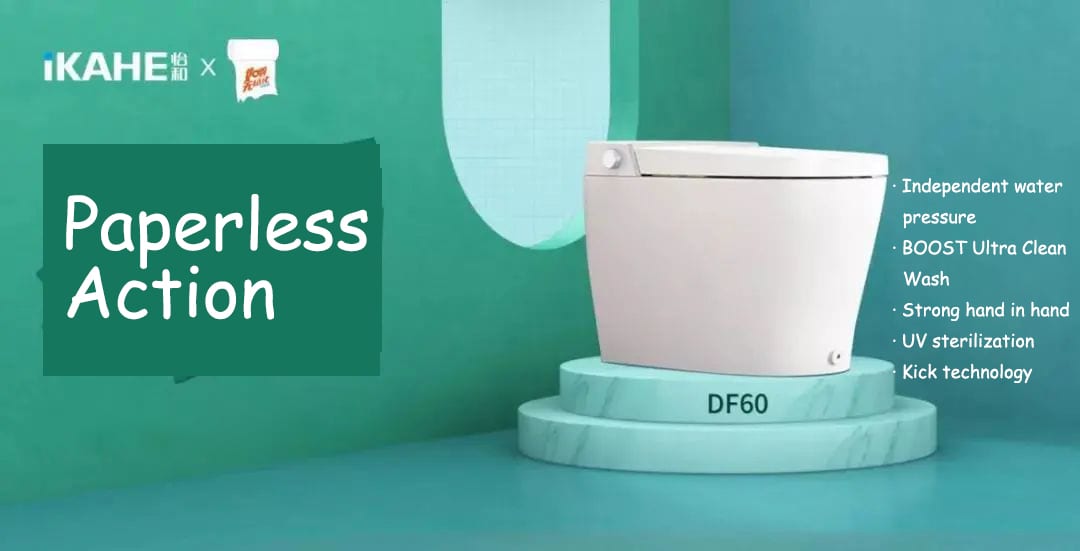 Gold Bathroom In 2020 International Hotel Industry Series Exhibition
September 28, 2020 International Hotel Industry Series Exhibition opened. As an offline investment event of the hotel industry, the International Hotel Industry Series is always attracting attention from the outside world, and Gold Sanitary ware appeared in this exhibition with new products, and the overall image of the exhibition hall is also carefully created. This year Gold Sanitary launched a series of new products, focusing on consumer demand, but also into a new design concept and innovative concepts, the product style, features and functional advantages of the perfect expression of the advantages.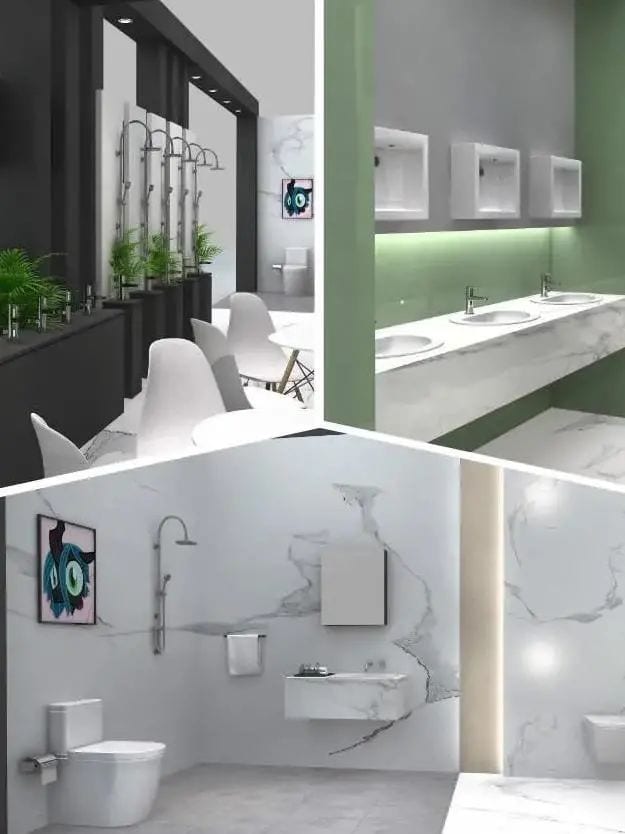 Ideal Bathroom Helps With The Third Edition Of The Ideal Lifestyle In The Bathroom Space
Recently, the third issue of "Ideal Lifestyle in Bathroom Space", jointly produced by Ideal Sanitary Ware and Tencent Home, was officially launched. The whole feature plan is divided into five issues, depicting the blueprint of Ideal life from different angles and exploring the N kinds of possibilities of urban quality life style. After the first issue of "Building Green and Healthy Bathroom Space" and the second issue of "Colorful Bathroom", the third issue is themed on "Space Experience", with examples and interpretations of extreme space application. A creative way to present a new shower experience.

Home Brand News
Diou Home To Invest 2.5 Billion Yuan To Build Oceanoteng County's Second Base Ceramic Production Project
On September 24, Diou home furnishing announced that it intends to invest 2.5 billion yuan to build OceanoTeng County second base ceramic production project in Teng County, Guangxi, China. The main body, with a total cumulative investment of about 2.5 billion yuan, the site of Zhonghe Ceramic Industrial Park Phase II Xingyuan Avenue north of the east of Lion King Avenue 2000 acres, the project covers three major sections of ceramics, sanitary ware, pan-home, the construction of 10 modern ceramic production lines and the production of pan-home products. The project will be started according to the approval, and the construction period will be 3-5 years.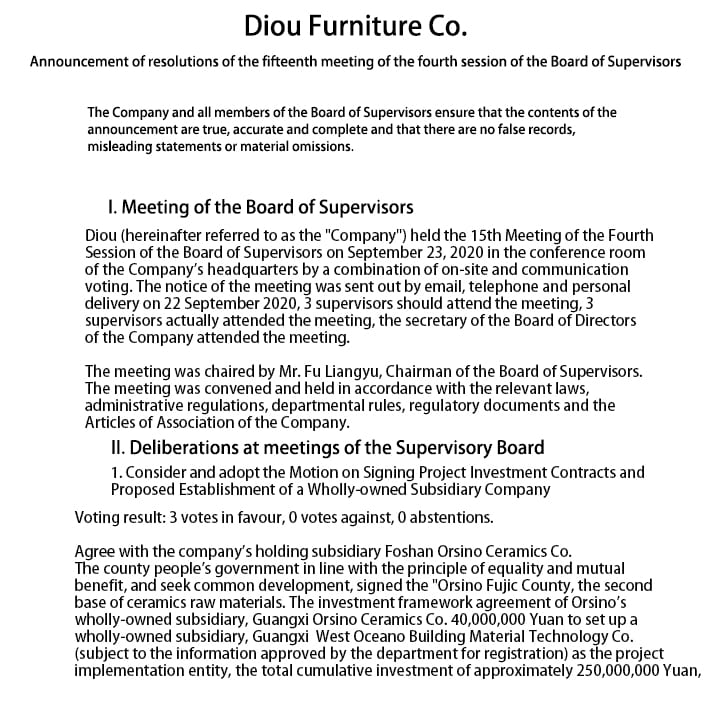 Red Star Macalline Intends To Raise A Total Of Not More Than 3.701 Billion Yuan.
On September 28th, Red Star Macalline released the Feasibility Analysis Report on the Use of Proceeds from Non-Public Offering of A Shares, proposing to raise up to RMB 370,129,900 for the Tmall Home Furnishing City Station and 3D Design Cloud Platform. Construction project, new generation of home decoration platform system construction project, home mall construction project, repayment of the company's interest-bearing debt, the total investment of 5 major projects 577,087,300 yuan, the total amount of funds to be used to raise 370,129,900 yuan.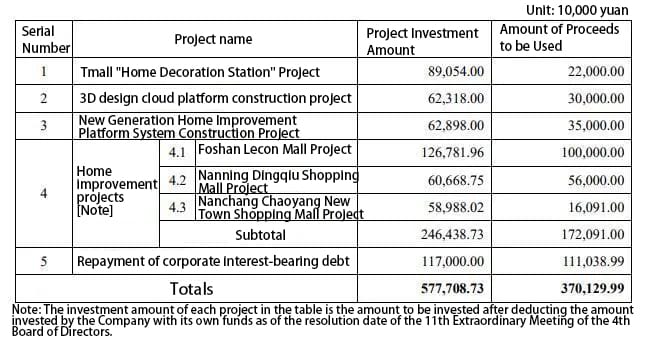 Juran Expects Net Profit In The First Three Quarters To Fall 60.55% To 58.36% Year-On-Year
On September 24, Juran announced its first three quarterly results, and in Q1-Q3 2020, Juran's net profit attributable to shareholders of listed companies was in the range of $900-$950 million, compared with a profit of $2.281 billion in the same period last year, down 60.55%-58.36% year-on-year. The third quarter earnings of 493-543 million yuan, the same period last year earnings of 1.323 billion yuan, down 62.73%-58.95%.In the first half of 2020, Juran revenue of 3.918 billion yuan, down 8.10% year-on-year, net profit attributable to shareholders of listed companies 407 million yuan, down 57.57%.Juran first-half new stores9 Home, 3 stores closed, 358 stores in operation.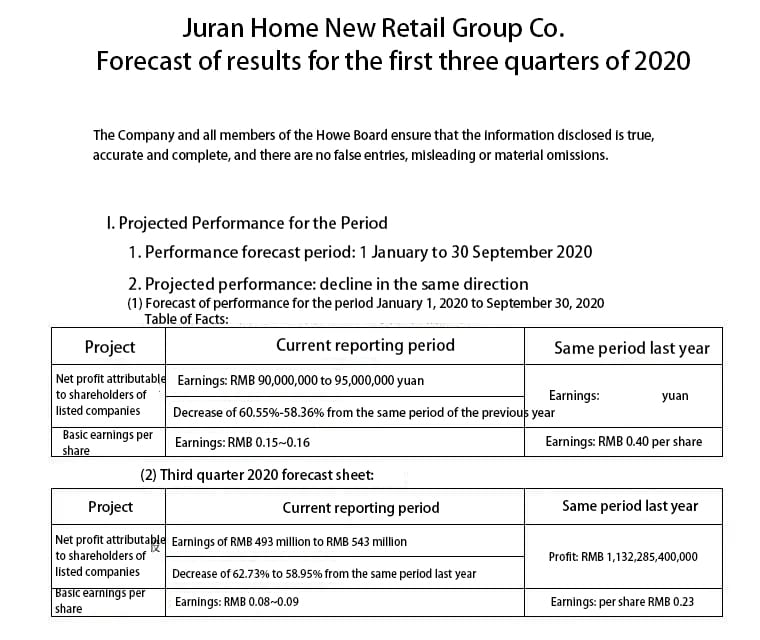 Haier Electronics Has Total Debt Of 131.535 Billion Yuan, Topping The List Of 67 Listed Home Furnishing Companies.
According to Leju Finance report, from the asset structure, A-share 67 home furnishing listed companies in the first half of 2020 has reached 786.538 billion yuan of total assets, the first half of 2020 total liability scale of 430.258 billion yuan. 1 debt over 100 billion yuan, 6 over 10 billion yuan, 6 companies over 5 billion yuan of debt. The top three in the overall list of liabilities are Haier Electronics, Red Star Macalline, and Golden Mantis, with debts of 131.535 billion yuan, 80.221 billion yuan, and 24.288 billion yuan, respectively.
Mendale Shares Vice Chairman, General Manager Change
On September 17, Mendale announced that the Board of Directors of Mendale had elected Mr. Li Jing as Vice Chairman of the Fifth Board of Directors for a term of office commencing on the date of approval at the Fifteenth Meeting of the Fifth Board of Directors and ending on the date of expiration of the term of office of the Fifth Board of Directors, based on strategic development planning and operational management needs. Mr. Li Jing applied for resignation from the position of General Manager of the Company due to work adjustment, and upon nomination by Mr. Jiang Tianwu, Chairman of the Board, the Board of Directors of the Company agreed to appoint Ms. Huang Huihua as the General Manager of the Company, with the term of office commencing from the date of approval at the 15th meeting of the 5th Board of Directors and ending on the date of expiry of the term of office of the 5th Board of Directors.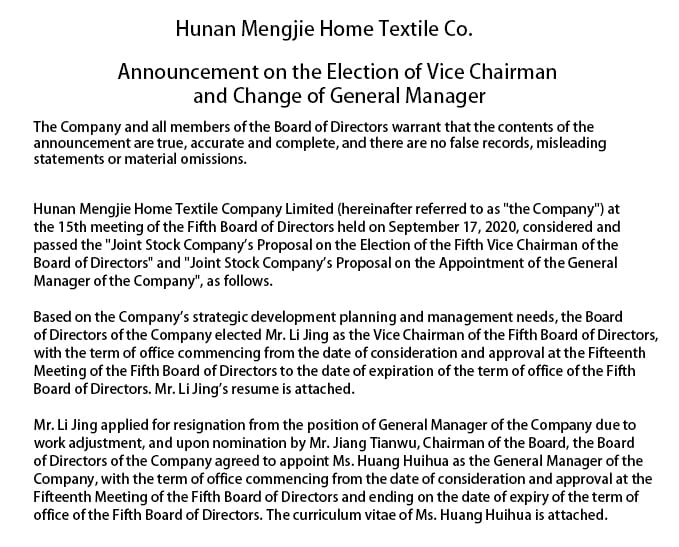 Suofeiya Home Collection Asset Management Company Completes Industrial And Commercial Changes With Registered Capital Of $800 Million
On September 18, Suofeiya Home Collection released the "Announcement on the completion of the registration of industrial and commercial changes of wholly-owned subsidiary". Recently, Suofeiya Home Collection's wholly-owned subsidiary, Shenzhen Suofeiya Home Collection Investment Management Company Limited, completed the registration of industrial and commercial changes and the filing procedures of the Articles of Association, the total registered capital of Shenzhen Suofeiya Home Collection has been increased from RMB 1 million to RMB 1 million.  Management and other restricted items ) etc.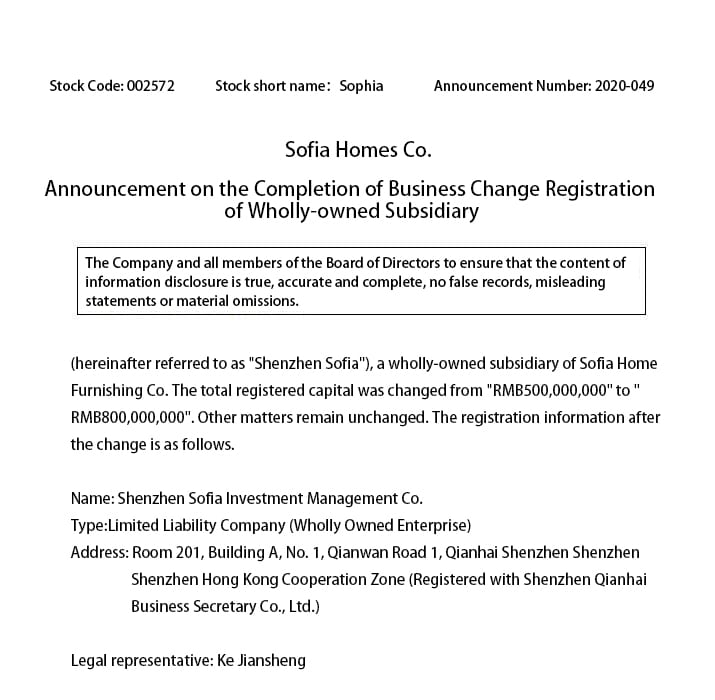 Diou Home's Effective Shareholder's 3% Share Reduction Completed
On September 28, Diou Home furnishing released the "Announcement on the completion of the reduction of shares of the Company's controlling shareholders and actual controllers. 31 August 2020 Diou Home furnishing disclosed that the Company's controlling shareholders and actual controllers Liu Jin, Chen Wei and Wu Zhixiong plan to reduce their shares of the Company by a total of not more than 1.5 million shares through centralized bidding or block trading within six months after three trading days from August 31, 2020, Diou Home furnishing's shareholding was 1,668,200 shares, accounting for 3% of the listed company's total share capital. According to Diou Home furnishing related disclosure on September 17, the controlling shareholder and actual controller Liu Jin, Chen Wei, Wu Zhixiong reduced the number of shares by more than half.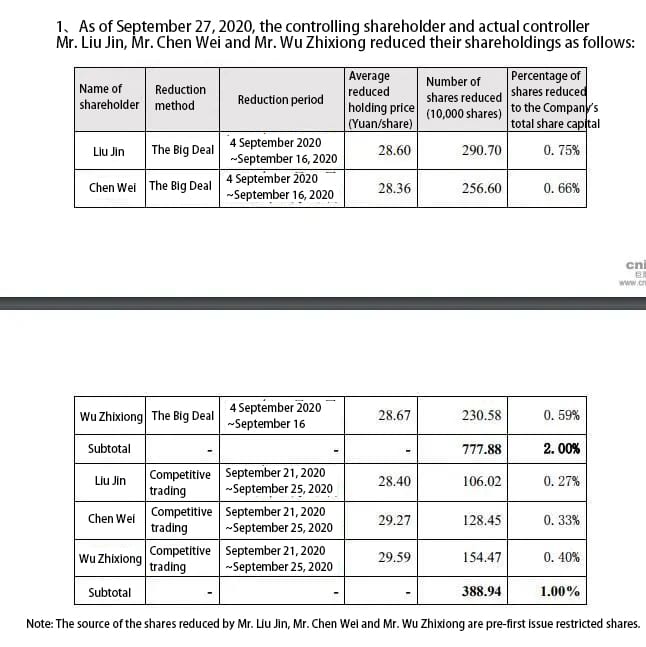 Industry News
Global Ceramics Giant Rak Ceramics To Expand Operations In Saudi Arabia
Recently, RAK Ceramics, a global ceramic industry giant located in the United Arab Emirates, announced that it will expand its operations in Saudi Arabia. RAK Ceramics about 70% of the current production capacity is concentrated in the United Arab Emirates in the United Arab Emirates, the city can produce 12 million square meters of ceramic products per year, the rest of the company's production capacity is concentrated in India and Bangladesh two countries. RAK Ceramics CEO Abdallah Massaad said, due to the impact of the new crown epidemic, the company's second quarter The revenue of the company suffered a heavy setback, and among the markets in more than 150 countries around the world, only Saudi Arabia maintained a good growth trend, which is a big reason why the company intends to further explore the Saudi market.
Ministry Of Housing And Construction Announced The Second Batch Of Assembled Building Example City List, 18 Cities On The List
Recently, the Ministry of Housing and Urban-Rural Development website released the "Office of the Ministry of Housing and Urban-Rural Development on the identification of the second batch of assembled building example city and industrial base of the notice", in the provincial housing and urban-rural development departments in charge of evaluation and recommendation on the basis of the organization of expert review, identified Chongqing, Wuhan, Fuzhou, Xi'an, Dalian and other 18 cities as the second batch of assembled building example city.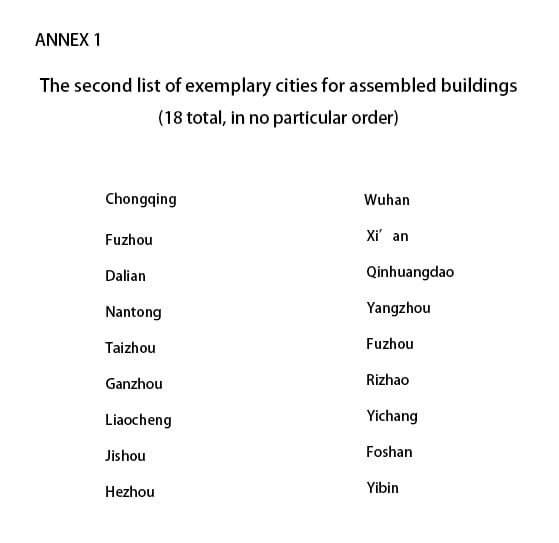 January-September Nationwide 66 Pottery Enterprises/Stores Were Revoked Business License
According to "Taocheng Newspaper" statistics, from January to September 2020, a total of 66 ceramic companies nationwide, stores, operating department, distribution department, marketing center, business center was revoked business license, of which 31 in Jiangsu, Shanghai 13, Beijing 9, Jiangxi 6, Yunnan 4, Hebei, Fujian, Sichuan 1 each. Inquiries found that, among them 56 companies, stores, etc. because of suspicion of "without justifiable reasons to suspend business for more than six consecutive months"; 10 business department, sales department, etc. because of "not in accordance with the law to the registration authority for business premises change registration" was revoked business license.