Kitchen And Bathroom Industry Mainstream Media Kitchen And Bathroom News
The U.S. faucet market is expected to reach $4.7 billion by 2028 and is projected to grow at a CAGR of 4.8% from 2021 to 2028, according to a Research and Markets study.
Rising demand for household products and accessories is driving the market. According to (Leading Indicator for Remodeling Activity) LIRA Center data, home improvement expenditures will grow at a CAGR of 6.0% in 2019.
The demand for smart home and smart bathroom renovations is hot and more consumers are showing preference for spa experience in their homes. In addition, products that use new water-saving features and technologies such as smart digital faucets are gradually being recognized by the market. The introduction of water-saving efficiency by the U.S. Environmental Protection Agency is also indirectly driving the growth in demand for smart bathroom equipment and digital faucets.
The tourism and hospitality industry has been hit hard by the COVID-19 pandemic, while the commercial market, which is closely linked to this segment, has also been affected. However, it is estimated that the commercial segment will be the largest and fastest growing segment in the coming years. Many companies are offering premium and luxury faucets designed specifically for the commercial sector. Among international companies, faucet companies such as Moen and Delta are targeting a market growth and increasing the promotion of luxury faucets. And domestic, such as Jiangmen Jinn sanitary ware and other companies specializing in the manufacture of luxury and high-end faucets, are also targeting higher-end when. 2020 kitchen and bathroom information held on the "mining invisible champions, empowering the supply chain" event (quick link: Revealing The "Inside Story" Of The Industry | Showers, Floor Drains, Faucets, Spools, Basin Downpipes What The Business Representatives Said), Jinn Sanitary Vice President Chen Xingwei said that the highest-end faucets have hand-carved faucets, materials, crystal, jade faucets, this part of the product is very popular in foreign markets.
Related links: what are the most valuable faucet brands in the U.S. market in 2019
The kitchen segment is estimated to be the fastest growing. Increasing utilization of smart faucets is supporting the growth of this segment. According to Houzz, 57.0% of homeowners in North America are upgrading their kitchen faucets as part of a completed, ongoing, or planned 2018-19 kitchen renovation. Of those, 30.0% chose water-saving faucets, 24.0% chose fingerprint-free coated faucets and 22.0% preferred touch faucets. In addition, more and more people are using pull-down faucets for maximum use and increased flexibility.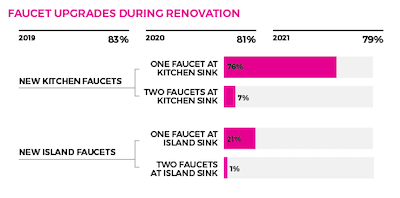 Source: houzz
Also notable is the growth of female buyers. According to NPD, women are more likely to purchase kitchen and bathroom products than other home décor products. in 2020, women will account for nearly 60 percent of the kitchen and bathroom product buying customer base online and 52 percent of offline sales.
E-commerce will account for 28% of total kitchen and bath improvement sales by 2020. Many home improvement retailers remained open during the pandemic, and consumers will visit home improvement stores more frequently once embargo restrictions are lifted. A greater percentage of these women are buying kitchen cabinets in offline stores and more showerhead and faucet combinations online.
This feature is also associated with an increase in female home ownership in 2020. According to the National Association of Realtors (NAR), single female buyers make up the highest 19% of the 2020 home buying population. The median age of single female repurchasers is 59 years old. And while women 55 and older spend the most on annual kitchen and bathroom renovations, women 18 to 24 have the largest increase in annual spending.